Set! HIKE!!! – Professional Football Kicks Off with New LED Installations
The 2022 football season is set to begin with new Daktronics LED displays installed at stadiums across America.
Justin Ochsner on 9/7/2022
Categories: Pro Sports and Colleges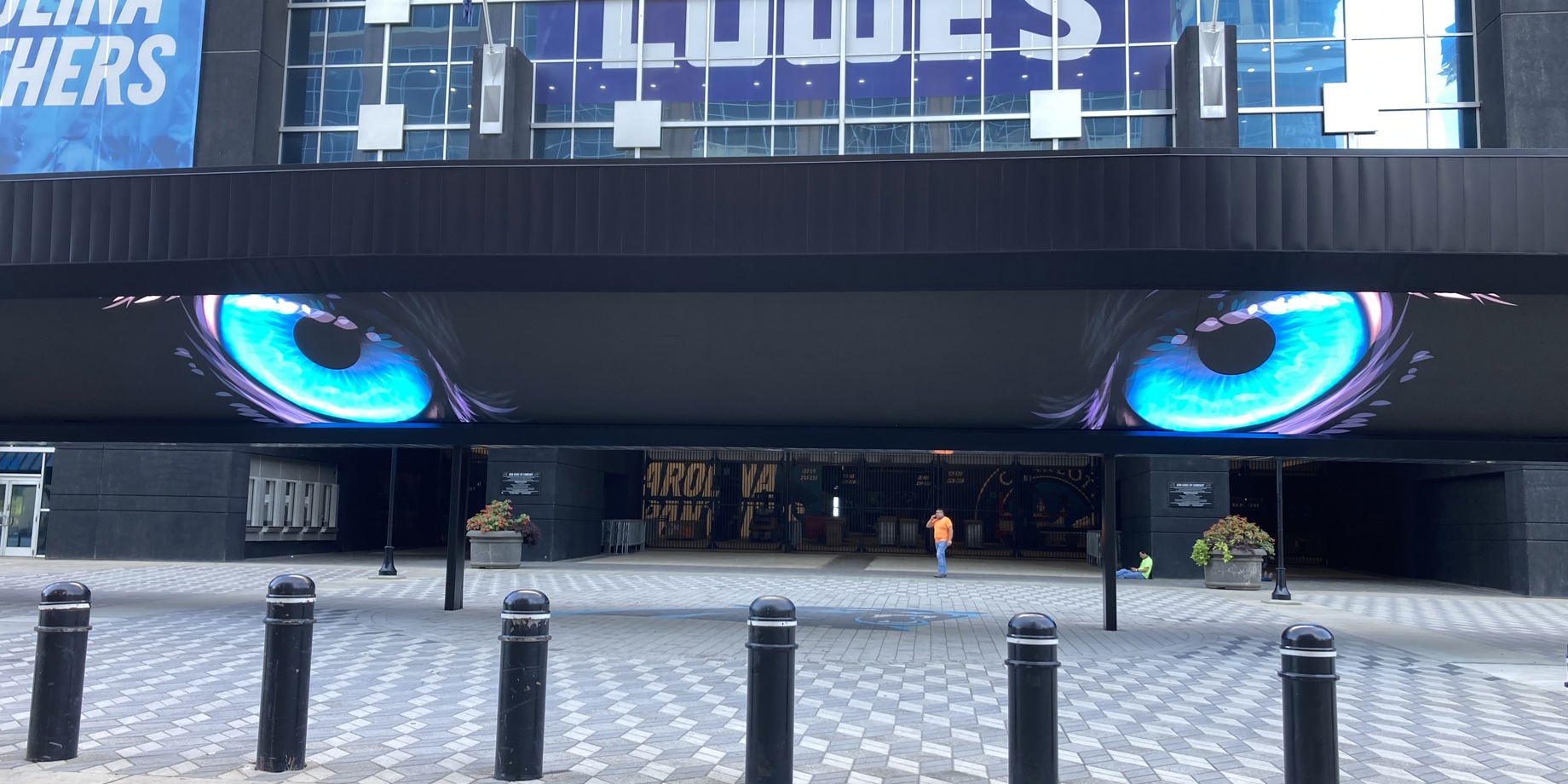 Well football fans, we've made it to the start of the 2022 season of professional football! Your favorite team may have new players on the roster from the draft and trades and free agency, but some of those teams might also have new LED displays at their home stadiums. We're here to let you know if your favorite team has new views for you to see when you attend a game this year. So, let's get to it!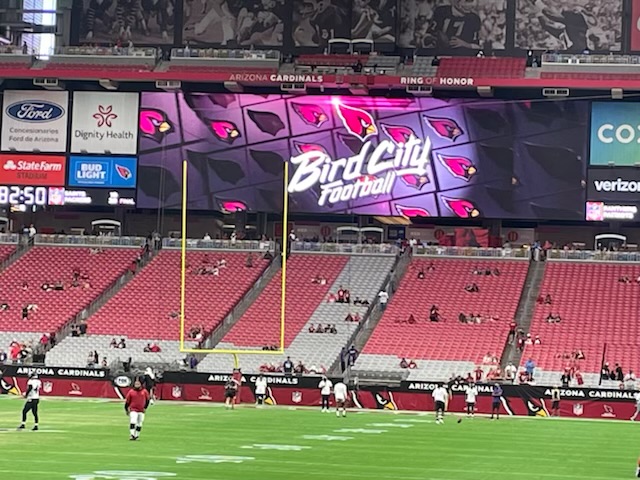 Let's start out west with the Arizona Cardinals. State Farm Stadium is set to host the biggest football game of the season and crown a champion. The venue will be entertaining fans with a new HDR-capable video display in the north end zone measuring 31 feet high by 118 feet wide. It features a 10-millimeter pixel layout to deliver high-resolution imagery and amazing picture clarity.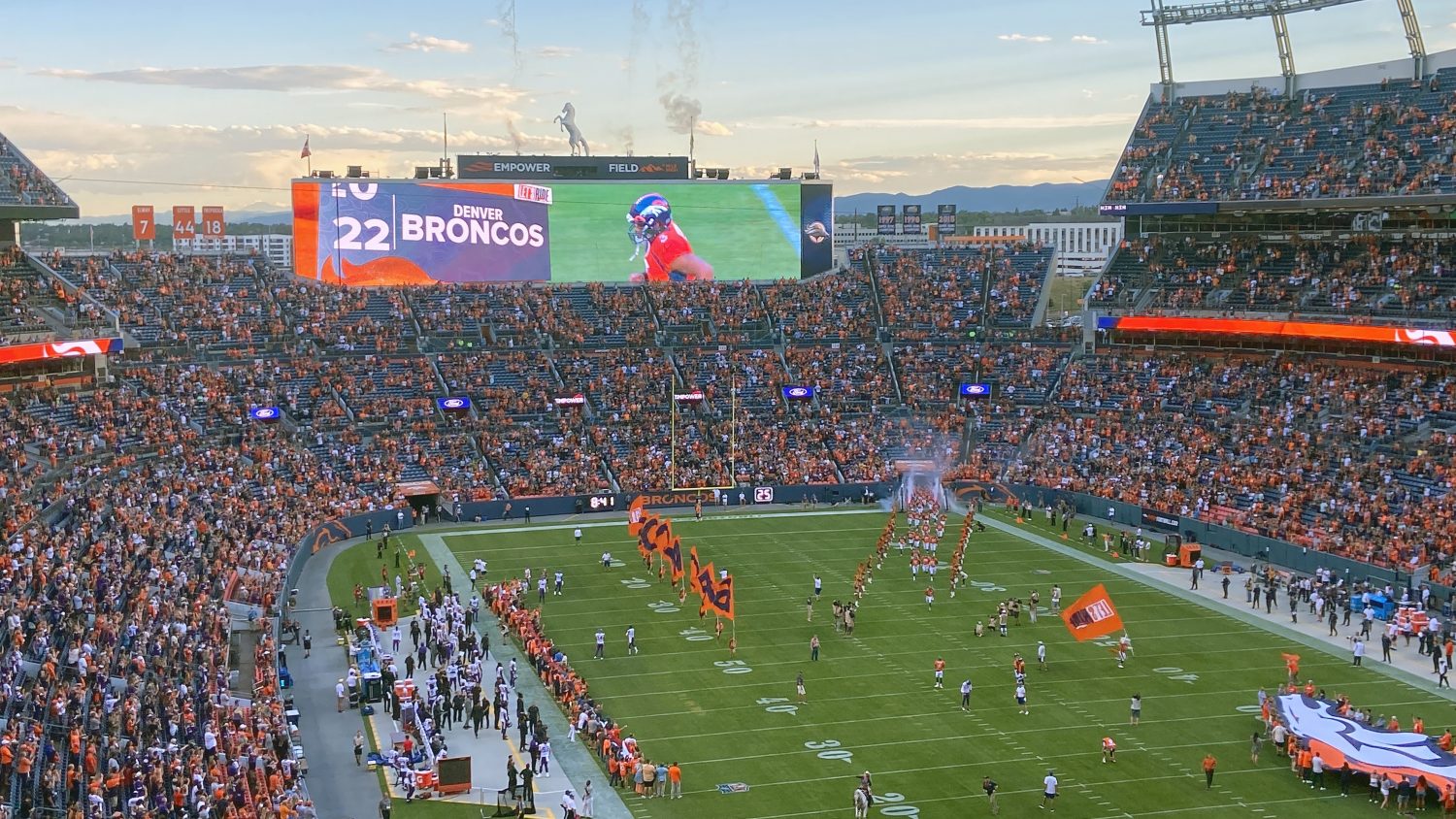 Working our way back east, the next stop is in Denver where the Broncos installed new vomitory displays at Empower Field at Mile High. These displays are above entrances and exits to the main seating bowl and add another avenue to connect with fans while also highlighting sponsors throughout events. When a big moment happens, these displays can share the same messaging and coloring as the main displays to bring a full stadium experience together. You can also see them really well on television which adds another level of appeal for sponsors and marketing partners.
Each display measures roughly 3 feet high by 9.5 feet wide and eight have been installed prior to kickoff with another eight being installed closer to the mid-point of the season.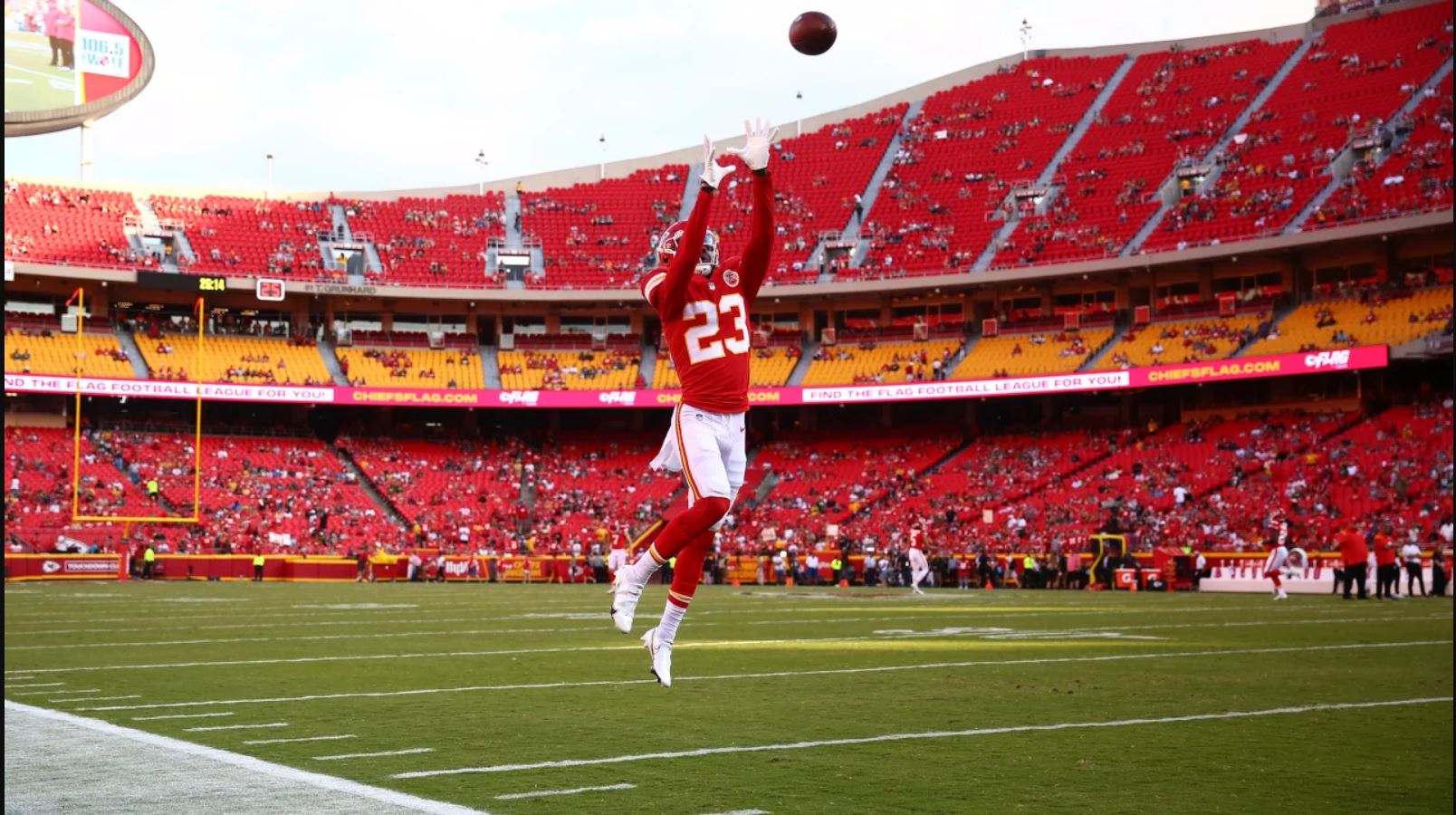 In Kansas City, new ribbon displays grace Arrowhead Stadium to literally surround fans in game-day content. A total of five ribbon displays were installed this summer, all featuring 10-millimeter pixel spacing and measuring 3.5 feet high. One measures 1,262 feet long, two others are each 178 feet long and the last two are each 19 feet long. These replace the technology that was installed in 2009, a nice upgrade to enhance the experience for 2022.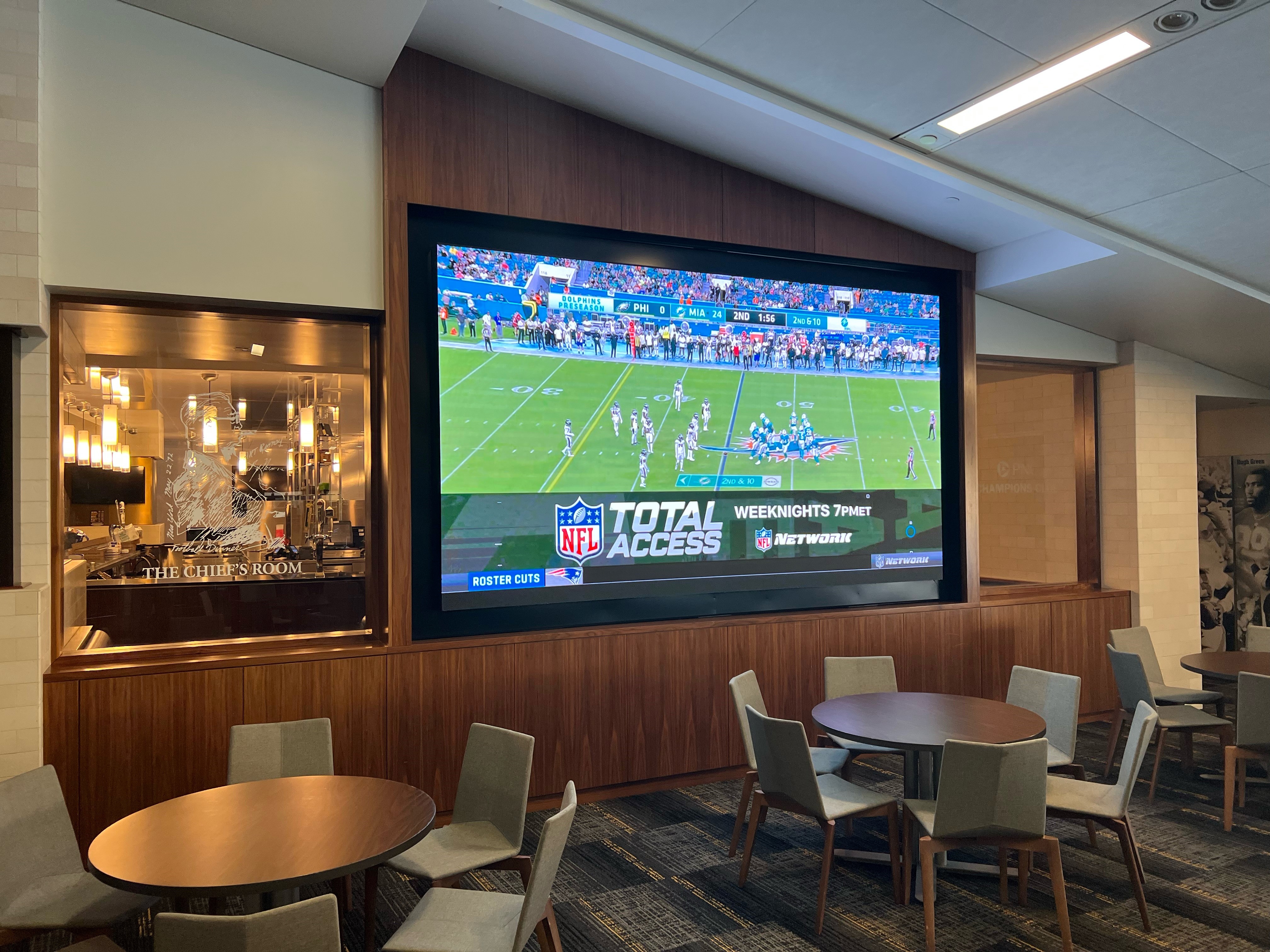 The Pittsburgh Steelers upgraded the views in their club area this summer to include a new 1.9-millimeter display. Great for up-close viewing, this displays measures nearly 7 feet high by 12 feet wide to show high-definition, high-quality content. Fans aren't always in the seating bowl and they still want the best experience possible while keeping up with all the live action. LED displays in these areas certainly deliver and enhance the game-day experience in other areas of stadiums and arenas.
Reaching the northern east coast, let's see what the New England Patriots are up to ahead of the 2022 season. It's the beginning of a multi-year, multiple video display project in Foxborough at Gillette Stadium! Starting with the north end zone, the Patriots have redone the presentation to include two new displays – an HDR-capable main video board and, coming later this fall, a new ribbon board.
The main display is a whopping 60 feet tall by 105 feet wide while the ribbon display will be 10 feet high by 220 feet wide. Both displays feature 10-millimeter pixel spacing to deliver great image quality and an amazing viewing experience for all audiences.
We did say this was part of a multi-year project, so what's coming in 2023? You'll have to check back in about a year to find out!
Moving south along the east coast, we come to Carolina where the Panthers have a few new things to brag about at Bank of America Stadium that came as part of the ushering in of a new tenant, Charlotte FC. The main entry received a huge facelift with an exterior canopy display. This display is 11 feet high by 211 feet wide and angled slightly toward the ground to appeal to audiences as they arrive for live events. It features a 6-millimeter pixel spacing to show crisp, clear imagery as fans pass below it and enter the stadium.
Once fans are inside, they can experience the new concourse displays! These two displays feature 5.9-millimeter pixel spacing and measure 10 feet high by 130 feet wide. They can be used to keep fans engaged in the action while away from their seats or to inform them of specials happening in the concession areas, team stores or much, much more!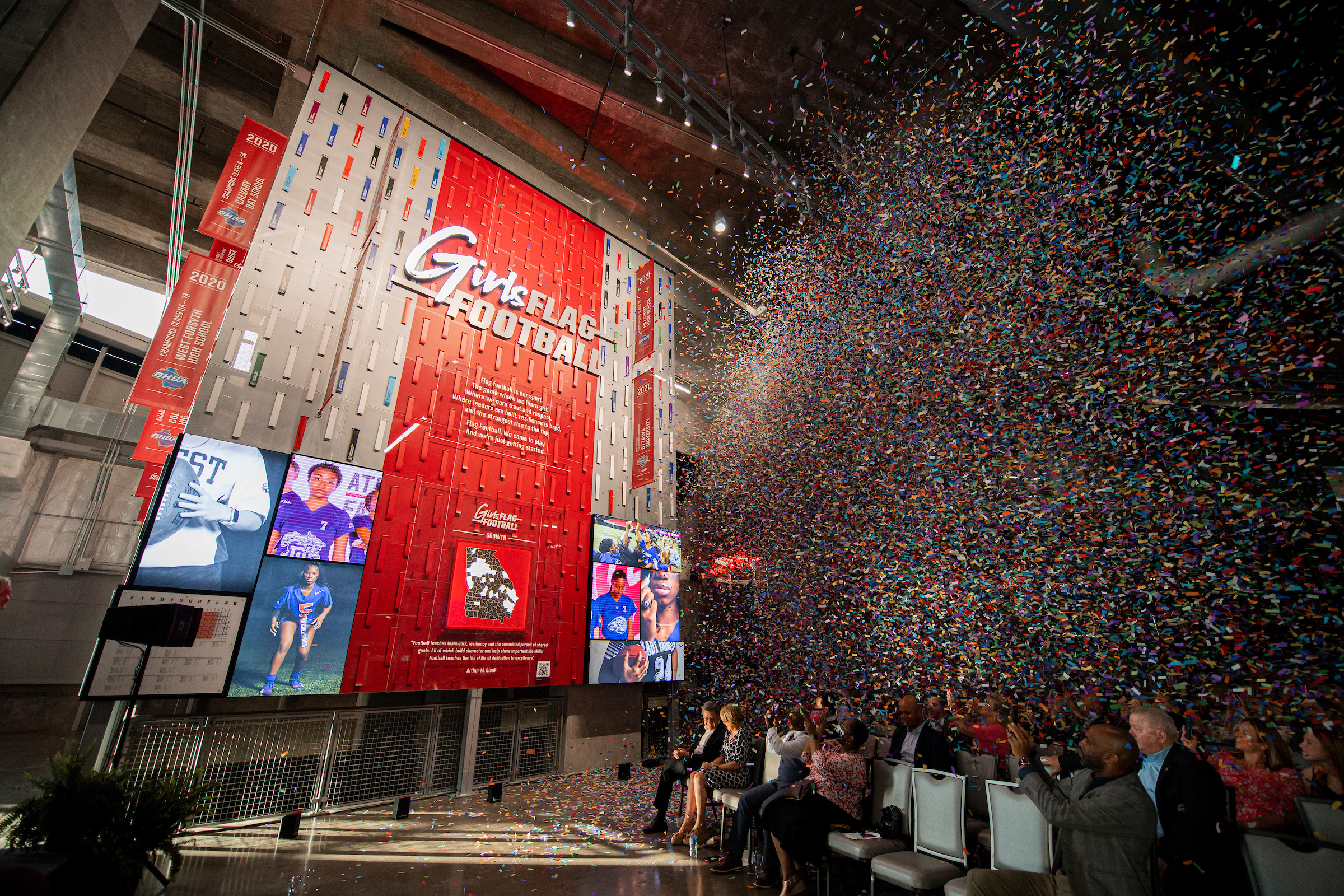 Our final stop is down in Georgia where the Atlanta Falcons added a new display to Mercedes-Benz Stadium. New video walls were added as part of the Girls Flag Football Wall. Four displays, each featuring 1.9-millimeter pixel spacing, make up the wall. Two displays measure 3.5 feet high by 8 feet wide while another two measure 4 feet high by 3.5 feet wide. They are arranged to make one large feature wall that can highlight achievements and other special videos and information as needed by the team.
There you have it, all of the new Daktronics displays installed for the 2022 season at professional football stadiums. If you can't get to these stadiums to see the new technology in person this season, you'll just have to enjoy the images in this blog post and hope to catch a glimpse during broadcasts all season long!
---