Q&A with Rich McKay, Atlanta Falcons President & CEO
Recently we sat down with Rich McKay, President & CEO of the Atlanta Falcons and President of AMB Sports & Entertainment, to talk about the LED technology at the stadium.
Steve Schreiber on 12/7/2017
Categories: Pro Sports and Colleges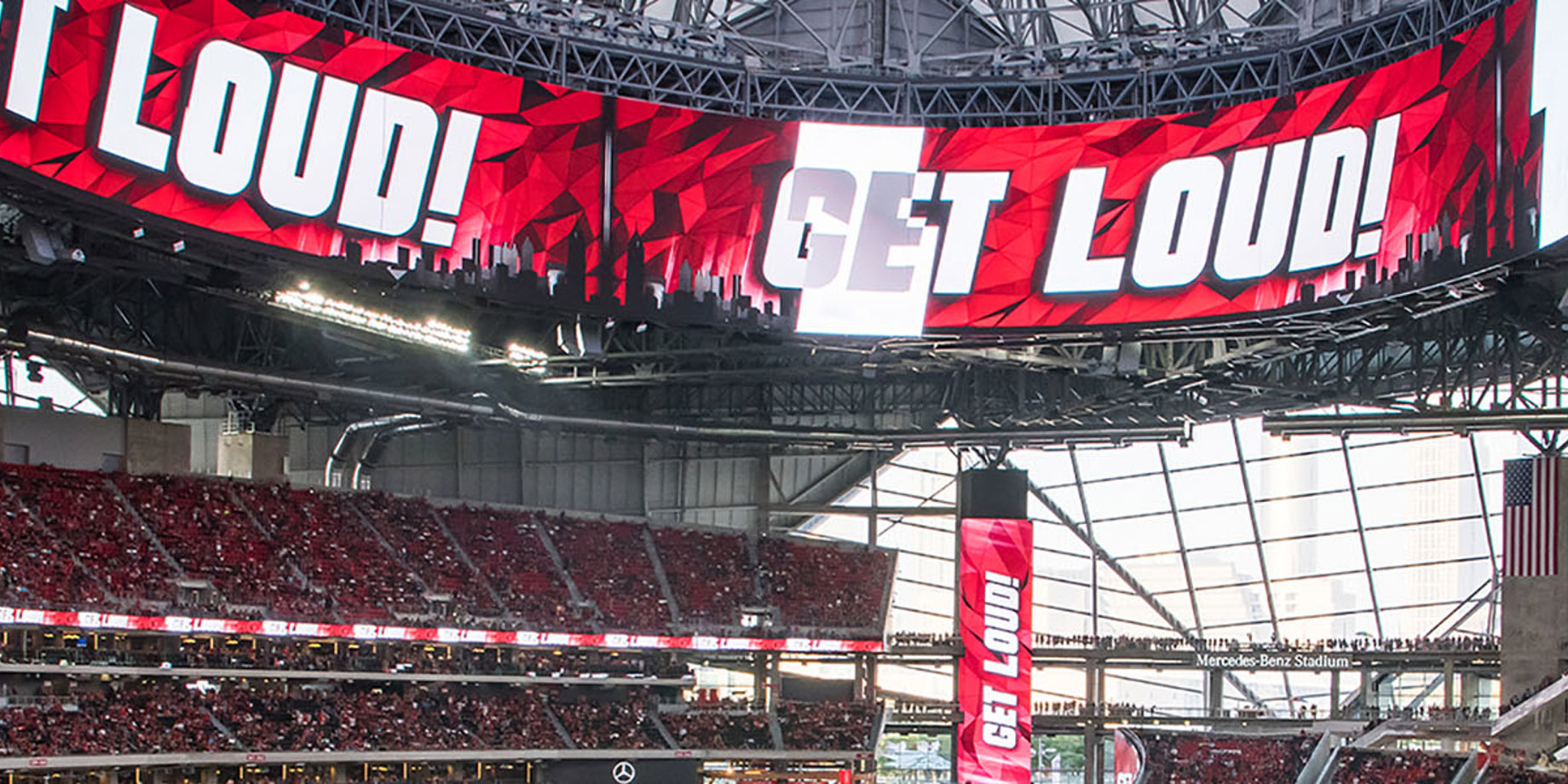 Still in its inaugural year, Mercedes-Benz Stadium in Atlanta has already hosted some of the biggest events in sports, including setting the MLS (Major League Soccer) attendance record at an Atlanta United FC match. Proudly displayed at these events is Daktronics integrated LED video system, comprised of over 83,000 square feet of LED throughout the venue. While there are many unique features to Mercedes-Benz Stadium, perhaps none are more visual and iconic than the unprecedented 360-degree Halo board, the largest video scoreboard in the world.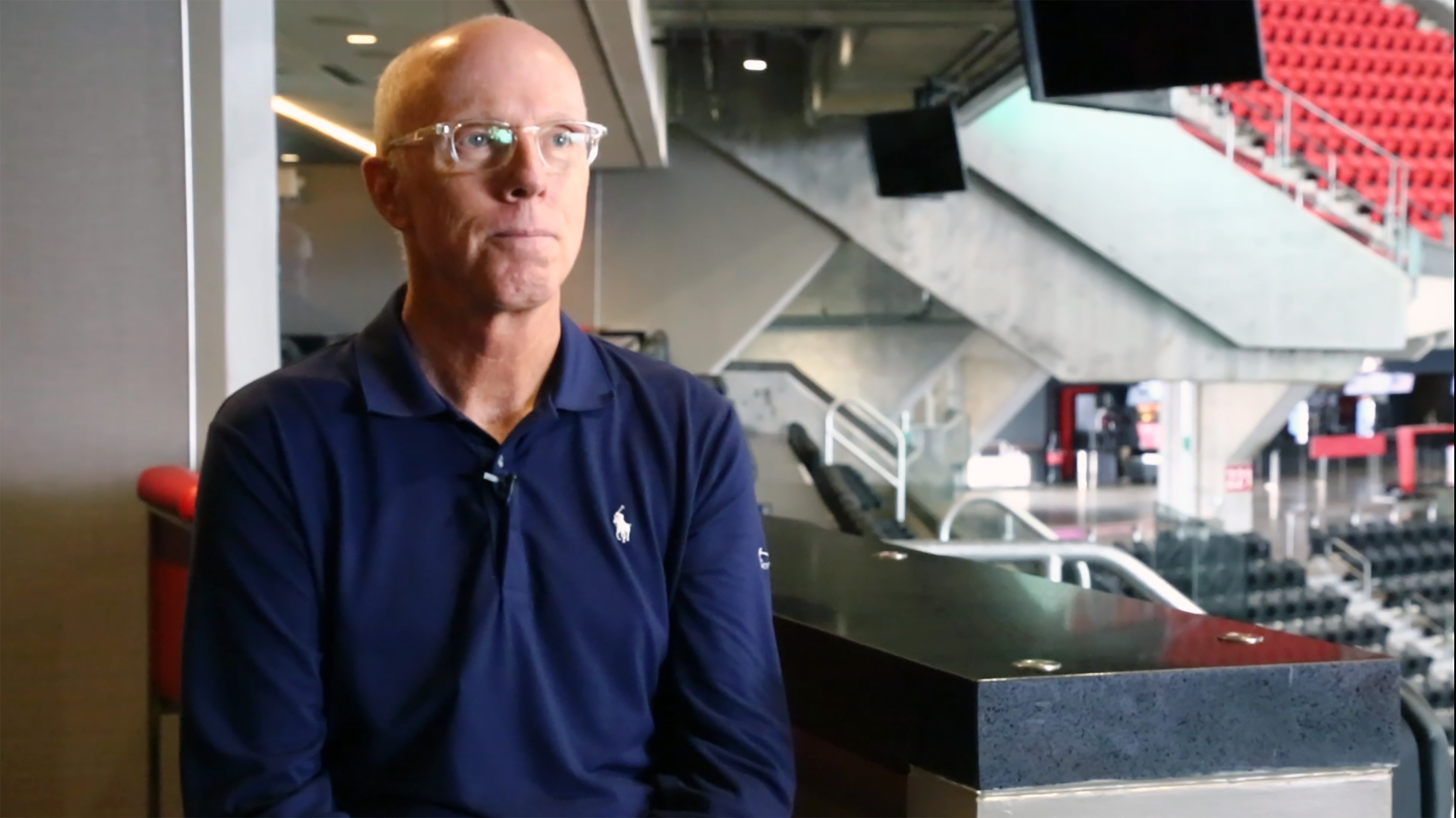 Recently we sat down with Rich McKay, President & CEO of the Atlanta Falcons and President of AMB Sports & Entertainment, to talk about the LED technology at the stadium.
What was the vision for the integrated LED video system at Mercedes-Benz Stadium?
As we were innovating and trying to design this system, it was trying to reset the bar in what the in-bowl experience would look like from an LED standpoint. Also, being creative with a bunch of different LED displays that were going to present challenges from an integration concept. That's where we turned to Daktronics because Daktronics has done these projects before, done big projects before. We needed their expertise to help us figure out how to integrate what was a number of different products into a not simple, but manageable solution.
What were the challenges you faced with this unique LED system?
First let's just start with the Halo board. We knew it was one-of-a-kind given its size and scale and the obstacles included in design, but also installation. Also, including the ability to deliver it to us in an appropriate, on-time fashion. The challenges really came in when we took that big element and decided we were going to integrate with everything else; the fascia boards, the mega column, the curved wall, the club displays. We decided we wanted to be all in on integration. The challenges just didn't end with this huge Halo board that is 58 feet tall, 1,075 liner feet around; they just began.
What were the goals that reinforced the idea to install this integrated LED system?
Fan experience. We went into this project with one simple goal: to build what we would say is the best stadium in fan experience in the world. We knew that the LED video, and the integration of it, was going to play a huge part in that fan experience. So, our goals were high and the challenges were many, and we thought Daktronics was a really good partner because number one, Daktronics has done a lot of big projects, but number two, this is one where they were willing to innovate side-by-side with us and make sure that we did what we set out to do.
How did Daktronics help Innovate and Engineer your vision for these uniquely-shaped displays?
I think that the best thing Daktronics did for us in this project was be our partner, listen to us and then deliver what we asked for. We feel like we're the customer, we know what we want, but we don't know how to deliver it. What Daktronics did for us, is that they delivered what we asked for. That doesn't happen all the time. Sometimes in this stadium world, we get consultants that want to deliver what they want to deliver. In this case, we had a specific ask in the way we wanted it.
How has Daktronics performed under the challenging project timelines?
I think timelines for Daktronics gets an A+ because these were hard timelines to hit. We were really nervous about when we finally got the ability to install the big Halo, that's 63,000 square feet of curved LED and how long it was going to take. It installed very well and they delivered it to us on time.
How do the products and services provided by Daktronics help in your game-day efforts?
Integration, you can't say it enough times. What you need in today's game day, in the NFL and MLS and in any big event, is integration. It can't be run by too many separate outlets or you will have problems. What Daktronics did for us is help us in that solution and make sure that they were seamless.
How has the video technology performed regarding viewing angles, brightness, lighting?
The challenge that we presented to Daktronics and presented in this building is that we have many different products that have many different viewing angles that have many different delivery requirements. What Daktronics did for us is explain to us in layman's terms, what's needed, what's necessary, what the viewing angle should be, and let us go with it.
How has the service support staff from Daktronics performed?
I think Daktronics from a service and communication stand point, operates at a very high level because they've done this before, this isn't new to them. They know what clients need and the reaction time necessary to make a client happy. In our case, they've delivered. We've had no issues, they've never been one of those consultants that we've had that tends to change their phone number because we can't find them. Daktronics is easy to find, easy to ask a question and easy to work with.
What have been the overall reactions to the integrated LED system?
It's 83,000 square feet of LED. Nobody else in the world has that. When you first see it, and want to see what Daktronics brought to the table for us, just watch the people that come into the building. They take out their phones and they film the LED. They want to film the Mega Column, they want to film the Halo, because no one else has it. It's unique and I think Daktronics did a great job in bringing to life what our vision was and what our hope was for that moment.
Watch the full Mercedes-Benz Stadium Video Testimonial.
To find out more about our involvement at Mercedes-Benz Stadium, visit www.daktronics.com/mbstadium
---