Digital Signage Helps Communities Rise to Battle COVID Crisis
COVID has changed how businesses operate – and digital signage played a vital part in that change.
5/6/2021
Categories: Business & Community, Sign Company News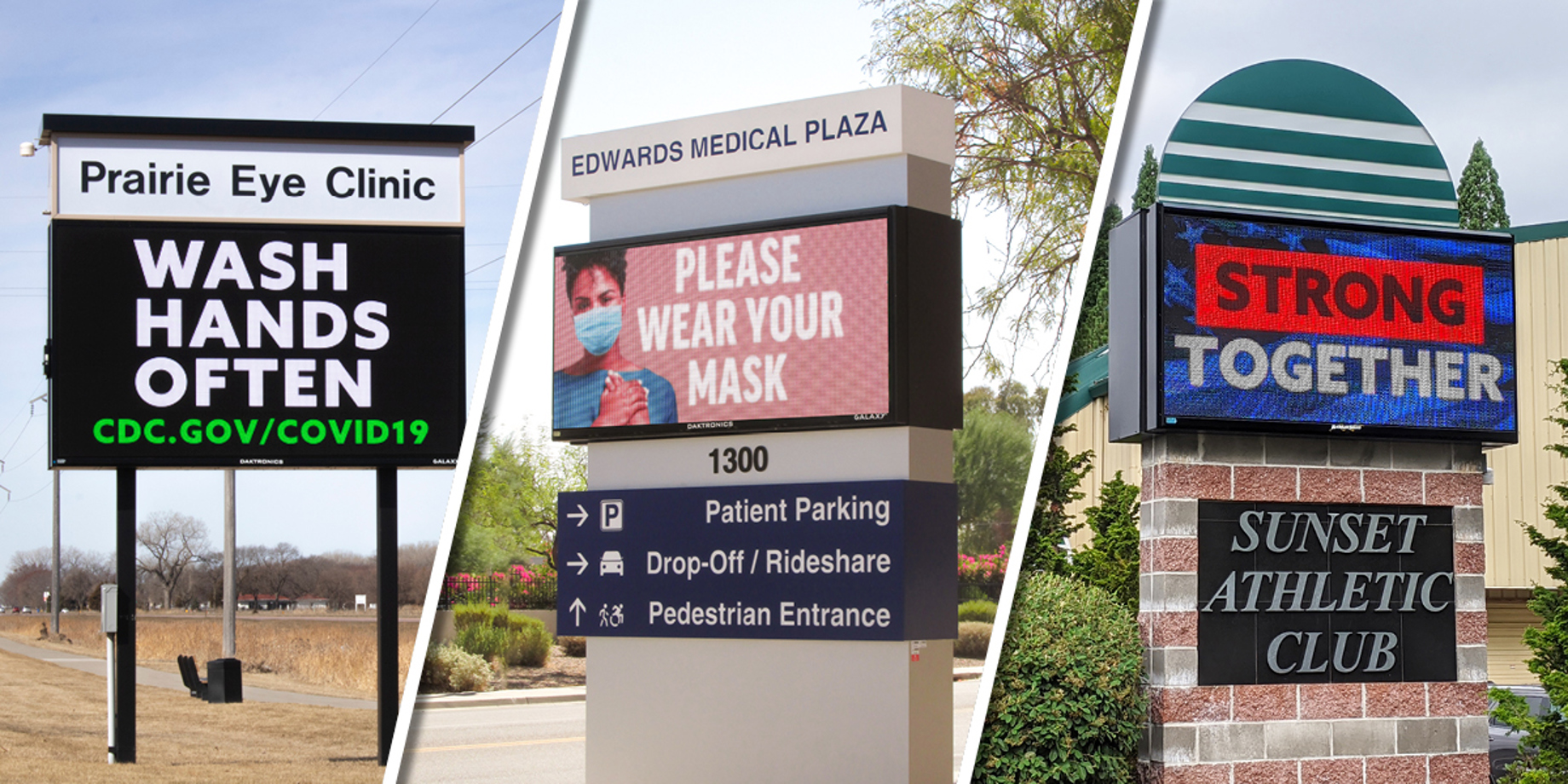 From the time the virus first hit to the current rollout of vaccines, organizations look to digital signage to communicate how to behave, changes in operation and other frequently asked questions. This is aiding in raising consumer confidence and according to one industry leader, this has resulted in a increased demand for the technology.
"We've seen a strong interest in our on-premise business. In fact, this business exceeds the demand we saw pre-pandemic," shared Reece Kurtenbach, President/CEO of Daktronics, a leader in the digital display market. "There was a real desire early on to connect with the audiences and communities' people are in."
And connect they did. Since the pandemic began, Daktronics offered a complimentary COVID content library – which has now seen 20,000+ downloads. These libraries feature messages such as mask requirements, sanitation procedures, community spirit, as well as market-specific content for healthcare, convenience stores and education.
So what drives the demand for digital signage? It all begins with establishing an integrated marketing mix.
"The channels to communicate with our audiences are changing and growing all the time. It used to be TV, radio and print and is increasingly moving into digital mediums."
Kurtenbach explains, "None of these have been replaced. There are so many ways to communicate to our audiences today. We need to have a comprehensive strategy that brings all together in a consistent and cohesive way. There's a lot of reasons why digital signage provides that impact they are looking for."
3 Key Reasons Why Digital Signage Works
It is at your physical location. The best place to drive consumer behavior is right where they are – at your location.
It is timely. They can change and adapt to what is happening at that location today.
It is always visible. You can't fast-forward or unfollow digital signage. It's always there to provide your audience a consistent form of communication.
The outlook for our economy, the pandemic and digital signage all look bright – and digital signage is currently helping throughout the world as we look to dispense the vaccine. Many public vaccination clinics (points of dispensing or PODs), are held at large venues that had existing, on-site digital signage that now helps with wayfinding, providing directions to speed wait time and even features different languages to accommodate all audiences.
Curious on how to get started? Seeing is believing – a no-commitment demonstration is a great way to understand how you might put digital to work for you.
---