Daktronics Indoor Digital Menu Boards "Extremely Easy" Project for Sign Company
Meyer Sign Company was new to indoor digital menu boards. But when a long-time customer asked for them, Meyer found an easy, effective solution with Daktronics.
9/4/2020
Categories: Business & Community, Sign Company News
Gregg Collins with Meyer Sign Company has worked with Hal's Drive-In for years. Hal's is a true throw-back, with fresh burgers under $5.00, and a jukebox that plays music from the '50s. Even with all that retro ambiance, Hal's still needs to update their menus regularly. That's why they wanted to update their old manual menu boards to digital.
Collins had never installed a digital menu board before, so he needed the right partner to help him through the process.
"I saw an email from Daktronics featuring this product and thought it would work well," says Collins, who has a long relationship with Daktronics for outdoor projects. "Lisa (Silveira of Daktronics) held my hand through the whole process. It was one of the easiest jobs I've ever had."
They installed three Daktronics digital menu boards inside Hal's. They started the installation at 6:00 a.m., and it was complete by the time Hal's opened at 10:00. Daktronics did online training with Hal's, and things have been running smoothly ever since.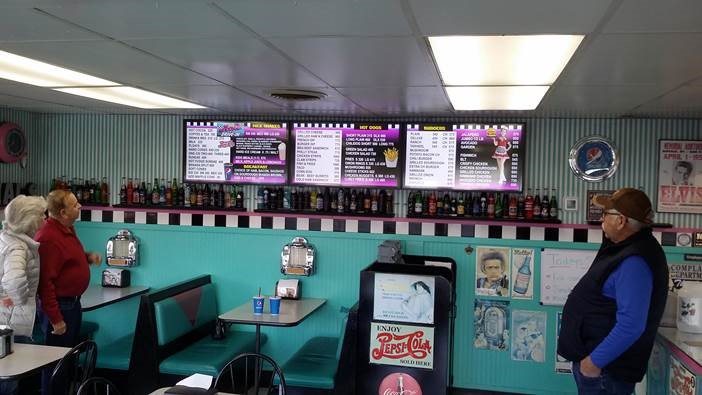 "It's a great product," says Collins. "When selling a product like this, the support, warranty and the ability to get people on the phone is very important."
Collins says sign companies shouldn't be afraid to install products without experience if they have a good partner.
"That was my greatest fear, selling something I didn't know," he says. "Lisa's help made it extremely easy. I'd do it again in a heartbeat, especially with Daktronics handling installation."
---