Dairy Queen of Madison Improves Image with Digital Sign
DQ owner DeLon Mork says his Daktronics LED sign brings people into his restaurant by showing good-looking, up-to-date content.
7/26/2021
Categories: Business & Community, Sign Company News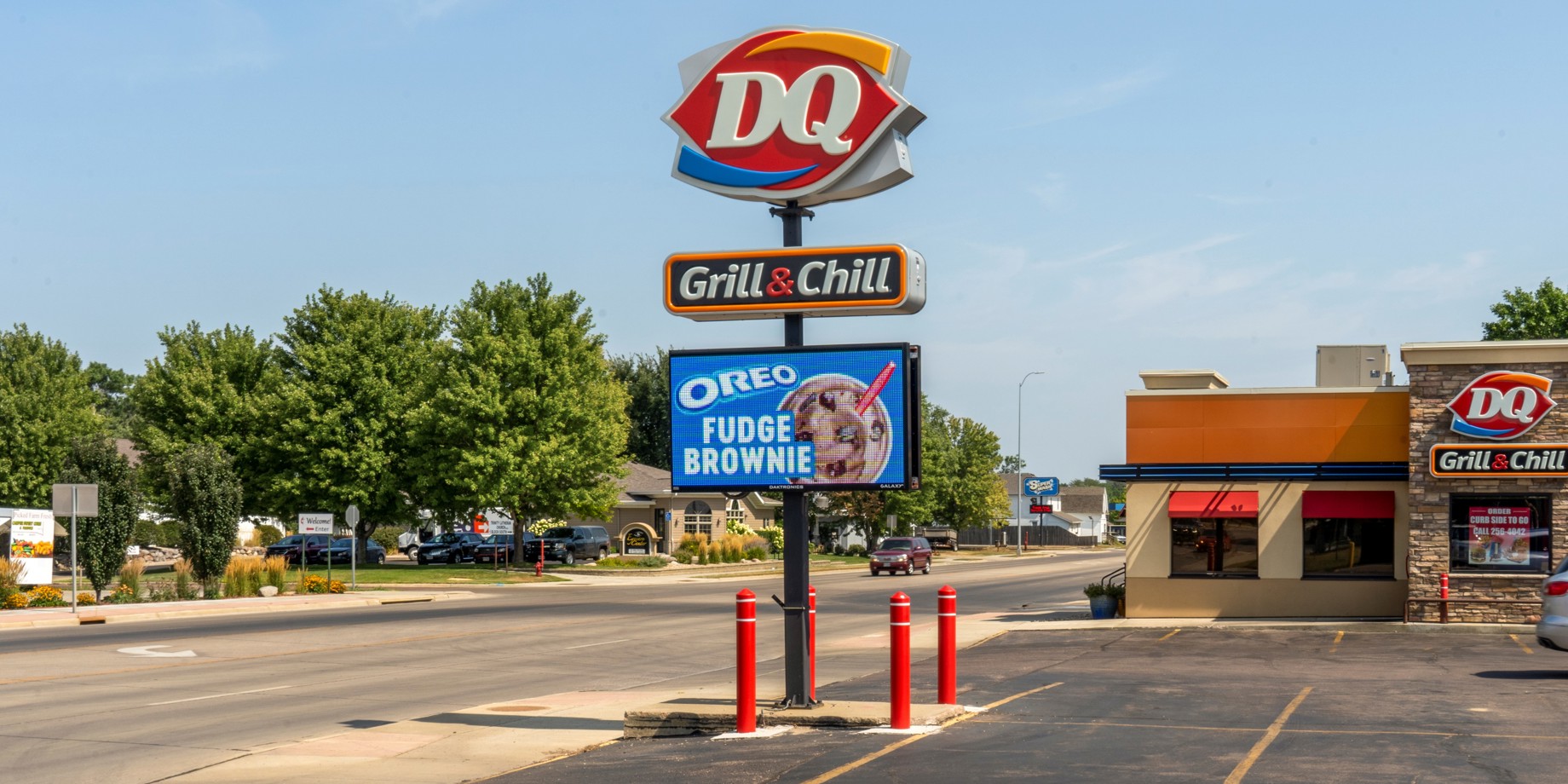 Madison, SD is a town of about 7,000 people. It's home to a recreational lake, many parks, and a successful Dairy Queen®.
DeLon Mork is the owner of that DQ®, which now features its second roadside digital LED sign from Daktronics. Mork installed his first digital sign in 2006, and upgraded it to a full-color high resolution sign about a year ago.
Why? As Mork says,
"There's no better way to display our image and show products than on a Daktronics sign. You can pay for one TV ad campaign or buy a Daktronics board that lasts more than 10 years."
The Madison DQ uses its digital sign strictly for branding and advertising. Mork is a big believer in brand building, and spends about $6,000 per month on advertising. He relies heavily on his digital sign. He takes advantage of the building blocks Daktronics provides DQ, so he can easily update his messaging with professional content and promote monthly specials.
"People don't plan ahead and make dinner plans for DQ," he says. "They see what they want (on the sign) and turn in. There is a dramatic difference in response when we advertise on our sign. We display products we want to sell. People come in right away when the see the Blizzard of the Month."
Mork says he originally decided to purchase a digital sign in 2006 when he noticed them at various QSRs on his travels, and he was impressed with how good they looked.
"Just being able to change the message makes it worthwhile, but also the improved aesthetics," he says. "I went with Daktronics because it's a South Dakota company. I live and do business here, and so does Daktronics. Also, Daktronics gives to organizations in the area and they're very involved. I love that the company gives back to South Dakota. It's a good business model. Of course, the product is the best, too."
Locals demand hi-tech advertising
You might think that a DQ based in a smaller town in South Dakota would not require anything more than an "Open" sign. But you would be wrong. Madison is home to Dakota State University, one of the nation's top computer and cyber schools in the nation, and that effects the way Mork does business
"I was talking to some students about whether they look at my digital sign," says Mork. "They said if I don't have a sign that moves and changes, they're not looking at it. One young man said he is actually offended when businesses don't have that technology."
At the end of the day, it all boils down to the fact that his digital sign works for him. Mork puts it very simply: "I believe in it."
---