Celebrating Riley Outdoor's 10th Anniversary
Two noteworthy events happened way back in 2007: Apple launched it's first iPhone, and Riley Outdoor bought their first digital billboard from Daktronics. Does anyone still have their first iPhone? Well, Riley Outdoor's billboard is still up and running strong!
12/15/2017
Categories: Out of Home Advertising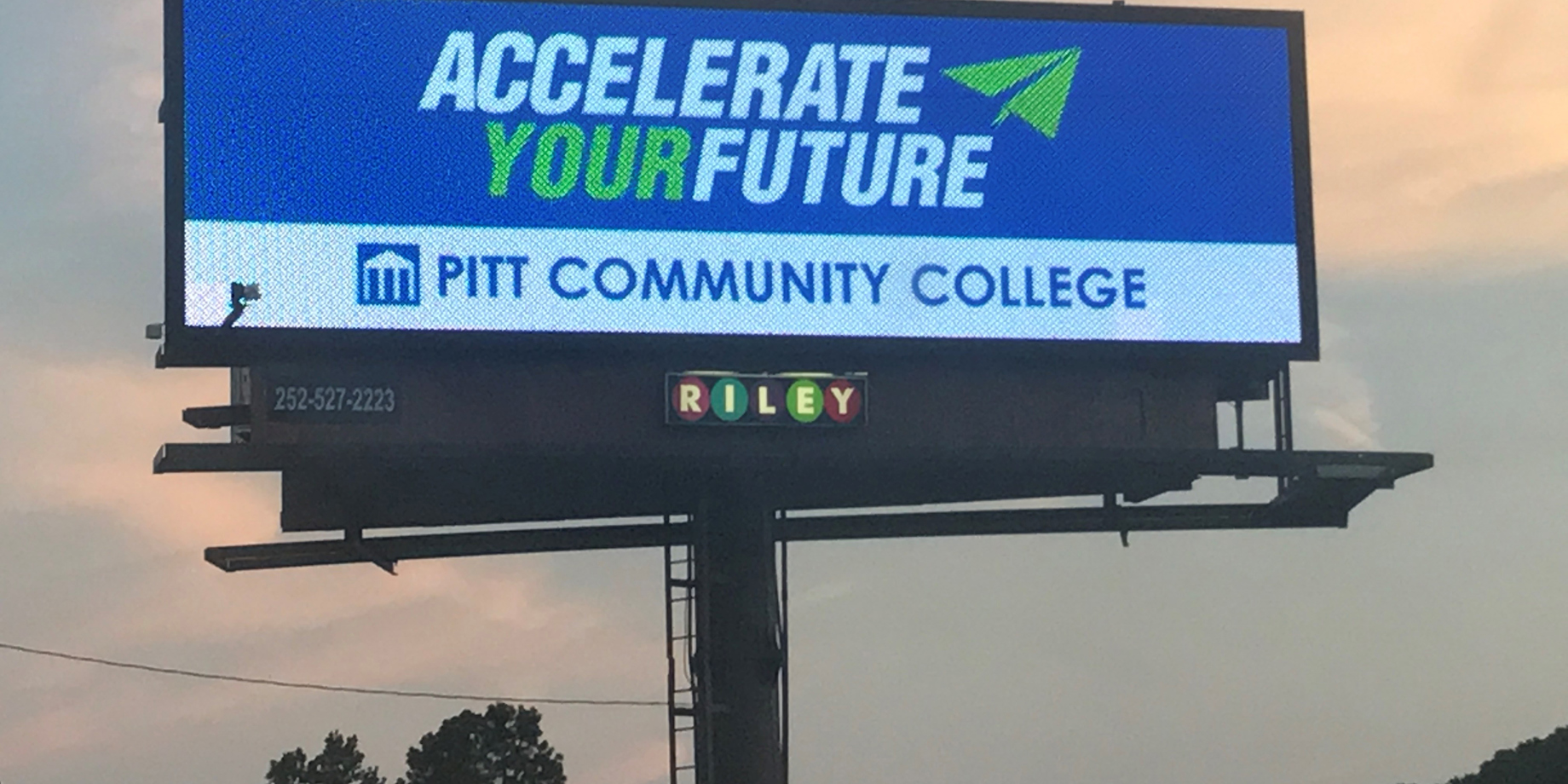 Two noteworthy events happened way back in 2007: Apple launched it's first iPhone, and Riley Outdoor bought their first digital billboard from Daktronics. Does anyone still have their first iPhone? Well, Riley Outdoor's billboard is still up and running strong! Over the past decade, Riley Outdoor's partnership with Daktronics has grown. Owner Robert Moore sat down to reflect on the changes over years and what he sees for the future of the digital OOH industry.
Tell our readers a little about yourself, such as your time in the business, how you got started, etc.
I grew up in Kinston, NC, and graduated from East Carolina University in 1997. I now live in Greenville, NC, with my wife Laura. I have a 13-year-old daughter named Riley. I actually started with Eastern Outdoor during my senior year at ECU. We developed that company into a medium-sized outdoor company before divesting to Next Media Group in 2005. Riley Outdoor was started almost immediately after we sold to Next Media Group in August 2005.
How did you decide on Daktronics 10 years ago?
In the summer of 2007, there were very few digital billboards operating in the United States, and I think there were only a couple in Eastern NC. I received a call from Fred Wilson and Matt Newton with Daktronics about meeting to show off the new digital product that Daktronics was introducing in the fall of 2007. We met at a small restaurant in Selma, NC, and a few weeks later I signed a contract to buy a digital billboard face that would be delivered and installed in November 2007. I bought from Daktronics in 2007 because I felt very comfortable with the people and the product.
What brings you back as a repeat customer?
I come back as repeat customer for the same reason I purchased from Daktronics the first time — the people and the product.
What have you liked best about working with Daktronics? Any favorite memories?
The reason I like working with Daktronics is they always find a way to solve any problems that arise. Any company is easy to work with when there are no issues, but it takes a good company to find a resolution when there is a problem. Daktronics has found a way to solve every problem that has come up over the last 10 years. I always have good memories of the people at Daktronics and I usually see them a couple of times a year at Outdoor Advertising meetings, including Matt Newton, Jesse Ulrickson and Collin Huber.
What feedback do you hear about your displays? What results do advertisers see?
I always hear great things about my Daktronics displays from local government officials as well as advertisers. The comment I hear most often is they love the changing content and are always excited about what ad or message they will see next on the display. My advertisers have really enjoyed the results from digital billboard advertising and have raved about the ability to constantly communicate with the traveling public and change their message as needed. I have some advertisers that have been with me from the first day I installed that digital in November 2007.
When thinking about the future, what excites you about the Out of Home industry?
I think the best is yet to come for the Out of Home industry and technology will drive that. There will be many more digital billboards in years to come, but I do not think they will ever fully take the place of static displays. I am excited about the ability to measure the audience that actually looks at our billboards. This data will allow for easier buying for targeted campaigns through social media by tracking the movement of people via smart phones.
The most exciting thing about the new shift in digital is the ability to have better creative that captivates our audience. We can now stream live data (sport scores, weather conditions, traffic reports, breaking news, etc.) as well as increase the visibility of your brand by integrating your social media campaign. Out of Home has an advantage over all media in that we can't be turned off and we are always working. The future of Out of Home is very bright.
In terms of the day-to-day business, what keeps you up at night?
There really isn't much that keeps me up at night. I had a life changing event in February 2010 that allowed me to refocus my life and enjoy every day to the fullest. I was raised on a farm in Eastern NC and was the first in my family to graduate from college. This allowed me to fulfill my childhood dream of owning my own business. I have been beyond blessed over the last 20 years and am really thankful to be where I am today.
Riley Outdoor doesn't follow the traditional "last name equals business name" format. How did you select the name for your company?
The name Riley Outdoor comes from my wonderful and beautiful 13-year-old daughter, Riley. I started Riley Outdoor when she was only about a year old. She is what drives me every day and I want to give her every opportunity to fulfill her dreams as she gets older.
What is the best business advice you've received?
More than 20 years ago, I was told by a very successful business man to gather an informal Board of Directors…not a formal group that you sit down with, but an informal group that has experience in all facets of business that you can call on from time to time to seek advice on any of a number of topics. As the owner of a small business, this is very important, to have someone that you can call on to ask about a wide range of topics from taxation or financing your next expansion plan. The people that sit on my informal board may not even know who they are but they have been a key part of my success over the last 20 years.
---