Audiovisual Projects at CSU-Pueblo: A Conversation with AD Paul Plinske
A conversation where Paul Plinske of Colorado State University – Pueblo shares his experiences working with Daktronics audiovisual systems at his school's live event venues.
Justin Ochsner on 3/26/2021
Categories: Pro Sports and Colleges
During a recent podcast episode, Justin and Matt were joined by Paul Plinske, Athletic Director for Colorado State University – Pueblo, who shared his experience bringing new audiovisual solutions to campus. This includes recent projects for their football stadium, arena and baseball field. Here's a segment of the conversation that starts with Paul's "typical day" before digging into the project details.
Justin: Can you tell us a little about yourself and your journey to your current role?
Paul: I grew up in Minneapolis, MN, and my Dad was a High School football and basketball coach so I had the opportunity to watch him go through what it is like to win outstanding games and have heartfelt losses. Because of that, I grew an affinity of what it is like to be 24/7 in the college ranks and really grew a great appreciation for it. I went to Bethel University in St. Paul, MN, where I got my Bachelors' Degree. I had the opportunity to play both football and basketball. Once I was finished with that, I had the great fortune of going to the University of Illinois to work in their football program. Lou Tepper was the head football coach and I was one of the recruiting graduate assistants under his umbrella and had the chance to watch what a BCS Division 1, Power 5 football program looks like.
After I got my Master's Degree at Illinois, I went to the University of Minnesota and was there for three years working on my PhD, so at the age of 29 I became a doctor. From there I went to the University of Wisconsin – Lacrosse, a Division III school which really felt at home to me because of my background as a Division III student athlete. I worked as the Associate Athletic Director there for five years and then at the age of 34 I became the Athletic Director at University of Wisconsin – Whitewater and was there for nine years before an opportunity at the University of Nebraska – Kearney came up, a Division II school in the Mid-America Intercollegiate Athletic Association. So, I moved from Whitewater to Kearney and stayed there for five years before becoming the Athletic Director at the Colorado State University – Pueblo. So I have been in Pueblo for two years entering my third year.
Justin: What's a typical day like for you?
Paul: Well, I have to get my workout in so I start that at the crack of dawn. That kicks the day off and then I get my girls off to school and I'm in the office usually about 7:15 every day and I go until about 5 – 5:30. Now, with the coronavirus pandemic, it's just different times and it's really a struggle. It's been hard with all the change and all the uncertainty and the things that just happen so rapidly from day to day, but I try to continue my routine from 7:15 to 5-5:30 every day.
Justin: Could you tell us some background of the recent projects you have on campus at CSU-Pueblo?
Paul: Yeah, we have a what is called the Neta and Eddie DeRose ThunderBowl. It is a 6,500-seat stadium that actually has the capacity of 10,000 people. Initially it just had a scoreboard and back a couple years ago CSU-Fort Collins was moving from Hughes Stadium to a brand new, on-campus facility. Chancellor, Tony Frank said, "Hey, I'm going to send our video board from Hughes Stadium down to the Thunderbowl in Pueblo." So, we got a used, but quite frankly, a brand new video board with a sound system that is lights out! It is one of the best in Division II. We do very well with our football attendance and it is a game changer for us.
We have the Venus 7000 and high-definition LED video board that's 28 feet tall by 48 feet wide. I know there are competitors in Division II that have bigger ones, but I don't think you can find a better place to watch a football game and have home field advantage than you would at the ThunderBowl with the new Daktronics video board and sound system that we have. It's off the charts and it's a wonderful addition to the venue.
Matt: when you are looking at new video boards or equipment, are you weighing in on the recruiting aspect as well as the sponsorship revenue?
Paul: – To me it is the total package. What I have always appreciated about Daktronics is that it is a family atmosphere that is promoting the best quality that is out there with audiovisual components that campuses can use. For us, we view our investment in the Daktronics product as really an investment because we know there is going to be return on that investment and that investment is going to come back in multiple factors. You know, the "wow-factor" for student athletes is huge and we have 580 student athletes in our varsity sport programs. Our football program this year, in the midst of the pandemic, is carrying 160 guys. So when every one of those recruits would come on to campus, we turn on our Thundertron, the video board in the ThunderBowl and we show highlights and we show different things that show the game-day atmosphere here at CSU-Pueblo, and it's a game changer.
You can see the Thundertron from the road. You can see it as you enter into the team meeting room and into the coaches offices. And then, obviously, when you get onto the field and have the effect of the sound system. It's a dramatic game-changer for us. So that is one variable that really makes a difference for our football program and our campus as a whole. Then to take it a step further, we are regularly in the top 15 in Division II attendance. Last year we had seven games and we averaged more than 6,095 people per game. We attribute a large part of that to the messaging and the production that we do on our video board.
We have a full crew of people that are shooting live video and replays. We have sound effects that are going on and it's just an outstanding place to be. Then, as a result of our attendance, which is a result of the product and what the student athletes bring in, we are able to attract more corporate sponsors. Everyone is asking me right now in the middle of the pandemic, "How are you guys doing?" I'm like, "Look, our corporate sponsorships are up 33% because we have built relationships with people. They feel and trust that we are going to be engaging in some type of competitive experience, sooner than later, and they know that we are doing more than just putting people in the seats, we are also impacting student athletes and we are giving them an experience to get an education." It's worked out really well for us, and that's just one venue, that's just Thunderbowl. ThunderBowl has really been a prime spot for our campus and ultimately for our community.
Matt: That's awesome to hear about the ThunderBowl! Can you also tell us about your arena?
Paul: The Massari Arena is a 4,397-seat indoor facility that is used for our men's and women's basketball, volleyball and wrestling. We also hold commencement and convocation in this arena along with other special events that we will contract with. This past year, we developed a strategic plan for the university and one of the components was to enhance the arena with audiovisual equipment that would make convocation and commencement really high quality and first-class, and that would allow our athletic events to be really at a high level, but then again, giving us a chance to go out and generate some more external revenue by using the video board.
We put in a 11.5-foot-high by 35-foot-wide video board, high-definition LED, along with a new state-of-the-art sound system. We put in four LED scorer's tables that are used for volleyball, wrestling and basketball. When we put this product in our arena, we did it right in the middle of basketball and wrestling season. They were finished in the early part of December, 2019, and Daktronics came in and had it installed and up and running for our first basketball game on January 3, 2020. So, in less than a month they were able to get this huge video board installed, a sound system up and running, and by the way, the video board is the largest in our conference, and it's a game changer.
The things that we can do in the Massari Arena are things we can't even do down at the Thunderbolt due to the new technology that has come out. Our fans just can't stop talking about the impact that the video board had. I went back and looked at the statistics; when we compare the year before with attendance, we went from 1,095 people a game to over 1,500 a game in a one-year period of time. The team's record essentially didn't change. It was the fact that we promoted the new video board and sound system that we had, and we were able to draw in and do special events because of that. We were able to do live shots and then replays throughout the game, and then we were able to show videos that really put an exclamation point on the messaging that we are trying to do. Our corporate sponsors loved it because there was better exposure for them and visibility.
Justin: And I believe there's one more project you've got going on for baseball. Can you elaborate on that for us?
Paul: Sure. In fact, it is already concluded. We don't have the turf finished yet, mainly because we had a snowstorm come through that slowed everything down. But, in the midst of all that, we were able to go out and get 3.1 million dollars in external support from our key donors and we put in a new scoreboard at baseball along with new artificial turf and fencing and all the sound system amenities and everything that we needed in the venue.
Daktronics was awesome because we didn't want to spend a lot of money. We wanted to get to a point where we could make the economy work well for our situation and so we had a fixed size of the scoreboard that we had to stay in with relationship to the fence. Daktronics came in and measured the fence, measured the existing poles that we had for the old scoreboard, and were able to retrofit a brand new scoreboard on top of an old scoreboard system and a foundation base that we had within our existing fence line. It just worked awesome. It was a fixed digit scoreboard that was put in, but it was custom made to our preferences with corporate sponsorships and then with the name of the venue, so we really got in a great spot there. I did not have to go out for bid and we were able to go sole source with Daktronics and we got exactly what we wanted. There are other projects that I have in mind on our campus and they all relate to audiovisual needs, and the scoreboard component is definitely going to go right back to Daktronics.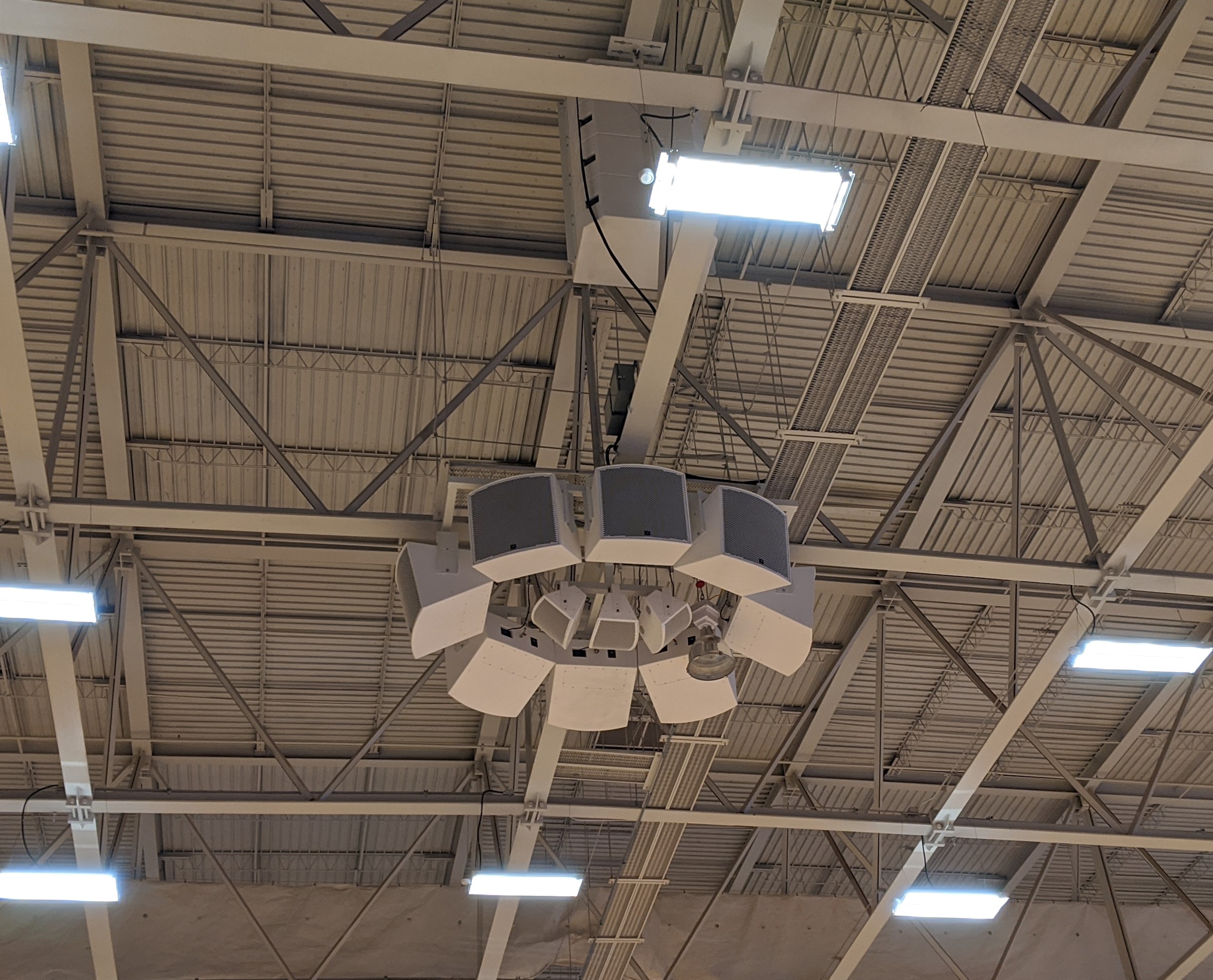 Matt: And how has the audio system worked in with all of these video board installations?
Paul: I'm a believer in the holistic approach to fan engagement. I really believe that fans come to an event and, whether the home teams wins or loses, you get an opportunity to leave an impression on them. For me, the impression is both the visual and the audio. There are other things that come along with the experience: the touch, the taste, all those kinds of things that you get at a sporting venue. But the visual and the audio combined have to work in harmony and when Daktronics decided years ago to incorporate the audio component to their work, I think it was a big boost to our enterprise and to sport management. Now, fans can really feel comfortable and they have sound that is clear and not muffled and had a good balance between base and treble. It gave you an opportunity to hear the sound all over the stadium, or all over the venue, not just in one location. Then it could be multi-facet. It can be used for concerts, commencements and sporting events because there are different settings that need to be applied for each of those different types of events. In athletics, we want our fans to leave with an impression. And Daktronics has really hit the ball out of the park with this one. When they added in the audio it makes the visual that much better. We have been really happy with it and it worked out really well. We have that entire system so we can give a first-hand testament to the impact this audiovisual system has at our football stadium as well as our basketball, volleyball and wrestling arena.
Thanks to Paul for joining our podcast to talk about everything going on at Colorado State University – Pueblo! To hear the entire conversation, listen here.
---