Adding Value with On-Site Video Shoots
Let our Creative Services teams take you behind the scenes at two of their recent production shoots with the Tampa Bay Buccaneers and Old Dominion University.
Justin Ochsner on 9/12/2021
Categories: Pro Sports and Colleges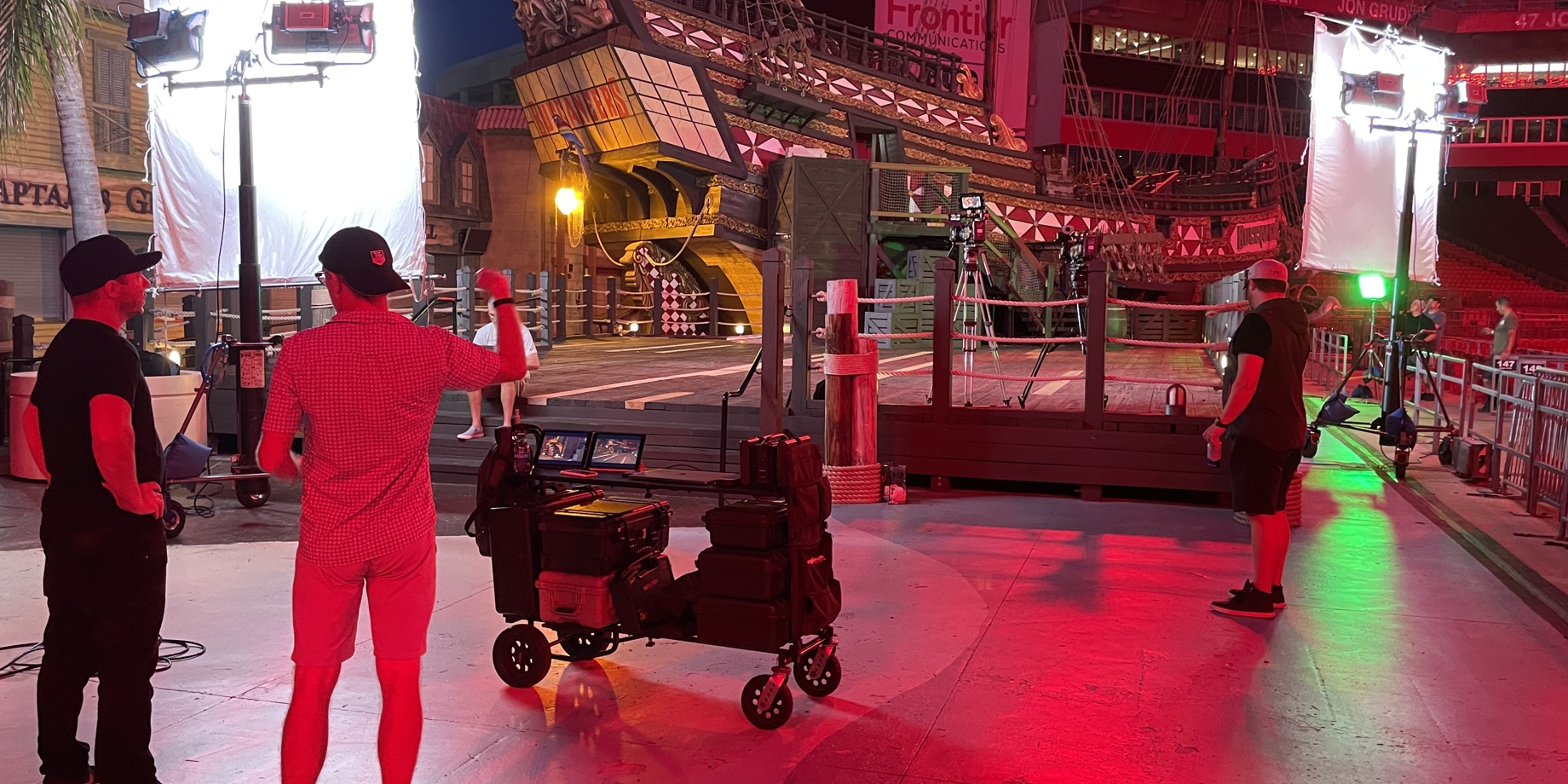 Rome wasn't built in a day is an expression many have heard or are familiar with. The same could be said of the live event experience, specifically when LED video displays are involved. The content shown and video highlights aren't pulled out of thin air. Preparation and detailed planning for execution at the right moment is necessary to bring that experience to life for fans in the stands.
A few locations understand the complexities of building that game-day atmosphere and the work behind the scenes leading up to the big moment. For example. Old Dominion University and the Tampa Bay Buccaneers asked our Creative Services team to help them prepare for their big moments by hosting an on-site video shoot to gather assets that will be used during their live productions. Let's step through the details of each shoot to see how our team helped their team deliver on game-day.
At Old Dominion University (ODU), a Creative Services account manager (and skilled head of creative work, I might add) was on site for a three-day video shoot that included a freelance director and videographers to capture the teams and school's athletics brand for the multiple fall sports coming back to campus. This included volleyball, football, men's and women's basketball, and, we certainly can't forget this one, the Monarchs' mascot – Big Blue!
Without sharing any spoilers, the Monarchs have a lot going on this year including a new women's basketball coach, new football uniforms and new expectations for the upcoming season! This video shoot helped capture that excitement, energy and newness surrounding the athletics department this year.
Oh, and let's not get too far ahead of ourselves. Remember when I said planning happens ahead of time? That's also true of the video shoot itself! Daktronics Creative Services produced animated pieces to play on the LED video boards and ribbon displays in the background of the shoot. This provides additional connection to the brand and venue inside the video itself! ALL of the details were thought through before the shoot took place and well before these pieces will be used on game-days.
Our team is sharing some footage with ODU from the shoots so they can chop it up into the bite sized pieces they need for their presentations. But, the Daktronics team is also doing a full edited piece for ODU's football team as well as multiple video highlights for men's and women's basketball. These pieces will energize the crowd when shown on the video boards while also bringing branding to the event that connects with the Monarchs' faithful.
Remember, these videos show up on game-day, but are planned well in advance. Daktronics has had an on-site event producer on campus for more than three years know and knows the targeted game-day experience at ODU inside and out. These pieces are definitely produced with the production in mind. Volleyball's inaugural season was last year and will look to use this content to build success in 2021.
Similarly, Creative Services showed up in Tampa Bay to help professional football's champion Buccaneers get ready to defend their title! Well, not the actual team and their practices, but with the cheerleaders intro video and two "bump" videos.
We again sent our skilled creative mind to the physical site of the action where he helped coordinate a one-night video shoot on the Bucs pirate ship. The cheerleaders did their routine on the ship in the end zone of Raymond James Stadium with special music and on-brand red lighting to pull together the video.
A freelance drone specialist was brought in as well to get unique views that could only be captured by skilled aerial maneuvers with a camera recording the action. The footage was collected and used to create the Bucs-branded pieces that will be used on their displays during the season get the crowds into the game and prepare them for the cheerleaders to do their thing!
When you head to the stadium or arena for a live event, I'm sure you'll notice the video displays for replays and live action, but there will also be additional creative animation elements to spice up the video content. That stuff doesn't just appear magically. Well, it might seem like magic, but there's a creative team hard at work behind the scenes putting those pieces together days, weeks and, sometimes, months in advance, all to create the perfect moment for you and other viewers. We hope you enjoy the show!
---