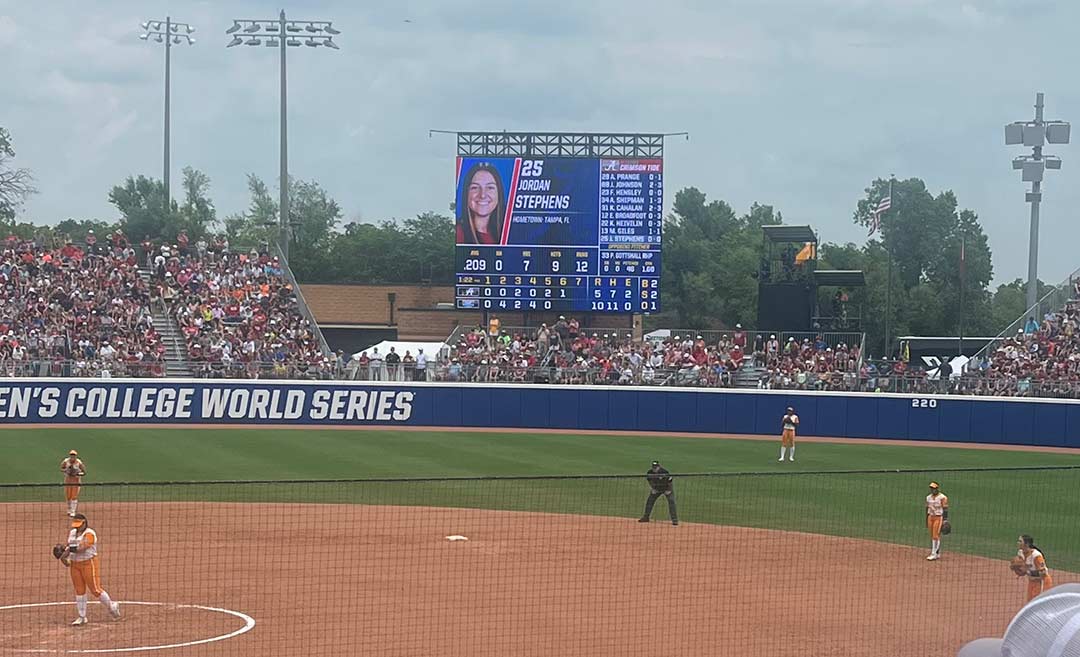 USA Softball Hall Of Fame Stadium Shines Bright with New Daktronics LED Displays
Main video, ribbon boards deliver visual enhancements in Oklahoma City
BROOKINGS, S.D. – June 20, 2023 – The USA Softball Hall of Fame Stadium – OGE Energy Field turned toDaktronics (NASDAQ-DAKT) of Brookings, South Dakota, to design, manufacture and install a new main outfield video display and two ribbon displays at the venue in Oklahoma City, Oklahoma. The installation was completed this spring as the displays are shining bright for the 2023 season.
"Welcoming various events each year while bringing 300+ teams to the USA Softball Hall of Fame Complex annually, these three new boards are going to bring an upgraded experience for fans, athletes, coaches and umpires to enjoy," said Managing Director of Operations Jake Magness. "With the new Daktronics boards, we will be able to continue focusing on growing the game in a positive way and showcasing the athletes while doing so. Both the new ribbon boards and the outfield videoboard will allow us to showcase the technology improvements of the game, our athletes and their statistics as well as highlight our partners with the many different varieties that the board allows.
"When coming to the Softball Capital of the World®, you will be able to catch a glimpse of the new boards no matter where your seats are at! We are honored and thankful for the individuals who made it possible for this to happen here at the USA Softball Hall of Fame Complex."
The main video display in left field measures approximately 26.5 feet high by 36 feet wide while each of the two ribbon displays mounted to the seating fascia measure roughly 3.5 feet high by 100 feet wide. All three displays feature 10-millimeter pixel spacing to deliver excellent image clarity and contrast to images and graphics shown at events.
"For the largest stage of collegiate softball, the technology we've installed will bring all of the video and excitement fans expect to see on game day and then some," said Perry Grave, Daktronics sales representative. "We're honored to work with such a great venue on this video display and ribbon board project to ensure fans have a fully immersive experience at every game."
The video display is capable of variable content zoning allowing it to show one large image or multiple zones of content. This could be any combination of live video, instant replays, up-to-the-minute statistics and game information, graphics and animations, and sponsorship messages.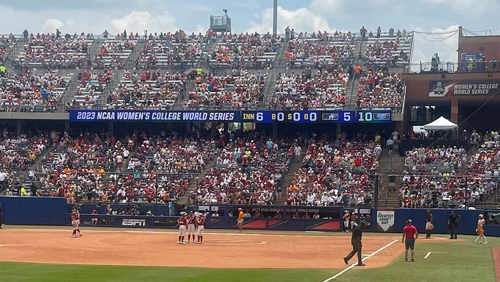 The ribbon displays can show supplemental game information and supporting graphics while also allowing the opportunity to highlight sponsors throughout events. 
The venue will also receive a content package that will be produced and delivered by Daktronics Creative Services, an award-winning in-house creative team.
Daktronics has grown with the sports industry from the company's beginnings in 1968. Today, the company has LED video display installations at hundreds of colleges and universities across the United States. For more information on what Daktronics can provide for the collegiate market, visit www.daktronics.com/college.
About USA Softball
USA Softball (USAS) is a 501(c)(3) not-for profit organization headquartered in Oklahoma City, Okla., and is designated as the National Governing Body (NGB) of Softball in the United States and a member of the United States Olympic & Paralympic Committee. One of the nation's largest sports organizations, USAS sanctions competition through a network of Local Associations, which includes all 50 states and select metro associations.  USAS is dedicated to providing people of all ages the opportunity to play the game they love at a variety of levels by offering recreational, league, tournament and competitive play for fast pitch, slow pitch and modified pitch.  USAS annually conducts thousands of tournaments throughout the country including over 100 National Championships.  The USAS umpire program is among the nation's largest and are widely known as the best trained umpires in the game.

As the NGB for the sport of softball, USAS is responsible for training, equipping and promoting the six USA Softball National Teams that compete in events such as the Olympics, Pan American Games, World Championships and other international and domestic events. For more information on USAS, including its founding and history as the Amateur Softball Association of America (ASA), please visit, www.USASoftball.com
About Daktronics
Daktronics helps its customers to impact their audiences throughout the world with large-format LED video displays, message displays, scoreboards, digital billboards, audio systems and control systems in sport, business and transportation applications. Founded in 1968 as a USA-based manufacturing company, Daktronics has grown into the world leader in audiovisual systems and implementation with offices around the globe. Discover more at www.daktronics.com.