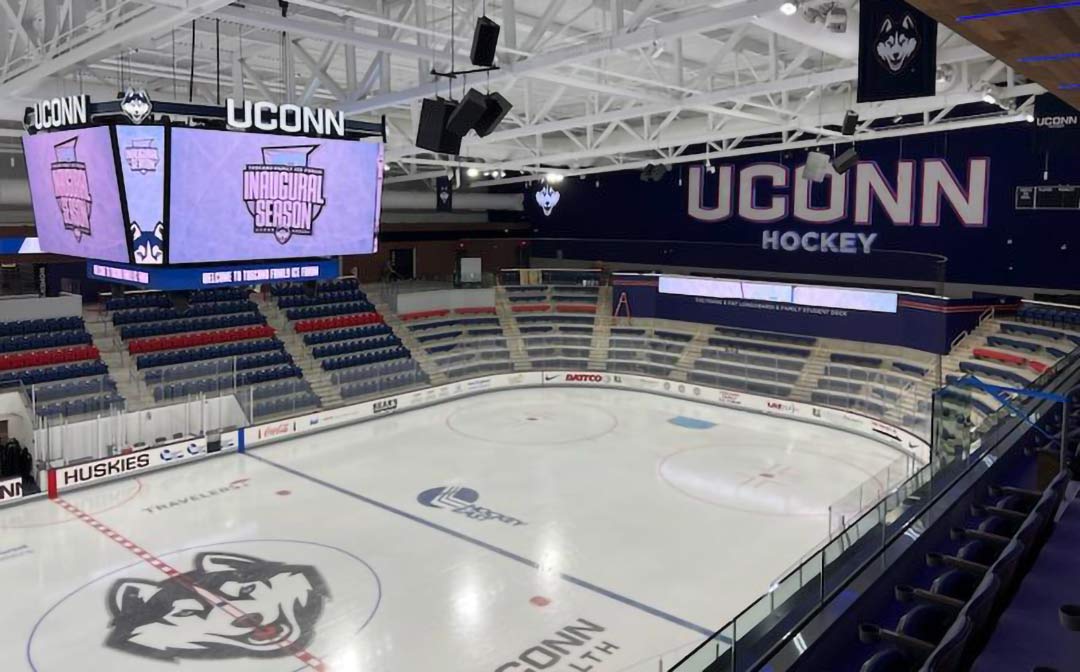 UCONN Hockey Drops Puck at New Toscano Family Ice Forum with Daktronics LED Display System
Integrated centerhung, ribbon, scoring and entrance displays installed for 2023 venue opening
BROOKINGS, S.D. – Feb. 8, 2023 – University of Connecticut (UCONN) hockey opened the Toscano Family Ice Forum in Storrs, Connecticut, with an integrated video and scoring system from Daktronics (NASDAQ-DAKT) of Brookings, South Dakota. The centerhung video display system, ribbon displays, scoreboards and entrance display were installed prior to the puck dropping for the first game on January 13.
Hanging above center ice is a nine-display configuration to inform and engage fans at every event. Each of the four main video displays measures roughly 10 feet high by 18 feet wide with corner wedge displays between them measuring 10 feet high by 3 feet wide. A ring display is mounted below the main displays and measures 1.5 feet high by 61.5 feet in circumference. All nine displays feature 5.9-millimeter pixel layouts for excellent image clarity and contrast.
"We're proud to continue our strong working relationship with the University of Connecticut," said Peter Dunkle, Daktronics sales representative. "They know that we'll get the job done on time, on budget and without causing any extra worries in the process. The displays look great and we're here to support them for the entire lifetime of their products." 
The four main video displays are each capable of variable content zoning allowing each to show one large image or to be divided into multiple zones. These zones can show any combination of live video, instant replays, statistics and game information, graphics and animations, and sponsorship messages.
Three ribbon displays were also installed at the venue to provide additional opportunities to highlight sponsors throughout events or share additional graphics and information to supplement the game-day environment. At the north end, a ribbon display measures 3 feet high by 49 feet wide and along each side of the rink, ribbon displays measure 2.5 feet high by 113 feet wide. All three displays feature the same 5.9-millimeter pixel spacing as the centerhung system.
Fixed-digit scoreboards were installed at each end of the arena to provide a constant update of critical game information such as scoring, time and game period as well as shots on goal and penalty details.
Welcoming fans into the arena, a large LED video wall was installed in the main entrance stairway to connect with and energize fans as they arrive for UCONN hockey games. This display measures approximately 12 feet high by 8 feet wide and features a tight 2.5-millimeter pixel spacing for crisp, clear imagery visible at mere feet away from the display face.
To integrate the video and scoring equipment, Daktronics installed a complete Show Control solution. This industry-leading control system provides a combination of display control software, world-class video processing, data integration and playback hardware that forms a powerful yet user-friendly production solution. For more information on Show Control, visit www.daktronics.com/show.
Daktronics has grown with the sports industry from the company's beginnings in 1968. Today, the company has LED video display installations at hundreds of colleges and universities across the United States. For more information on what Daktronics can provide for the collegiate market, visit www.daktronics.com/college.
About Daktronics
Daktronics helps its customers to impact their audiences throughout the world with large-format LED video displays, message displays, scoreboards, digital billboards, audio systems and control systems in sport, business and transportation applications. Founded in 1968 as a USA-based manufacturing company, Daktronics has grown into the world leader in audiovisual systems and implementation with offices around the globe. Discover more at www.daktronics.com.