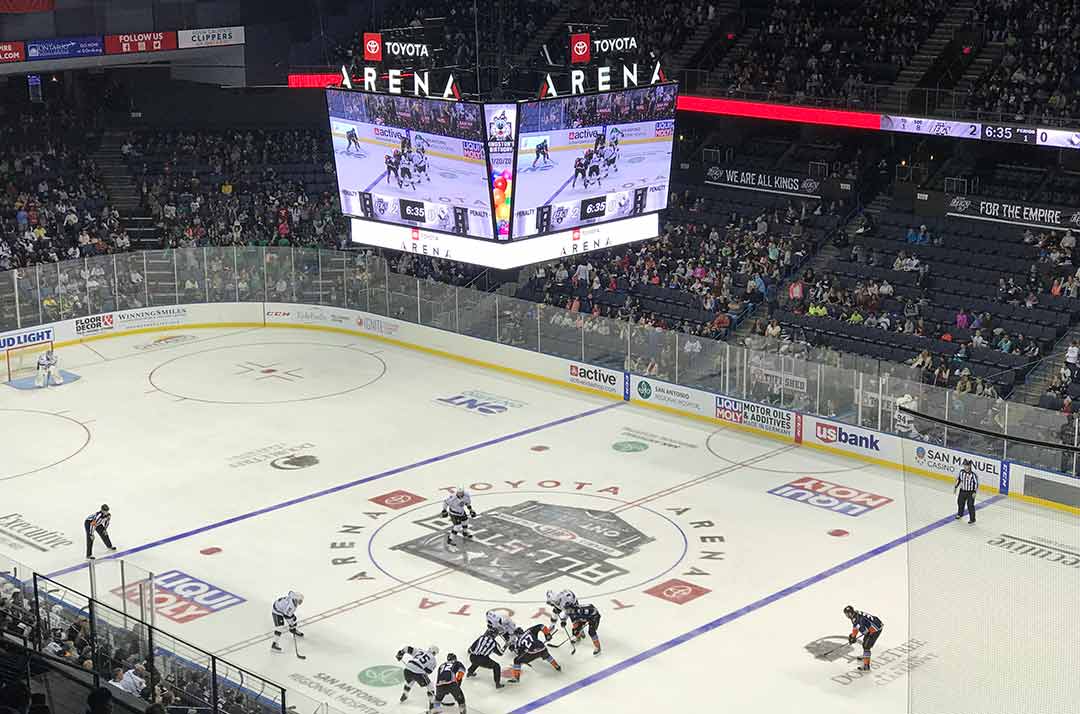 Toyota Arena Enhances Ribbon Board Experience with Daktronics Additions
New ribbon board replaces 15-year-old installation and pairs with 2019 centerhung project
BROOKINGS, S.D. – Aug. 30, 2023 – Daktronics (NASDAQ-DAKT) of Brookings, South Dakota, was called upon to replace the company's 15-year-old ribbon board at Toyota Arena in Ontario, California, the same venue that called on the company for a new centerhung configuration in 2019. Both centerhung and ribbon products were originally provided by Daktronics in 2008 and the ribbon will be newly installed in the fall of 2023.
"We're incredibly proud of the hard work invested in modernizing the Toyota Arena, and the enhanced ribbon board stands as a testament to the next major step in this journey," said Gus Le Grand, general manager of Toyota Arena. "With its increased size and advanced display capabilities, it elevates the fan experience, adding another layer of excitement to the magic of the arena. A big thank you goes to Daktronics for their invaluable partnership in making this vision a reality."
The new ribbon surrounding the arena's seating fascia will measure approximately 2.5 feet high by 645 feet wide and will feature a 10-millimeter pixel spacing. This will bring vivid imagery to all content shown on the display including event statistics and information, graphics and animations, and sponsorship messages. 
This display can coordinate with the centerhung video display system to complement the overall live event experience with seamless presentations and branding on all the LED technology throughout the venue. 
"We are grateful to have worked with this venue since it opened in 2008, and this will integrate well with their existing Daktronics centerhung solution and control system," said Robin Hall, Daktronics regional manager. "This upgrade will enhance fan engagement and sponsorship for the arena as they will be upgrading the existing ribbon that lasted the previous 15 years. We appreciate the opportunity to provide quality product and support, and look forward to many successful years ahead."
The 2019 centerhung installation included four main video displays, four corner displays and four lower displays coordinated together for a 12-display square-shaped centerhung configuration. This serves as the visual centerpiece in the arena while the ribbons surround fans to immerse them in the game-day action.
Daktronics has grown with the sports industry from the company's beginnings in 1968. Today, the company has integrated LED super systems in more than 50% of all professional sports facilities in the United States and Canada. For more information on what Daktronics can provide, visit www.daktronics.com/professionalsports.
About Toyota Arena
Toyota Arena, located in Southern California, built and owned by the City of Ontario, managed by ASM Global, continues to win awards for the best entertainment venue in the region. The 225,000 square foot venue can accommodate capacities up to 11,000 for concerts, family shows, and sporting competitions. The arena features 36 luxury suites located on two levels and a continuous concourse hosting a variety of refreshment stands, merchandise kiosks, a VIP club and other fan amenities. Toyota Arena is proud to be recognized for cleaning and disinfecting to a higher standard to keep our space clean and safe for occupancy with a GBAC Star Accreditation.  Toyota Arena hosts a variety of sporting competitions, concerts, family shows, special events, graduation ceremonies and community activities as well as private events.  The Arena is home to Ontario Reign - AHL Hockey Team, and Ontario Fury -  MASL Soccer Team and the Ontario Clippers - G league basketball team. Toyota Arena is the biggest and most modern arena within the region, an area with nearly 5 million people. It is located in the City of Ontario, California, on a 37-acre parcel located between Haven Avenue and Milliken Avenue, Fourth Street and the I-10 Freeway.   For more information visit Toyota-Arena.com
About ASM Global
ASM Global is the world's leading producer of entertainment experiences. It is the global leader in venue and event strategy and management—delivering locally tailored solutions and cutting-edge technologies to achieve maximum results for venue owners.
The company's elite venue network spans five continents, with a portfolio of more than 350 of the world's most prestigious arenas, stadiums, convention, and exhibition centers, and performing arts venues Follow us on Facebook, Instagram, LinkedIn and Twitter.   asmglobal.com
​About Daktronics
Daktronics helps its customers to impact their audiences throughout the world with large-format LED video displays, message displays, scoreboards, digital billboards, audio systems and control systems in sport, business and transportation applications. Founded in 1968 as a USA-based manufacturing company, Daktronics has grown into the world leader in audiovisual systems and implementation with offices around the globe. Discover more at www.daktronics.com.
Safe Harbor Statement
Cautionary Notice: In addition to statements of historical fact, this news release contains forward-looking statements within the meaning of the Private Securities Litigation Reform Act of 1995 and are intended to enjoy the protection of that Act. These forward-looking statements reflect the Company's expectations or beliefs concerning future events. The Company cautions that these and similar statements involve risk and uncertainties which could cause actual results to differ materially from our expectation, including, but not limited to, changes in economic and market conditions, management of growth, timing and magnitude of future contracts, and other risks noted in the company's SEC filings, including its Annual Report on Form 10-K for its 2018 fiscal year. Forward-looking statements are made in the context of information available as of the date stated. The Company undertakes no obligation to update or revise such statements to reflect new circumstances or unanticipated events as they occur.