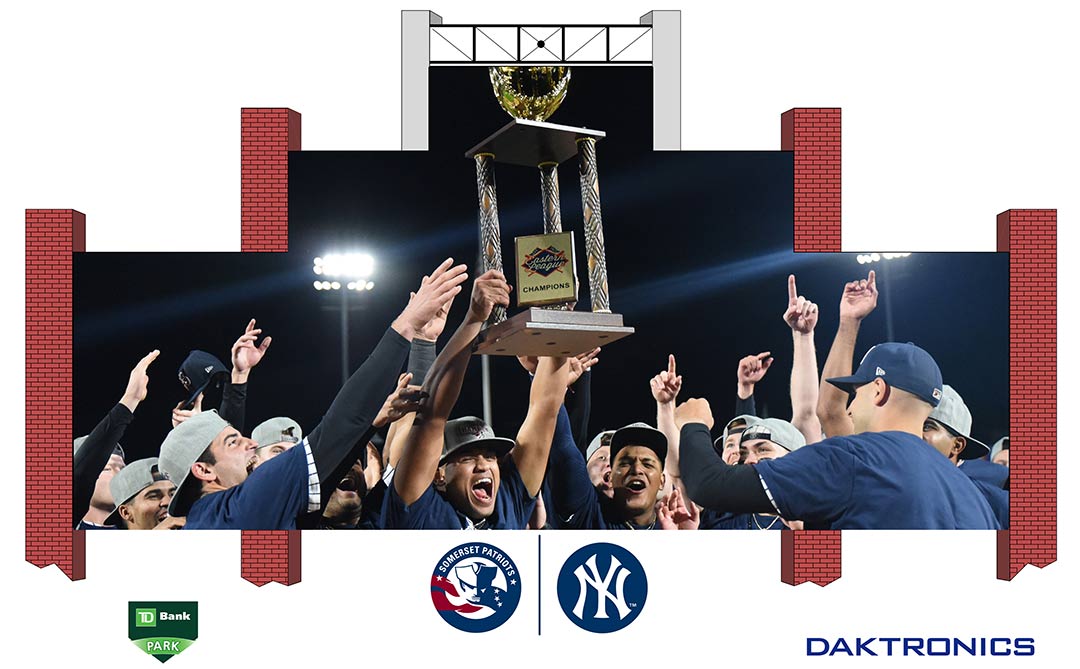 Somerset Patriots Swing Into Action with Daktronics LED Displays
Three new video displays added to TD Bank Ballpark for 2023 season
BROOKINGS, S.D. – Jan. 17, 2023 – As fans head to TD Bank Ballpark, they will be entertained by three new LED video displays as Daktronics (NASDAQ-DAKT) of Brookings, South Dakota, has partnered with the Somerset Patriots, the New York Yankees Double-A affiliate, to manufacture and install the new outfield visual experience for the 2023 season. The unique configuration of displays features a top, middle and bottom layout totaling 1,620 square feet to bring life to baseball games and other events held at the venue.
"We have been eyeing the right time and have discussed a new scoreboard over the past few seasons," said Patriots Co-Chairman Jonathan Kalafer. "Our fans deserve the best, and as we look to enhance their enjoyment and overall entertainment at our games, it made a lot of sense to invest in a new scoreboard that will rival some of the top ones used throughout MLB and MiLB."
From the top down, the displays measure 6 feet high by 15. 5 feet wide, 8.5 feet high by 36 feet wide and 20.5 feet high by 60 feet wide. All feature 15HD pixel layouts with wide-angle visibility to appeal to the entire ballpark. These displays can work together as one large canvas or as individual displays to show any combination of live video, instant replays, up-to-the-minute statistics, graphics, animations and sponsorship messages.
"The new outfield displays are going to be amazing and bring the entertainment and experience at every Patriots game to the next level," said Scott Willson, Daktronics sales representative. "The three stacked displays bring a unique feel to the ballpark that can't be experienced anywhere else. We look forward to this project coming to life and entertaining audiences for years to come."
Included in the equipment installation, the Patriots will also receive a content package that will be produced and delivered by Daktronics Creative Services.

"As we look to the future and ways to improve the entertainment provided at the ballpark, the scoreboard topped the list," added Kalafer. "This investment is for our fans to enjoy a full multi-media experience with all the new opportunities and technology available through Daktronics. We are looking forward to seeing how it will complement the excitement of Yankees Double-A baseball being played at our ballpark."
Daktronics has grown with the sports industry from the company's beginnings in 1968. Today, the company has integrated LED super systems in nearly 60 percent of all professional sports facilities in the United States and Canada. For more information on what Daktronics can provide, visit www.daktronics.com/professionalsports.
About Somerset Patriots
The Somerset Patriots are the New York Yankees Double-A Affiliate and develop today's top minor league talent into the pinstriped superstars of tomorrow for MLB's winningest team. The Patriots are the reigning Eastern League Champions and play their home games at TD Bank Ballpark in Bridgewater, NJ, where fans of all ages and levels of baseball fandom get to enjoy the unique experience that is minor league baseball.
To learn more, visit: www.somersetpatriots.com.
​About Daktronics
Daktronics helps its customers to impact their audiences throughout the world with large-format LED video displays, message displays, scoreboards, digital billboards, audio systems and control systems in sport, business and transportation applications. Founded in 1968 as a USA-based manufacturing company, Daktronics has grown into the world leader in audiovisual systems and implementation with offices around the globe. Discover more at www.daktronics.com.
Safe Harbor Statement
Cautionary Notice: In addition to statements of historical fact, this news release contains forward-looking statements within the meaning of the Private Securities Litigation Reform Act of 1995 and are intended to enjoy the protection of that Act. These forward-looking statements reflect the Company's expectations or beliefs concerning future events. The Company cautions that these and similar statements involve risk and uncertainties which could cause actual results to differ materially from our expectation, including, but not limited to, changes in economic and market conditions, management of growth, timing and magnitude of future contracts, and other risks noted in the company's SEC filings, including its Annual Report on Form 10-K for its 2018 fiscal year. Forward-looking statements are made in the context of information available as of the date stated. The Company undertakes no obligation to update or revise such statements to reflect new circumstances or unanticipated events as they occur.