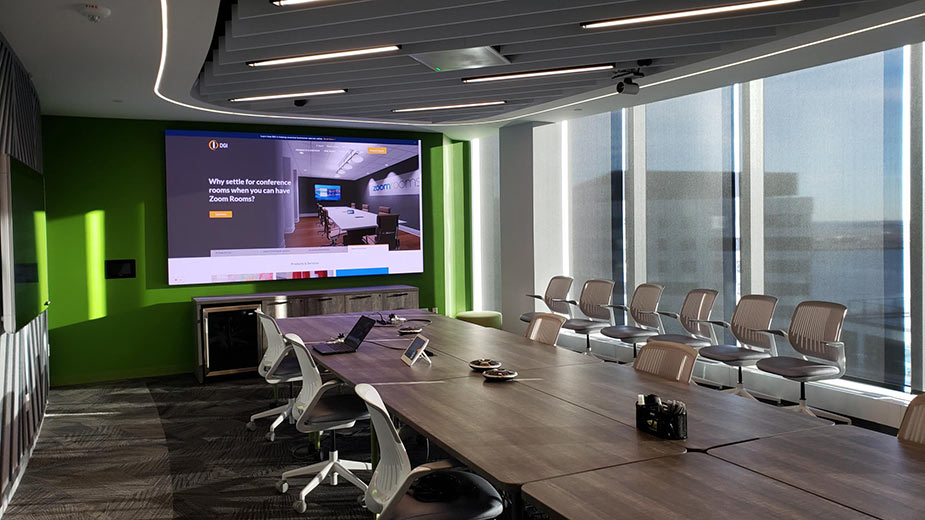 ​PTC Elevates Corporate Experience Center with Daktronics LED Video Walls Through DGI Communications Partnership
Two 1.5-millimeter displays currently light up PTC's corporate headquarters
BROOKINGS, S.D. – Mar. 25, 2021 – Daktronics (NASDAQ-DAKT) of Brookings, South Dakota, in conjunction with DGI Communications, designed, manufactured and installed two new LED video walls for PTC (NASDAQ: PTC) at their corporate headquarters in Boston, Massachusetts. A state-of-the-art physical exhibit of the company's award-winning technologies, PTC's Corporate Experience Center (CXC) features six rooms, with two of these housing new digital displays to tell the company story and engage with visitors.

"The addition of Daktronics' video walls enabled PTC's Corporate Experience team to bring our technology story to life in a new and modern fashion," said Tom Sullivan, Senior Manager, Corporate Experience, PTC. "Together, Daktronics and DGI Communications helped us realize our vision and we're pleased to leverage this innovative hardware as we share the PTC story with CXC visitors."

PTC enables global manufacturers to realize double-digit impact with software solutions that empower them to accelerate product and service innovation, improve operational efficiency, and increase workforce productivity. In combination with an extensive partner network, PTC provides customers flexibility in how its technology can be deployed to drive digital transformation – on premises, in the cloud, or via its pure SaaS platform.

The two video walls at PTC each measure approximately 5.5 feet high by 10 feet wide and each feature 1.5-millimeter pixel spacing to bring high-resolution imagery into the office spaces in which they are installed. The technology provides for a seamless viewing experience when showing everything from live or recorded video to documents with readable text and everything in between.

"As an AV Integrator, we need to work with many different manufacturers, and good communication and support are very important to the success of the project," said Paul Kelley, sales engineer for DGI Communications. "Daktronics was very involved from day one, ensuring our engineers had the information they needed and helping ensure the on-site installation itself was done on time and according to plan. The end result was a project completed on-time and with a happy client."

"Daktronics engineering capabilities, state-of-the-art production facilities and our extensive experience have all come together to set a high-performance standard with our direct view narrow pixel pitch LED product line," said Peter Dunkle, Daktronics regional sales representative. "The quality of the display color reproduction and brightness levels will be optimal for clean true to life images in high ambient light conditions. We are pleased and fortunate to work with PTC and DGI Communications on this project; each are leaders in their respective fields."

Daktronics offers a line of narrow pixel pitch LED displays including 1.9-, 1.5- and 1.2-millimeter line spacings. This product line brings new opportunities to those spaces commonly associated with LCD technology to create luxurious environments, share artistic digital content or show detailed, high-quality video.

About Daktronics
Daktronics helps its customers to impact their audiences throughout the world with large-format LED video displays, message displays, scoreboards, digital billboards, audio systems and control systems in sport, business and transportation applications. Founded in 1968 as a USA-based manufacturing company, Daktronics has grown into the world leader in audiovisual systems and implementation with offices around the globe. Discover more at www.daktronics.com.