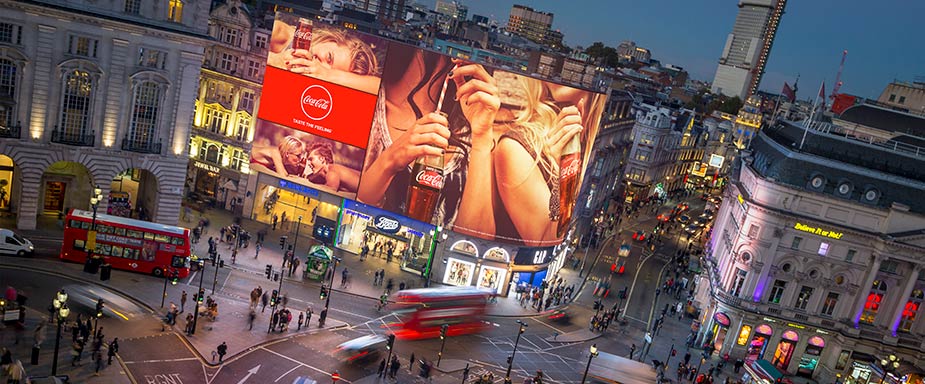 Piccadilly Circus Replacing Iconic Digital Signage With 4K, Curved LED Display From Daktronics
BROOKINGS, S.D. – Dec. 21, 2016 – The iconic lights in London's Piccadilly Circus are being upgraded by Land Securities, the largest commercial property company in the UK, to a massive, outward-curved display capable of true 4K video production. The display will be manufactured by the industry leader in LED displays, Daktronics (NASDAQ-DAKT) and installation is planned for the spring of 2017.
Tim Bleakley, CEO of Ocean Outdoor which will operate the site on behalf of Land Securities, said: "We fully understand the need to protect the heritage of the Lights but also the need to transform them to maintain their iconic global status.
"Piccadilly Lights is one of the world's most sought-after advertising sites and this transformation takes it to the next level. Going forward we will work with all of the stakeholders to ensure the Lights remain a testament to London's global reputation for defining invention and innovation."
"We're really looking forward to the overall project and are equally excited to see the new display Daktronics provides to continue giving light at this world-renowned location," said Land Securities Senior Project Surveyor Richard Brown. "The upgrade in technology will allow for messages using the entire digital canvas as well as the classic look with multiple messages on different parts of the display. The increased functionality will be a wonderful addition to this space."
The display will feature a tight 8-millimeter line spacing and cover the existing digital footprint of 17.56 meters high by 44.62 meters wide as it curves around the corner of the buildings in a similar fashion to the current displays. It will feature variable content zoning to show one large piece of content or multiple sections showing different content simultaneously.
"We're humbled to be selected for this project and to bring updated technology to one of the most well-known digital billboard locations in the world," said Patrick Halliwell, Daktronics UK sales manager. "The new display will provide increased flexibility within Piccadilly that will rejuvenate the visual experience throughout the area. We're really excited to get started producing this project and to see it completed as it entertains and informs the people of London."
Daktronics LED display technology offers a long lifetime with industry-leading environmental protection for consistent performance and low power consumption, providing value and excitement for years to come.​​
​About Daktronics
Daktronics helps its customers to impact their audiences throughout the world with large-format LED video displays, message displays, scoreboards, digital billboards, audio systems and control systems in sport, business and transportation applications. Founded in 1968 as a USA-based manufacturing company, Daktronics has grown into the world leader in audiovisual systems and implementation with offices around the globe. Discover more at www.daktronics.com.
Safe Harbor Statement
Cautionary Notice: In addition to statements of historical fact, this news release contains forward-looking statements within the meaning of the Private Securities Litigation Reform Act of 1995 and are intended to enjoy the protection of that Act. These forward-looking statements reflect the Company's expectations or beliefs concerning future events. The Company cautions that these and similar statements involve risk and uncertainties which could cause actual results to differ materially from our expectation, including, but not limited to, changes in economic and market conditions, management of growth, timing and magnitude of future contracts, and other risks noted in the company's SEC filings, including its Annual Report on Form 10-K for its 2018 fiscal year. Forward-looking statements are made in the context of information available as of the date stated. The Company undertakes no obligation to update or revise such statements to reflect new circumstances or unanticipated events as they occur.