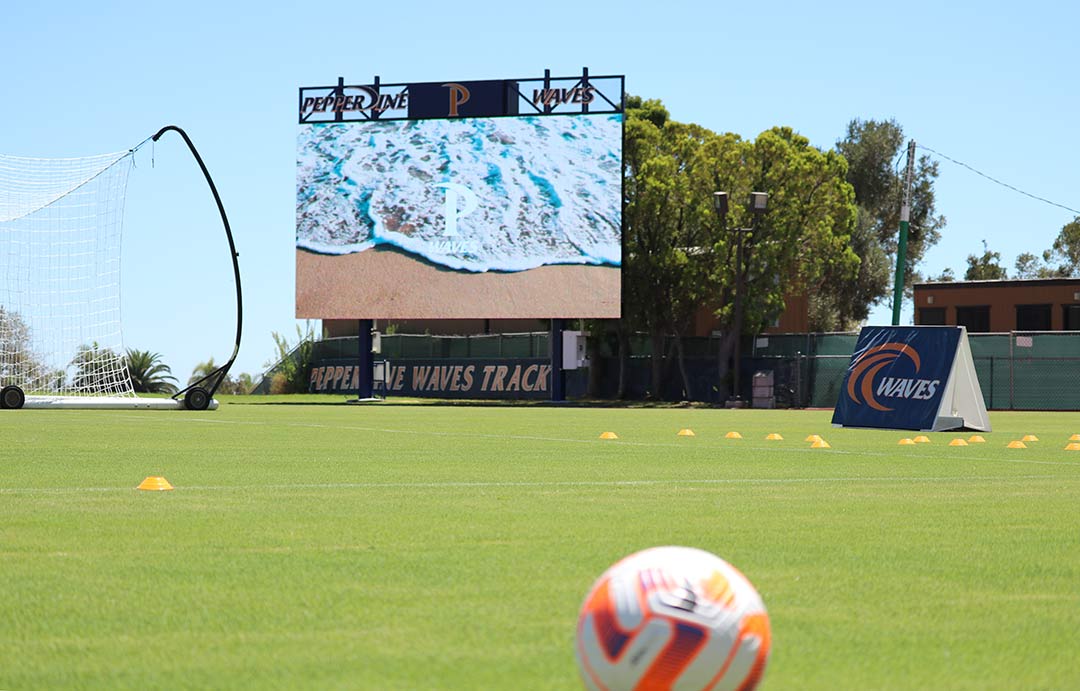 Pepperdine University Turns to Daktronics for New Women's Soccer Audiovisual System and Upgraded, All-In-One Outfield Baseball Video Display
BROOKINGS, S.D. – Aug. 15, 2022 – In a partnership with Pepperdine University, Daktronics (NASDAQ-DAKT) of Brookings, South Dakota, will design, manufacture and install two new LED video displays on campus Malibu, California. For women's soccer, a new display and audio system were installed this summer at one end of Tari Frahm Rokus Field, an upgrade to their equipment that was installed in the early 2000s and allows for a whole new audiovisual experience at the venue. For baseball, an all-in-one video display will be installed this fall in right field of Eddy D. Field Stadium to replace the previous video display that served them for 15 years and will increase their video capabilities by more than 525 square feet.
"The addition of new Daktronics video boards at both Tari Frahm Rokus Soccer Field and Eddy D. Field Stadium will significantly improve the game-day experience for our student-athletes and fans," said Pepperdine Director of Athletics Dr. Steve Potts. "As the result of a university-wide fundraising effort and the generous support from so many amazing donors, we are so proud and pleased to enhance our facilities with these new additions. We're thankful for our long association with Daktronics and their partnership on this project."
Both displays feature a 15HD pixel layout to bring crisp clear imagery to videos, replays, statistics, animations and other graphics shown to Waves fans at both venues. For soccer, the video display measures roughly 15.5 feet high by 27.5 feet wide. The new all-in-one baseball video display will measure approximately 13.5 feet high by 47 feet wide.
Conceptual Image
Each video display is capable of variable content zoning allowing them each to show one large image or to show multiple zones of content including any combination of content mentioned above. These displays also feature industry-leading environmental protection to operate as expected in the California weather.
"We are grateful to continue a long-lasting relationship with Pepperdine University Athletics," said Daktronics Regional Manager Robin Hall. "This will be a great addition for the baseball and women's soccer programs, and we are excited to be a part of this upgrade in their student-athlete experience! This technology will add to the beautiful views of these great athletic venues in Malibu, California. We're thrilled to work with Pepperdine University and to see these projects being used for live events in the coming months."
A Sportsound® 500 audio system is integrated into the video and scoring system at Tari Frahm Rokus Field to deliver full-range sound reproduction and deliver clear, intelligible speech to Wave soccer fans, coaches and student-athletes.  
In addition to the equipment installation, the Waves will also receive a content package that will be produced and delivered by Daktronics Creative Services.
Daktronics has grown with the sports industry from the company's beginnings in 1968. Today, the company has LED video display installations at hundreds of colleges and universities across the United States. For more information on what Daktronics can provide for the collegiate market, visit www.daktronics.com/college.
About Pepperdine University
Pepperdine boasts a one-of-a-kind athletic department with unprecedented success for a school of its size. The Waves have won NCAA Division I championships in five different men's sports — one of just 18 schools to have accomplished this feat — and 10 overall. Of this elite group, Pepperdine has the smallest undergraduate enrollment, is the only school without football and is the only university that has not been affiliated with a "major" conference. The Waves have won a total of 26 team or individual national championships in their history. Pepperdine has also earned the Division I-AAA All-Sports Trophy, an award based on postseason success that's given to the top non-football school, four times (most recently in 2021-12). Located in scenic Malibu, California, the university overlooks the Pacific Ocean and its campus and athletic facilities are regularly voted among the nation's most beautiful. Pepperdine, which is affiliated with the Church of Christ, ranks #49 overall on U.S. News and World Report's list of America's best colleges.
​About Daktronics
Daktronics helps its customers to impact their audiences throughout the world with large-format LED video displays, message displays, scoreboards, digital billboards, audio systems and control systems in sport, business and transportation applications. Founded in 1968 as a USA-based manufacturing company, Daktronics has grown into the world leader in audiovisual systems and implementation with offices around the globe. Discover more at www.daktronics.com.
Safe Harbor Statement
Cautionary Notice: In addition to statements of historical fact, this news release contains forward-looking statements within the meaning of the Private Securities Litigation Reform Act of 1995 and are intended to enjoy the protection of that Act. These forward-looking statements reflect the Company's expectations or beliefs concerning future events. The Company cautions that these and similar statements involve risk and uncertainties which could cause actual results to differ materially from our expectation, including, but not limited to, changes in economic and market conditions, management of growth, timing and magnitude of future contracts, and other risks noted in the company's SEC filings, including its Annual Report on Form 10-K for its 2018 fiscal year. Forward-looking statements are made in the context of information available as of the date stated. The Company undertakes no obligation to update or revise such statements to reflect new circumstances or unanticipated events as they occur.