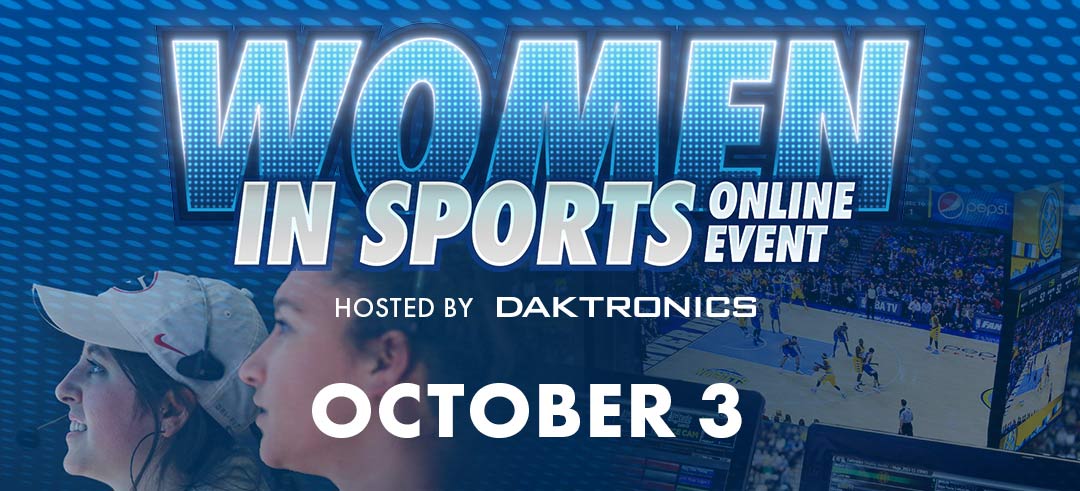 Online Event Returns as Daktronics Continues to Connect Women In Sports
Keynote speaker Leslie Slovak to talk about "Chasing Opportunities to Serve"
BROOKINGS, S.D. – Sept. 15, 2023 – The online event Women In Sports is returning and presented by Daktronics (NASDAQ-DAKT) of Brookings, South Dakota. On Oct. 3 at 2:30 p.m. CST, Leslie Slovak, executive director of athletics for the Richardson Independent School District and President Elect for the Texas High School Athletic Director's Association (THSADA), will present on "Chasing Opportunities to Serve" to help connect with and empower women in the sports industry.
Slovak has been named the 2022 and 2023 Texas Region 3 Athletic Director of the Year and has held numerous high-profile positions from head volleyball coach to THSADA Region 3 Director to District Chair, UIL District 7-6A. She brings her passion for empowering women in the world of athletics to her upcoming conversation in this online event.
"Leslie's passion for finding inspiration and empowerment from the people she surrounds herself with is very obvious," said Val Ellens, services marketing for Daktronics. "I am excited to have her share all that she has learned from her past as well as her insight into building a career in the sports industry."
The conversation will include the importance of building relationships, leading with integrity and seeking the best in business. 
​About Daktronics
Daktronics helps its customers to impact their audiences throughout the world with large-format LED video displays, message displays, scoreboards, digital billboards, audio systems and control systems in sport, business and transportation applications. Founded in 1968 as a USA-based manufacturing company, Daktronics has grown into the world leader in audiovisual systems and implementation with offices around the globe. Discover more at www.daktronics.com.
Safe Harbor Statement
Cautionary Notice: In addition to statements of historical fact, this news release contains forward-looking statements within the meaning of the Private Securities Litigation Reform Act of 1995 and are intended to enjoy the protection of that Act. These forward-looking statements reflect the Company's expectations or beliefs concerning future events. The Company cautions that these and similar statements involve risk and uncertainties which could cause actual results to differ materially from our expectation, including, but not limited to, changes in economic and market conditions, management of growth, timing and magnitude of future contracts, and other risks noted in the company's SEC filings, including its Annual Report on Form 10-K for its 2018 fiscal year. Forward-looking statements are made in the context of information available as of the date stated. The Company undertakes no obligation to update or revise such statements to reflect new circumstances or unanticipated events as they occur.