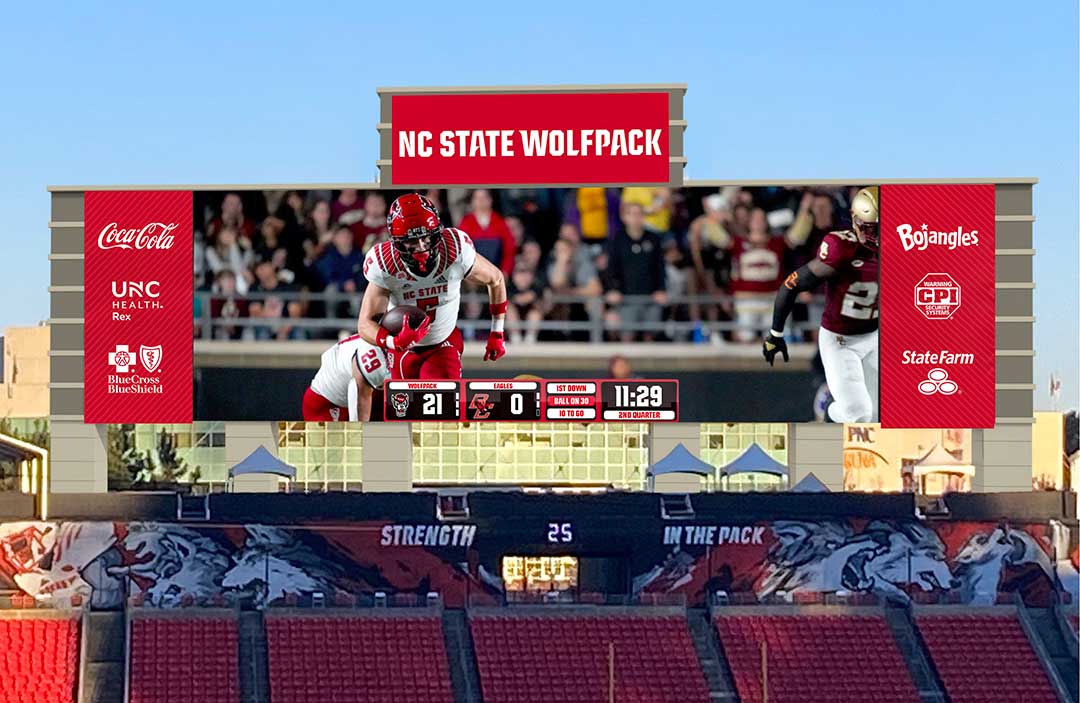 NC State Bringing New Video Experience in a Big Way from Daktronics
Carter-Finley Stadium to receive new HDR-capable end zone technology
BROOKINGS, S.D. – Mar. 21, 2023 – For the 2023 season, North Carolina State University (NC State) has turned to Daktronics (NASDAQ-DAKT) of Brookings, South Dakota, to manufacture and install one of the largest video displays in the Atlantic Coast Conference and Top 10 in college football for Wayne Day Family Field at Carter-Finley Stadium in Raleigh, North Carolina. The HDR-capable display will be more than 7,100 square feet, feature more than 6.6 million pixels and will be installed this coming spring.
"The massive size and clarity of the new North Board will provide an amazing viewing experience for our fans as well as valuable exposure for our partners," said Justin Stoll, associate AD and senior coordinating producer for NC State. "We will have the ability to show all who come to Carter-Finley Stadium team individual stats, out-of-town scores and other important data to rival the at-home experience and create engagement within our venue. We are also marrying all of our surfaces together to create unparalleled control of all displays within Carter-Finley. Coupled with the light show that was revealed last season, we will have one of the best game-day atmospheres in the country."
In the north end zone, the new video display will measure approximately 43 feet high by 166 feet wide to capture fans' attention and deliver an improved game-day experience. It will feature 10-millimeter pixel spacing and incorporate industry-leading environmental protection ensuring it will operate in the Raleigh outdoors.
"This display is going to be significantly larger than the previous display and will require extensive coordination and engineering to make this project become a reality," said Corey Williams, Daktronics sales representative. "We're extremely proud to partner with NC State and their amazing team of people and look forward to being a part of this landmark installation on campus."
Capable of variable content zoning, the display can show one large image or multiple zones of content. This includes all of the content that fans crave from a live sporting event, including live video, instant replays, up-to-the-minute statistics and game information, graphics and animations, and sponsorship messages.
The new main display will join the previously installed South End Zone auxiliary video displays and field level ribbon displays, all products from Daktronics.
In addition to the video display, NC State will also receive a digital content package that will be produced and delivered by Daktronics Creative Services.
Daktronics has grown with the sports industry from the company's beginnings in 1968. Today, the company has LED video display installations at hundreds of colleges and universities across the United States. For more information on what Daktronics can provide for the collegiate market, visit www.daktronics.com/college.
​About Daktronics
Daktronics helps its customers to impact their audiences throughout the world with large-format LED video displays, message displays, scoreboards, digital billboards, audio systems and control systems in sport, business and transportation applications. Founded in 1968 as a USA-based manufacturing company, Daktronics has grown into the world leader in audiovisual systems and implementation with offices around the globe. Discover more at www.daktronics.com.
Safe Harbor Statement
Cautionary Notice: In addition to statements of historical fact, this news release contains forward-looking statements within the meaning of the Private Securities Litigation Reform Act of 1995 and are intended to enjoy the protection of that Act. These forward-looking statements reflect the Company's expectations or beliefs concerning future events. The Company cautions that these and similar statements involve risk and uncertainties which could cause actual results to differ materially from our expectation, including, but not limited to, changes in economic and market conditions, management of growth, timing and magnitude of future contracts, and other risks noted in the company's SEC filings, including its Annual Report on Form 10-K for its 2018 fiscal year. Forward-looking statements are made in the context of information available as of the date stated. The Company undertakes no obligation to update or revise such statements to reflect new circumstances or unanticipated events as they occur.