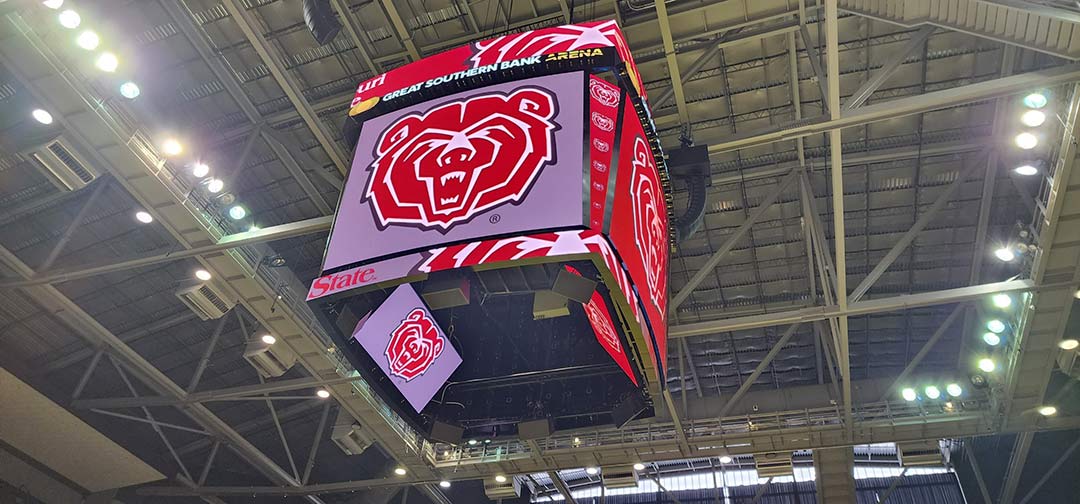 Missouri State Upgrades Athletic Facilities with Daktronics LED Displays, Audio System
Football stadium and arena centerhung combine for 19 displays added to campus in 2023
BROOKINGS, S.D. – Sept. 22, 2023 – Building on the fan experience, Missouri State University has turned to Daktronics (NASDAQ-DAKT) of Brookings, South Dakota, for 19 new LED displays on campus in Springfield, Missouri. Bears athletics at Robert W. Plaster Stadium for football and Great Southern Bank Arena for men's and women's basketball, among other campus events, received audiovisual enhancements in 2023. 
"Our partnership with Daktronics spans many projects over several decades, and this latest endeavor is the icing on the cake," said Keith Boaz, executive director of Great Southern Bank Arena and Plaster Stadium. "We cannot wait to showcase these new state-of-the-art LED boards for our phenomenal fan base of the football, men's basketball and women's basketball programs."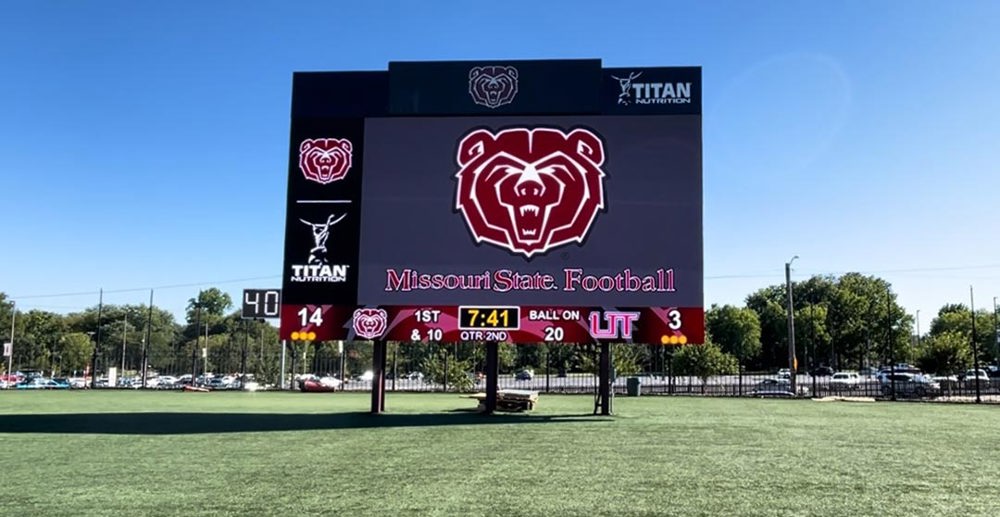 Robert W. Plaster Stadium Technology
The football stadium at Missouri State received a display measuring approximately 23 feet high by 42 feet wide and featuring a 13HD pixel layout to deliver excellent image clarity and contrast throughout the stadium. It features industry-leading environmental protection to ensure it operates as expected in the Missouri outdoors. 
A Sportsound® 2000HD audio system is integrated into the new video and scoring system at the stadium. This system provides full-range sound reproduction and delivers clear, intelligible speech for an all-encompassing, powerful audio experience throughout the venue.
Great Southern Bank Arena Technology
Inside the area, Missouri State received a centerhung display system featuring 12 displays. The four main video displays each measure 13 feet high by 16.5 feet wide and are connected together by four corner wedge displays, each measuring 13 feet high by 3 feet wide. 
Below the main displays, two underbelly displays each measure 5 feet high by 10 feet wide and are angled to the sidelines to appeal to fans sitting closer to the action. Also below the main displays, a lower ring display measures more than 1.5 feet high by 72 feet in circumference. Above the main displays, an upper ring display measures 3 feet high by 82 feet in circumference. These rings supplement content on the video displays while also providing the opportunity to highlight sponsors and additional statistics and graphics throughout events.
"Bringing new technology to multiple venues on campus continues to deliver a unified experience for Missouri State fans as they attend and support their teams and student-athletes," Ryan Kuzman, Daktronics sales representative. "We're excited to see this technology having a positive impact for Bears Athletics this year and many years into the future."
Additionally, six LED scorers tables will be installed along the sidelines totaling approximately 60 feet in length. These displays each feature 5.9-millimeter pixel spacing and each measure roughly 3 feet high by 10 feet wide. They can be connected together in any configuration to share additional graphics and game information.
The main video displays for both venues are capable of variable content zoning which allows each display to show one large image or multiple zones of digital content. This includes live video, instant replays, up-to-the-minute statistics and game information, graphics and animations, and sponsorship messages.
Daktronics will also be including a complete Show Control solution. This industry-leading control system provides a combination of display control software, world-class video processing, data integration and playback hardware that forms a powerful yet user-friendly production solution. For more information on Show Control, visit www.daktronics.com/show.
Along with the equipment installation, Missouri State received a digital content package that will be produced and delivered by Daktronics Creative Services to help bring the displays to life for their student-athletes and fans. 
Daktronics has grown with the sports industry from the company's beginnings in 1968. Today, the company has LED video display installations at hundreds of colleges and universities across the United States. For more information on what Daktronics can provide for the collegiate market, visit www.daktronics.com/college.
About Daktronics
Daktronics helps its customers to impact their audiences throughout the world with large-format LED video displays, message displays, scoreboards, digital billboards, audio systems and control systems in sport, business and transportation applications. Founded in 1968 as a USA-based manufacturing company, Daktronics has grown into the world leader in audiovisual systems and implementation with offices around the globe. Discover more at www.daktronics.com.