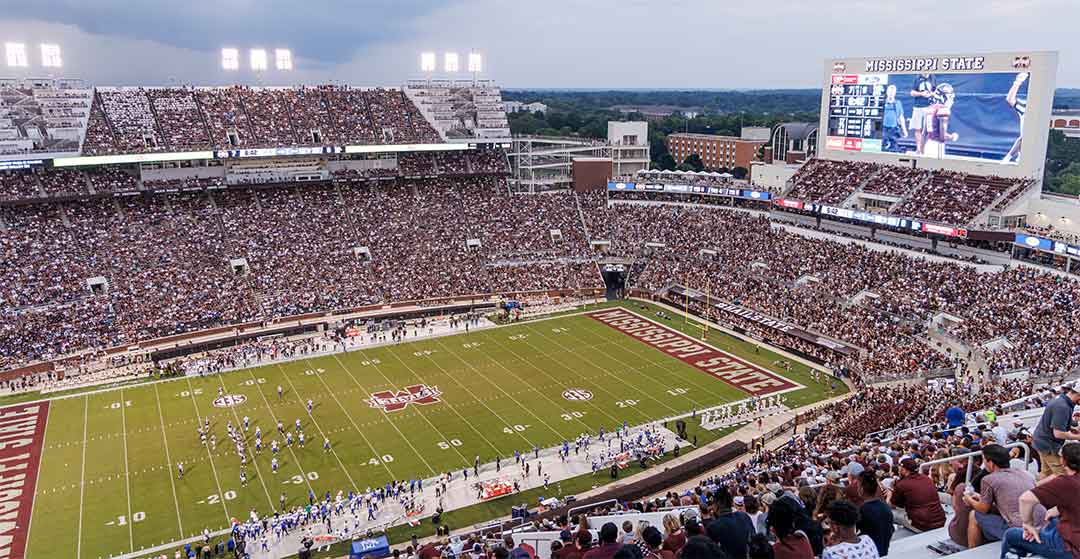 Mississippi State University Adding Nearly 20,000 Square Feet of Daktronics LED Displays to Football, Baseball Venues
Seven new LED displays added to Davis Wade Stadium and Dudy Noble Field at Polk-Dement Stadium in 2022
BROOKINGS, S.D. – Oct. 27, 2022 – The visual experience at Mississippi State games this season has been enhanced in a big way as Daktronics (NASDAQ-DAKT) of Brookings, South Dakota, continued a long-standing partnership with Mississippi State University to deliver nearly 20,000 square feet of LED displays to campus near Starkville, Mississippi. Baseball completed the installation of a new ribbon display earlier this year and football was completed earlier this fall.
"We are pleased to continue our long-standing partnership with Daktronics to enhance the in-venue experience at both Davis Wade Stadium and Dudy Noble Field," said Rhett Hobart, Executive Senior Associate AD for External Affairs at Mississippi State. "As we continue to work to provide a pre-eminent experience for students, fans and our teams, the addition of these new displays have provided significant enhancements to our in-venue production."
Davis Wade Stadium Upgrades
Mississippi State's football stadium received two new end zone displays and four new ribbon displays on the seating fascia as part of this project. This includes a north end zone display measuring approximately 55 feet high by 141.5 feet wide and a south end zone display measuring roughly 51.5 feet high by 129.5 feet wide, both featuring 10-millimeter pixel spacings.
The seating fascia includes an upgrade of four ribbon displays, three sections work together on the north side of the field with another display on the west fascia. The three displays on the north side each measure nearly 5 feet high by 138 feet wide and the west display measures nearly 5 feet high by 372 feet wide. All four displays feature 10-millimeter line spacing to show excellent image clarity and contrast to fans throughout the stadium.
Dudy Noble Field at Polk-Dement Stadium
The university's baseball stadium received a new ribbon display wrapping along the seating fascia behind home plate. Installation took place early in 2022 and the new display measures approximately 3.5 feet high by 476.5 feet long. It features a 10-millimeter pixel spacing to deliver additional statistics, graphics and sponsorship messaging throughout events.
"These new displays will deliver on the needs for brightness and service aspects that will ultimately help Mississippi State be successful in their entertainment efforts at their facilities," said Perry Grave, Daktronics sales representative. "The existing structure was able to be used to give an additional cost savings for the university, something that doesn't go unnoticed in projects of this magnitude. We're excited to be able to meet those needs and to be a part of this exciting project for our long-time partners at Mississippi State."
Daktronics will also be including a complete Show Control solution. This industry-leading control system provides a combination of display control software, world-class video processing, data integration and playback hardware that forms a powerful yet user-friendly production solution. For more information on Show Control, visit www.daktronics.com/show.
In addition to the equipment installation, the Bulldogs will receive a content package to be produced and delivered by Daktronics Creative Services.
Daktronics has grown with the sports industry from the company's beginnings in 1968. Today, the company has LED video display installations at hundreds of colleges and universities across the United States. For more information on what Daktronics can provide for the collegiate market, visit www.daktronics.com/college.
​About Daktronics
Daktronics helps its customers to impact their audiences throughout the world with large-format LED video displays, message displays, scoreboards, digital billboards, audio systems and control systems in sport, business and transportation applications. Founded in 1968 as a USA-based manufacturing company, Daktronics has grown into the world leader in audiovisual systems and implementation with offices around the globe. Discover more at www.daktronics.com.
Safe Harbor Statement
Cautionary Notice: In addition to statements of historical fact, this news release contains forward-looking statements within the meaning of the Private Securities Litigation Reform Act of 1995 and are intended to enjoy the protection of that Act. These forward-looking statements reflect the Company's expectations or beliefs concerning future events. The Company cautions that these and similar statements involve risk and uncertainties which could cause actual results to differ materially from our expectation, including, but not limited to, changes in economic and market conditions, management of growth, timing and magnitude of future contracts, and other risks noted in the company's SEC filings, including its Annual Report on Form 10-K for its 2018 fiscal year. Forward-looking statements are made in the context of information available as of the date stated. The Company undertakes no obligation to update or revise such statements to reflect new circumstances or unanticipated events as they occur.