Midtown Financial Turns to Daktronics for Vertical LED Displays in Times Square
Two displays combine for approximately 10,500 square feet, 40% larger than its predecessor
BROOKINGS, S.D. – Dec. 27, 2022 – Daktronics (NASDAQ-DAKT) of Brookings, South Dakota, in partnership with Branded Cities, a premier global out-of-home advertising company, was asked to design and manufacture approximately 10,500 square feet of digital displays for Midtown Financial's location at 3 Times Square in New York City.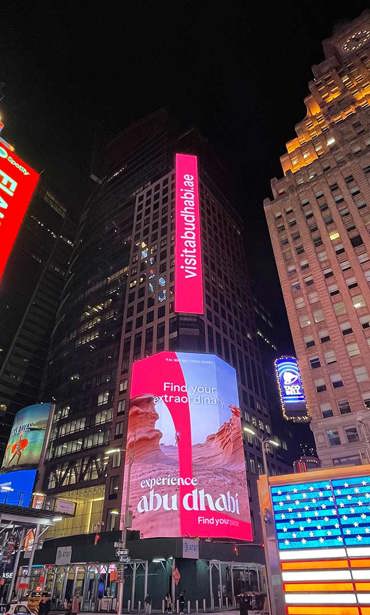 "We are excited to have lit up our new Midtown Financial digital spectacular in the heart of Times Square and pleased to have partnered with Daktronics on this project," said Vaibhav "VG" Gupta, president and COO of Branded Cities. "The quality of the Daktronics product will ensure that the Midtown Financial will be the key focal point in Times Square's southern bow-tie for years to come."
The two vertical displays were installed this past fall and now light up a space that is 40% larger than the displays previously residing at the corner of 7th Avenue and 43rd Street.
"This iconic display is positioned directly outside our office window across 43rd Street in Times Square," said Jeff Everson, Daktronics director of spectacular projects in New York City. "It's incredibly exciting to come into the office every day and see what new brand activations are taking over this digital landmark at Midtown Financial."
Technical Specifications
The lower display features two angles as it rounds the corner of the building. It measures roughly 93.5 feet high by 79 feet wide and features an 8-millimeter pixel spacing. The next spire display is positioned above it and stretches toward the top of the building, extending more than 300 feet above grade and making it one of the largest and highest-reaching displays in all of North America. It measures more than 169 feet high by 18 feet wide and features a 15-millimeter pixel spacing.
"Daktronics engineers developed multiple contrast-enhancing louver technologies that achieve the best viewing angles to fit every application, and this project was tremendously unique in how tall it rises on the corner of 3 Times Square," added Everson. "We selected the extremely wide viewing angle louver after extensive reviews of potential sight lines for this one-of-a-kind display design, and we wanted to ensure the 8-millimeter on the lower level matched the 15-millimeter on the upper level to provide Branded Cities with a visually amazing solution."
Display Capabilities
These displays promote third-party advertising to the hundreds of thousands of viewers that pass through Times Square daily. They can work together to show coordinated messaging to help brand the content and catch people's attention. They can also work independently of one another if desired to share two different messages at the same time.
The content on the displays can be scheduled ahead of time or changed at a moment's notice to match the needs of Branded Cities and their partners. It can feature full-motion video, simulcast events, mobile interactivity, social media integration and much more.
Daktronics has been a staple LED display provider in Times Square dating back to the installation of the Morgan Stanley LED ticker in 1995. The company has more than 80 customers in the area and more than 30 projects in Times Square. For more on Daktronics' involvement in Times Square, view this installation map and our website at www.daktronics.com/timessquare.
About Branded Cities
Branded Cities, which is owned by EL Media and Shamrock Capital, is a leading Out-of-Home media company with an integrated network of premier digital and static signage across North America. The digital and static media assets span across some of the largest markets in the United States and Canada (New York, Los Angeles, Chicago, Philadelphia, Toronto, Vancouver, Montreal and many more) and are situated in the country's most valuable Out-of-Home environments such as Times Square, the Las Vegas Strip, West Hollywood, Union Station, Yonge – Dundas Square and Canada's leading shopping centers. Branded Cities empowers brands to deliver impactful and engaging messages to North America's most desirable, hard-to-reach audiences. EL Media is an affiliate of The Ellman Companies ("Ellman").  Ellman is a privately-owned media, real estate and investments group founded in 1972 with diverse interests in the U.S., Canada and the Caribbean.
For more information visit: brandedcities.com or brandedcities.ca. Follow Branded Cities on Twitter (@brandedcities) and like us on Instagram.
​About Daktronics
Daktronics helps its customers to impact their audiences throughout the world with large-format LED video displays, message displays, scoreboards, digital billboards, audio systems and control systems in sport, business and transportation applications. Founded in 1968 as a USA-based manufacturing company, Daktronics has grown into the world leader in audiovisual systems and implementation with offices around the globe. Discover more at www.daktronics.com.
Safe Harbor Statement
Cautionary Notice: In addition to statements of historical fact, this news release contains forward-looking statements within the meaning of the Private Securities Litigation Reform Act of 1995 and are intended to enjoy the protection of that Act. These forward-looking statements reflect the Company's expectations or beliefs concerning future events. The Company cautions that these and similar statements involve risk and uncertainties which could cause actual results to differ materially from our expectation, including, but not limited to, changes in economic and market conditions, management of growth, timing and magnitude of future contracts, and other risks noted in the company's SEC filings, including its Annual Report on Form 10-K for its 2018 fiscal year. Forward-looking statements are made in the context of information available as of the date stated. The Company undertakes no obligation to update or revise such statements to reflect new circumstances or unanticipated events as they occur.