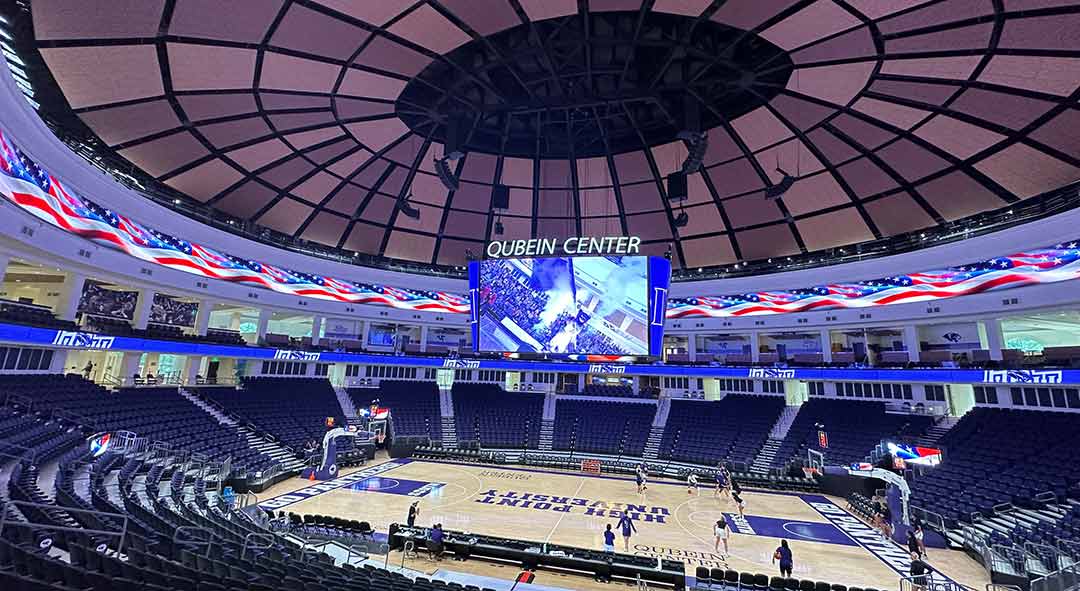 High Point University Adds Halo to Arena Experience from Daktronics
A new ribbon-style halo display now graces Nido & Mariana Qubein Arena ahead of Panthers basketball season
BROOKINGS, S.D. – October 30, 2023 – Daktronics (NASDAQ-DAKT) of Brookings, South Dakota, as partnered with High Point University to deliver one-of-a-kind halo display at Nido & Mariana Qubein Arena ahead of the Panthers' 2023 basketball season tipping off. The display follows the circular architecture of the arena up above the court to supplement the live event action for fans in attendance. 
Halo Details
The halo measures nearly 7.5 feet high by 577.5 feet in circumference as it surrounds the arena up above the court at Nido & Mariana Qubein Arena. It features 5.9-millimeter pixel spacing to deliver crisp, clear imagery to fans throughout the venue.
The display system includes a custom Daktronics control system to deliver pixel-accurate playback of all content delivered to the school's new halo display. It's capable of variable content zoning allowing it to show multiple zones of content that will appeal to fans seated on any side of the arena while delivering all the stats and graphics that entertain and inform throughout live events.
"We're so proud to be working with our partners at High Point University once again on this unique display installation," said Corey Williams, Daktronics sales representative. "It adds so much to an already amazing arena. The game-day experience for Panthers fans will be enhanced by the addition of more statistical information and other fan engagement opportunities that can be shown on this massive display. We can't wait to see it in action during their first event!"
Included with the equipment installation, the Panthers received a content package produced and delivered by Daktronics Creative Services to help bring their new halo display to life.
Daktronics has grown with the sports industry from the company's beginnings in 1968. Today, the company has LED video display installations at hundreds of colleges and universities across the United States. For more information on what Daktronics can provide for the collegiate market, visit www.daktronics.com/college.
About Daktronics
Daktronics helps its customers to impact their audiences throughout the world with large-format LED video displays, message displays, scoreboards, digital billboards, audio systems and control systems in sport, business and transportation applications. Founded in 1968 as a USA-based manufacturing company, Daktronics has grown into the world leader in audiovisual systems and implementation with offices around the globe. Discover more at www.daktronics.com.