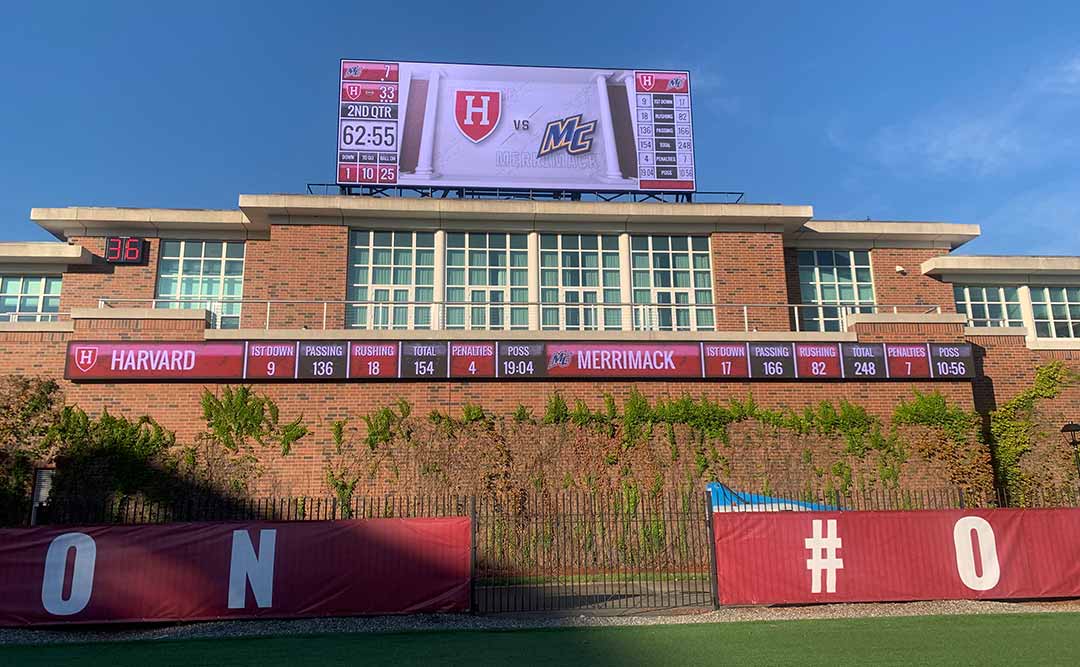 Harvard Upgrades Athletics Venues with Daktronics LED Displays
Football and Track & Field venues received video displays to enhance the fan experience
BROOKINGS, S.D. – June 12, 2023 – Continuing a longstanding relationship with Harvard University, Daktronics (NASDAQ-DAKT) of Brookings, South Dakota, in conjunction with Scoreboard Enterprises, was asked to manufacture and install new LED technology for Harvard Stadium for football and Gordon Indoor Track for track and field events. The project was installed over the winter months and is currently ready for the 2023 calendar year and upcoming events.
"Daktronics video boards continue to be the centerpiece of our in-game fan entertainment and engagement initiatives," said Imry Halevi, associate director of athletics, content & strategic communications at Harvard University. "These new state-of-the-art boards will enable us to continue serving our dedicated and loyal fans, and to improve the game-day atmosphere and environment for our football and track & field student-athletes."
Harvard Stadium
Football and other events using the stadium are enhanced using a new end zone video display and ribbon display at Harvard Stadium. The video display measures nearly 17 feet high by 45 feet wide and the ribbon display measures 3.5 feet high by 90 feet wide. Both feature 10-millimeter pixel spacings to deliver game information, statistics and graphics that fans expect on game day.
The main display is capable of variable content zoning which allows it to show one large image or to be divided into multiple zones of content to entertain and engage fans. The ribbon allows the opportunity to keep game information shown at all times as well as the ability to highlight sponsors throughout events.
Gordon Indoor Track
To bring new light to event results inside Gordon Indoor Track, Daktronics delivered a video display measuring approximately 11.5 feet high by 15 feet wide. It features 5.9-millimeter pixel spacing allowing for crisp, clear imagery and the ability to showcase individual event results as well as other track and field data and messaging.
"Working together with our long-time reseller Scoreboard Enterprises in the New England region, Daktronics is very proud to work with Craig Lee and his team to upgrade the event presentation at historical Harvard Stadium as well as add a beautiful new indoor video screen and track results display at the Gordon Track," said Peter Dunkle, Daktronics sales representative.
Daktronics will also be including a complete Show Control solution. This industry-leading control system provides a combination of display control software, world-class video processing, data integration and playback hardware that forms a powerful yet user-friendly production solution. For more information on Show Control, visit www.daktronics.com/show.
In addition to the equipment installation, Harvard University will also receive a digital content package to be produced and delivered by Daktronics Creative Services.
Daktronics has grown with the sports industry from the company's beginnings in 1968. Today, the company has LED video display installations at hundreds of colleges and universities across the United States. For more information on what Daktronics can provide for the collegiate market, visit www.daktronics.com/college.
About Daktronics
Daktronics helps its customers to impact their audiences throughout the world with large-format LED video displays, message displays, scoreboards, digital billboards, audio systems and control systems in sport, business and transportation applications. Founded in 1968 as a USA-based manufacturing company, Daktronics has grown into the world leader in audiovisual systems and implementation with offices around the globe. Discover more at www.daktronics.com.