Hard Rock Hotel & Casino Brings Light to Instate Travelers with Tall Daktronics Marquee
Double-sided LED display is one of the largest in Oklahoma and stands 134 feet tall by Interstate 44 near Tulsa
BROOKINGS, S.D. – Jan. 16, 2023 – Daktronics (NASDAQ-DAKT) of Brookings, South Dakota, in conjunction with Acura Neon Sign Company, a sign design, fabrication, installation and service company, has partnered with Cherokee Nation Entertainment to manufacture and install one of the largest LED marquee displays in Oklahoma at Hard Rock Hotel & Casino Tulsa along Interstate 44. The project, which included a total sign redesign by Acura Neon, was turned on in August of this year and the display, which stands 134 feet tall from the ground up, is currently sharing casino messaging to passersby.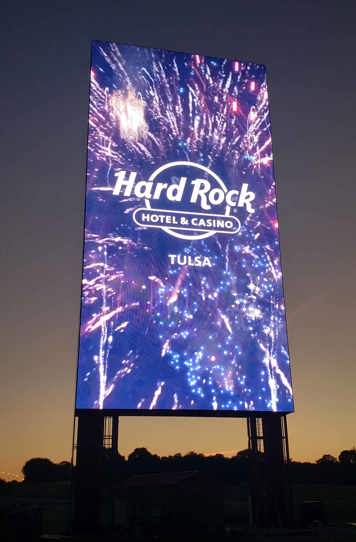 "Daktronics and Acura Neon have done an impressive job with our flagship casino's marquee," said Martin Madewell, general manager of Hard Rock Hotel & Casino Tulsa. "We have a track record of bringing the best entertainment to Tulsa, and that includes embracing technology that sets the tone for what guests will experience during the visit."
"Acura Neon's team started this project in August of 2021 and worked tirelessly for 13 months, amassing 11,000+ man hours," said Acura Neon President Mir Khezri. "Our crews worked through the wide gamut of Oklahoma weather: freezing cold, rain, snow, sleet, wind, wind and more wind as well as the record-breaking heat of summer 2022. The project required design and fabrication of frames for 552 sections of LED modules, electrical wiring, demolition of the old sign and building of new structures and installation of the new LED boards.

"We are so proud of our team for a job well done! We are also grateful for the opportunity to work with Cherokee Nation Entertainment and for the confidence they had in Acura Neon to undertake this massive project as well as all the support they gave us! We also want to thank Daktronics, as this project would not have been possible without the extensive technical support they provided along the way!"
The double-sided marquee features a 15HD pixel layout and measures 108 feet tall by 54 feet wide, and measures 134 feet tall from the ground to the top of the display. It features industry-leading environmental protection ensuring it operates as expected in the Oklahoma weather. The digital nature allows it to change messages at a moment's notice and for content to be scheduled in advance to promote casino events, specials, video content and other advertising.
"Everyone has seen and been talking about this display and how great it looks along I-44; you can't miss it," said Daktronics Sale Representative Kevin Kantack. "We're excited to continue our great partnerships with Acura Neon and Cherokee Nation Entertainment. This massive digital pylon turned out really well and looks fantastic."
A second marquee sign at this Hard Rock location was also upgraded recently. The 2021 installation marks the second renovation for this specific sign, which was originally installed in 2003 and underwent its first redesign in 2009. The new fabrication replaces a 24-foot by 54-foot-wide video board and features 10-millimeter pixel spacing and measures 42 feet high by 24 feet wide with an inward, concave curvature.
Daktronics also installed four other LED displays at Hard Rock Tulsa in 2020. The company also has multiple installations at other Cherokee Casino locations throughout the state of Oklahoma.
About Cherokee Nation Entertainment
Cherokee Nation Entertainment is the gaming and hospitality company of the Cherokee Nation. The company owns and operates Hard Rock Hotel & Casino Tulsa and nine Cherokee Casinos, including a horse racing track, three resort hotels, three golf courses and other retail operations. For more information, visit www.hardrockcasinotulsa.com and www.cherokeecasino.com.
About Acura Neon Sign Company
Acura Neon Inc began in 1988 as a small company offering electrical signage. Over the years, through growth and expansion, they have become a "turn-key" sign company operation occupying over 70,000 square feet of manufacturing and office floor space. They provide high quality and dependable signage to the Tulsa area and throughout the state of Oklahoma – Tulsa, Broken Arrow, Bixby, Owasso and Glenpool. They proudly serve customers in the surrounding states of Kansas, Missouri, Arkansas, Texas and even as far away as Florida.
About Daktronics
Daktronics helps its customers to impact their audiences throughout the world with large-format LED video displays, message displays, scoreboards, digital billboards, audio systems and control systems in sport, business and transportation applications. Founded in 1968 as a USA-based manufacturing company, Daktronics has grown into the world leader in audiovisual systems and implementation with offices around the globe. Discover more at www.daktronics.com.