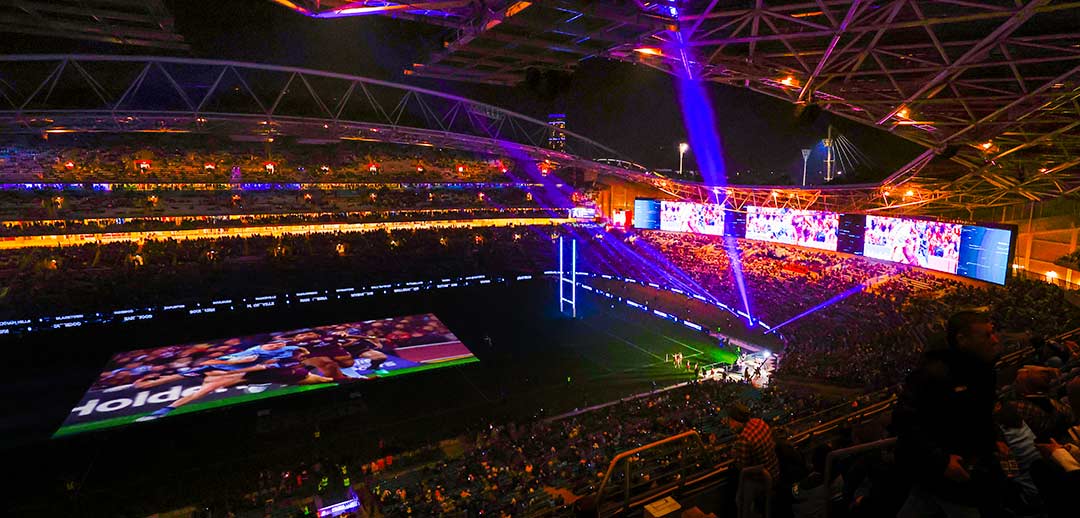 Great Southern Screen Completed at Accor Stadium by Daktronics
Widest main video display in sports stadium unveiled in Australia, set to host NRL Telstra Premiership Grand Final in October
BROOKINGS, S.D. – Sept. 30, 2022 – Bringing a larger-than-life view to Accor Stadium, Daktronics (NASDAQ-DAKT) of Brookings, South Dakota, worked with the venue in Sydney, Australia, to manufacture and install the Great Southern Screen, the widest main video display the company has ever installed in a sports stadium and the largest display in the southern hemisphere. Installation was recently completed ahead of a large schedule of events at Sydney's Olympic venue, including the NRL Telstra Premiership Grand Final on October 2.
The Great Southern Screen measures 10 meters high by 120 meters long as it stretches around the entire southern end of the stadium. It features a 13HD pixel layout to deliver excellent image clarity and contrast, and it employs industry-leading environmental protection ensuring it operates as expected in the outdoor elements of Australia.
"We are honored to be selected as the preferred LED supplier for Venues NSW at both Stadium Australia & Sydney Football Stadium," said Blair Robertson, Daktronics Australia regional manager. "Having overcome many delivery challenges, it was a great moment to being present at the first games this weekend. I was filled with pride and excitement watching the fans' reactions at seeing the GSS firsthand. The sheer scale and vibrancy of the displays has lit up the stadium to deliver a unique game-day experience. There is no reason to stay at home to watch the game, with the new GSS you get your HD curved TV and the live venue experience all at once."
Additionally, the stadium received a video display featuring a 13HD pixel layout and measuring 10 meters high by 23 meters wide in the north end. Surrounding the live action, two pitch perimeter displays were also installed. One pitch display measures nearly 1 meter high by 439 meters wide and the other measures nearly 1 meter high by 244 meters wide. Each pitch displays feature 10-millimeter pixel spacings and provide the opportunity to supplement content on the main displays and to highlight sponsors throughout events.
The main video displays are capable of variable content zoning allowing each to show one large image or to be divided into multiple zones to share any combination of live video, up-to-the-minute statistics, graphics and animations, and sponsorship messages.
About Accor Stadium
A grand stage for Sydney's major sport and entertainment events, Accor Stadium has welcomed more than 30 million visitors since it was purpose-built for the 2000 Sydney Olympic Games. Unforgettable moments staged at the Stadium have become part of Australia's sport and entertainment folklore: Cathy Freeman's dash that unified the nation, the John Aloisi penalty shootout heart-stopper that broke the Socceroos' 32-year World Cup hoodoo, the exhilaration and despair of the 2003 Rugby World Cup final, and so many legends created in the heat of battle in Grand Finals, State of Origin showdowns, Bledisloe Cup Test matches, football internationals and AFL blockbusters.
International sporting superstars have graced the hallowed turf at major events, including the Rugby World Cup, British and Irish Lions Test, and visits by Football super clubs Manchester United, FC Barcelona, Chelsea, Tottenham Hotspur, Arsenal, Liverpool and Juventus.
Accor Stadium has also hosted many of the world's biggest entertainment acts such as AC/DC, Adele, The Rolling Stones, U2, Ed Sheeran, Justin Bieber, Bon Jovi, Foo Fighters, Taylor Swift, Queen & Adam Lambert, and Eminem.
The Stadium has become part of the social fabric of NSW and plays a significant role in the community, hosting a wide range of business, community, cultural and charity events. In February 2020, a Fire Fight Australia concert ran for 10 hours, featured 23 acts, attracted 75,000 fans and a TV audience of millions as $11.1 million was raised for the national bushfire appeals.
Accor Stadium is part of the Venues NSW network.
About Daktronics
Daktronics helps its customers to impact their audiences throughout the world with large-format LED video displays, message displays, scoreboards, digital billboards, audio systems and control systems in sport, business and transportation applications. Founded in 1968 as a USA-based manufacturing company, Daktronics has grown into the world leader in audiovisual systems and implementation with offices around the globe. Discover more at www.daktronics.com.