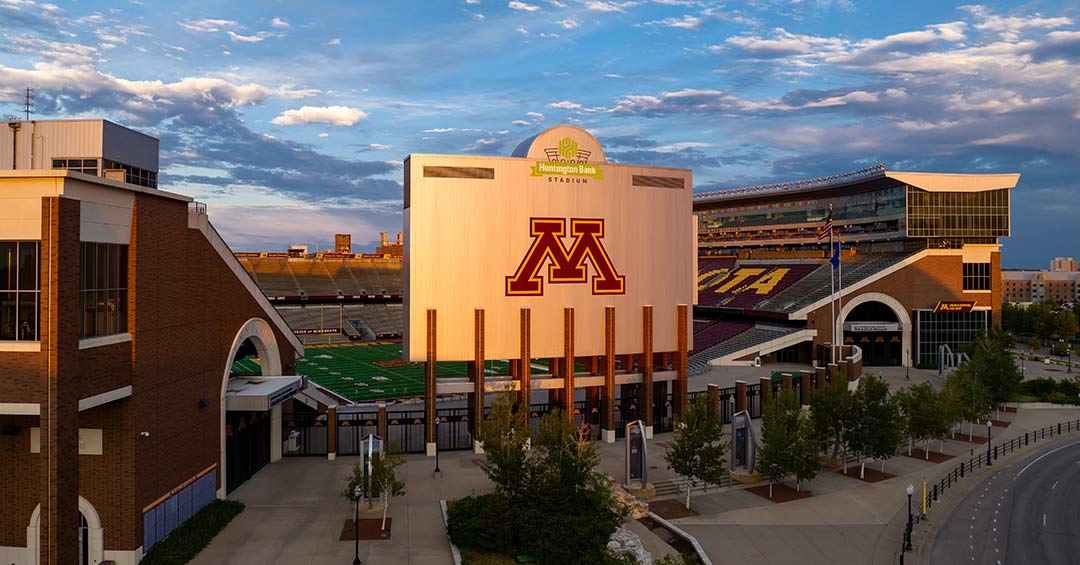 Gopher Athletics Gets Upgrade with Seven Daktronics Displays Installed at Huntington Bank Stadium at University of Minnesota
Nearly 9,500 square feet of LED display coming for 2023 football season
BROOKINGS, S.D. – Apr. 7, 2023 – Daktronics (NASDAQ-DAKT) of Brookings, South Dakota, continues a long-standing partnership with the University of Minnesota in Minneapolis for seven LED displays at Huntington Bank Stadium, the home of Gopher football. Upgraded west end zone and auxiliary displays along with ribbon boards, a marquee and a club display combine for nearly 9,500 square feet of enhanced digital canvas featuring increased screen resolution and brightness at the University's disposal for football games and other special events held at the stadium.
"We are always looking for new and innovative ways to elevate the in-venue experience for our fans," said Senior Associate Athletics Director Mike Wierzbicki. "With this project, we are able to add state-of-the-art enhancements and replace expiring technology as well. These additions will benefit everyone in the stadium, and we are excited to partner with industry-leader Daktronics on this initiative. We know our fans will enjoy these added benefits when we kick off the season in late August."
The main focal point in the west end zone is an upgraded LED video display measuring roughly 47 feet high by 107 feet wide. In the opposite end zone, the auxiliary display will expand to nearly 29 feet high by 49 feet wide. Both displays will feature 10-millimeter pixel spacing to deliver all the action-packed replays and live video Gopher football fans expect at a game. They will also use the variable content zoning capabilities to share any combination of statistics and game information, graphics and animations and sponsorship messages to fans throughout the stadium.
"The upgraded display system coming to University of Minnesota are sure to wow Gopher fans this season," said Joey Hulsebus, Daktronics sales representative. "We're honored to continue our longstanding partnership with the university and to continue to provide them with industry-leading LED solutions for their venues on campus. This next season will be exciting as we unveil the new displays and I can't wait to see them in action on game day."
Surrounding fans with supplemental statistics, game information and messaging, three LED ribbon displays will grace the seating bowl. The main ribbons on the north and south fascia will feature a 15-millimeter pixel spacing, measure 3.5 feet high and combine for 319 feet wide while the west end zone main display will add a lower LED ribbon that features 10-millimeter pixel spacing and measures nearly 5 feet high by 107 feet wide.
Inside the stadium's Club Cambria, a narrow pixel pitch display featuring a tight 1.9-millimeter pixel spacing will engage and entertain fans. Measuring nearly 8 feet high by 30 feet wide, this display will engage and entertain fans while providing them with an up-close viewing experience of the live action on the field.
Welcoming fans to Huntington Bank Stadium, an enhanced marquee display measuring nearly 47 feet high by 12 feet wide will be installed. Featuring a 15-millimeter pixel spacing, this display will share Minnesota branding, upcoming events and other messaging as needed by the University.
Daktronics will also be including a complete Show Control solution. This industry-leading control system provides a combination of display control software, world-class video processing, data integration and playback hardware that forms a powerful yet user-friendly production solution. For more information on Show Control, visit www.daktronics.com/show.
Daktronics has grown with the sports industry from the company's beginnings in 1968. Today, the company has LED video display installations at hundreds of colleges and universities across the United States. For more information on what Daktronics can provide for the collegiate market, visit www.daktronics.com/college.
​About Daktronics
Daktronics helps its customers to impact their audiences throughout the world with large-format LED video displays, message displays, scoreboards, digital billboards, audio systems and control systems in sport, business and transportation applications. Founded in 1968 as a USA-based manufacturing company, Daktronics has grown into the world leader in audiovisual systems and implementation with offices around the globe. Discover more at www.daktronics.com.
Safe Harbor Statement
Cautionary Notice: In addition to statements of historical fact, this news release contains forward-looking statements within the meaning of the Private Securities Litigation Reform Act of 1995 and are intended to enjoy the protection of that Act. These forward-looking statements reflect the Company's expectations or beliefs concerning future events. The Company cautions that these and similar statements involve risk and uncertainties which could cause actual results to differ materially from our expectation, including, but not limited to, changes in economic and market conditions, management of growth, timing and magnitude of future contracts, and other risks noted in the company's SEC filings, including its Annual Report on Form 10-K for its 2018 fiscal year. Forward-looking statements are made in the context of information available as of the date stated. The Company undertakes no obligation to update or revise such statements to reflect new circumstances or unanticipated events as they occur.