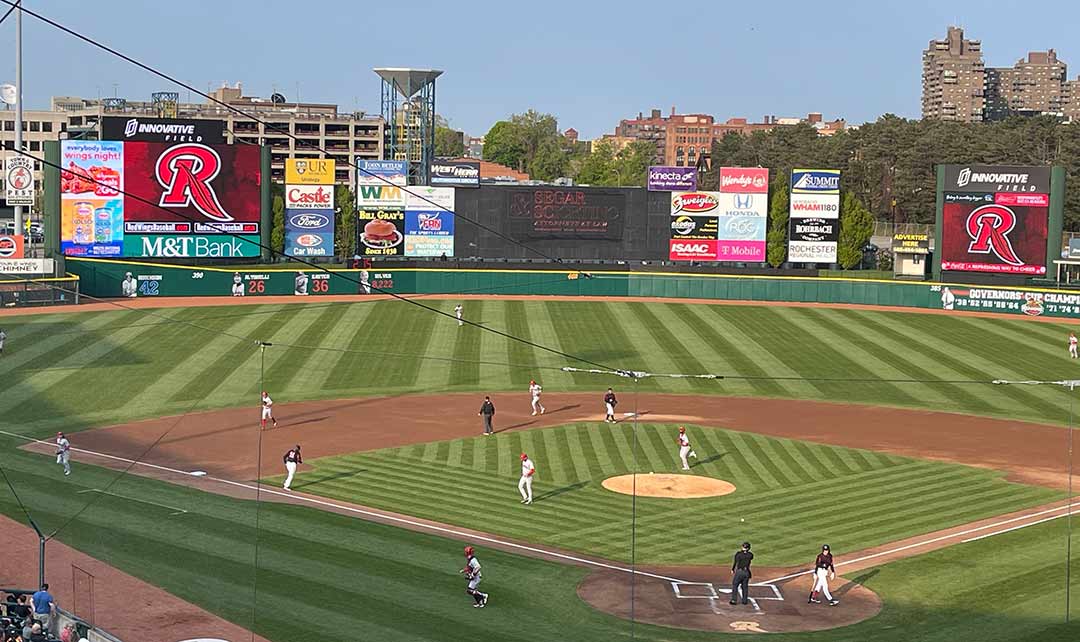 Fan Experience Flies High for Rochester Red Wings with Daktronics LED Displays
New views added to Innovative Field for 2023 baseball season
BROOKINGS, S.D. – May 11, 2023 – Daktronics (NASDAQ-DAKT) of Brookings, South Dakota, partners with the Rochester Red Wings to design, manufacture and install two new LED displays at Innovative Field in Rochester, New York, ahead of the 2023 baseball season.
"We are excited to partner with Daktronics to elevate the fan experience here at Innovative Field to new heights," said Red Wings General Manager Dan Mason. "The resolution, the brightness and the size of the new board will be a significant improvement for our fans and sponsors, and we can't wait to utilize the new tools available to us to make everyone's experience here even more memorable."
When Red Wings fans look to left field, they will see a new video display measuring nearly 35 feet high by 60 feet wide. Directly above the main display is another LED display measuring more than 7 feet high by 36 feet wide. Both displays feature 15HD pixel layouts to deliver crisp, clear imagery to fans throughout the ballpark.
"Daktronics is proud to again partner with the Rochester Red Wings on this exciting video board upgrade," said Scott Willson, Daktronics sales representative. "The new displays and control system will have a dynamic impact on the game-day experience for Red Wings fans and corporate partners. We look forward to seeing things live this spring."
The video display is capable of variable content zoning allowing it to show one large image or multiple zones of content. This includes any combination of live video, instant replays, up-to-the-minute statistics and game information, graphics and animations, and sponsorship messages.
The upper outfield display can share information to supplement the main display as well as showing scores from around the league, additional fan interactive content and other sponsorship opportunities.
Daktronics will also be including a complete Show Control solution. This industry-leading control system provides a combination of display control software, world-class video processing, data integration and playback hardware that forms a powerful yet user-friendly production solution. For more information on Show Control, visit www.daktronics.com/show.
In addition to the equipment installation, the Red Wings also received a content package to be produced and delivered by Daktronics Creative Services.
Daktronics has grown with the sports industry from the company's beginnings in 1968. Today, the company has integrated LED super systems in nearly 60% of all professional sports facilities in the United States and Canada. For more information on what Daktronics can provide, visit www.daktronics.com/professionalsports.
About Rochester Red Wings
The Rochester Red Wings are operated by Rochester Community Baseball, Inc. and have been a community-owned professional baseball franchise since 1957. The current franchise has been playing in Rochester since 1899 and is one of only six franchises in the history of North American pro sports to have been playing in the same city and league continuously since the 19th century. Rochester's pro baseball history dates back to 1877. 
​About Daktronics
Daktronics helps its customers to impact their audiences throughout the world with large-format LED video displays, message displays, scoreboards, digital billboards, audio systems and control systems in sport, business and transportation applications. Founded in 1968 as a USA-based manufacturing company, Daktronics has grown into the world leader in audiovisual systems and implementation with offices around the globe. Discover more at www.daktronics.com.
Safe Harbor Statement
Cautionary Notice: In addition to statements of historical fact, this news release contains forward-looking statements within the meaning of the Private Securities Litigation Reform Act of 1995 and are intended to enjoy the protection of that Act. These forward-looking statements reflect the Company's expectations or beliefs concerning future events. The Company cautions that these and similar statements involve risk and uncertainties which could cause actual results to differ materially from our expectation, including, but not limited to, changes in economic and market conditions, management of growth, timing and magnitude of future contracts, and other risks noted in the company's SEC filings, including its Annual Report on Form 10-K for its 2018 fiscal year. Forward-looking statements are made in the context of information available as of the date stated. The Company undertakes no obligation to update or revise such statements to reflect new circumstances or unanticipated events as they occur.