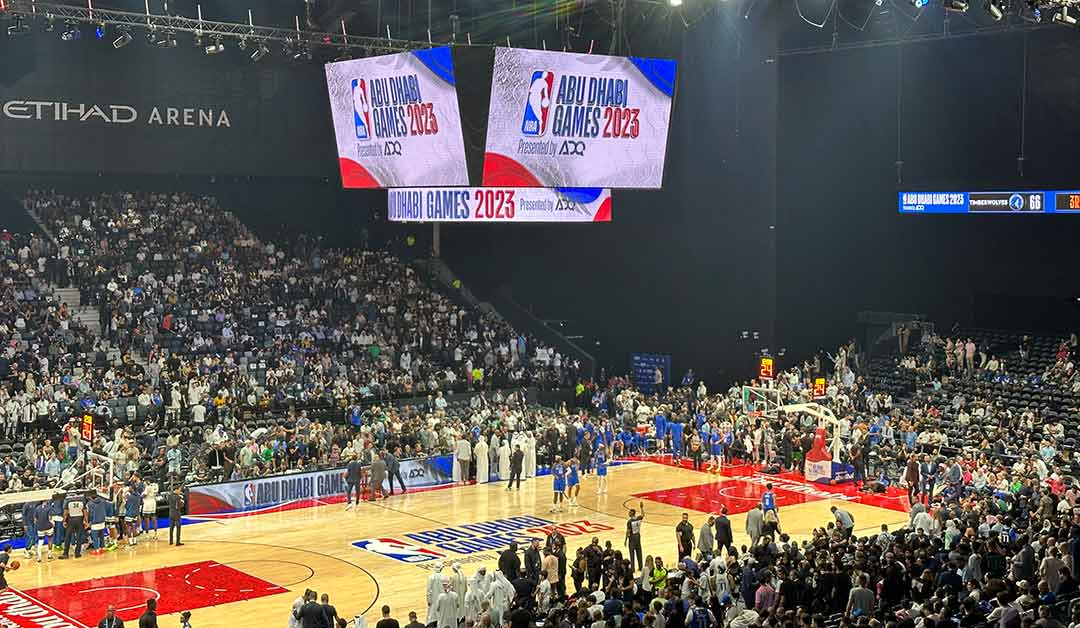 Etihad Arena Receives New Centerhung Video Display System from Daktronics
Video system and outdoor marquee set to wow audiences in Abu Dhabi
BROOKINGS, S.D. – Nov. 3, 2023 – Daktronics has partnered with Etihad Arena to design, manufacture and install a new five-display centerhung system and freeform marquee display at the venue in Abu Dhabi, United Arab Emirates. Installation was recently completed in 2023 and the system has been in use for premier events to entertain and inform audiences.
Centerhung System Details
The centerhung is comprised of four main video displays, one facing each direction while hanging from the center of the arena. Each display measures 4 meters high by 7 meters wide. Below these four displays sits a ring display measuring 1 meter high by 22 meters in circumference. All five displays feature a tight 2.6-millimeter pixel spacing to deliver crisp, clear imagery to audiences in every seat. 
The four main video displays are capable of variable content zoning allowing each to show one large image or to be divided into multiple different zones to show any combination of live video, instant replays, statistics, graphics and animations, and other arena messages. The ring display can provide supplemental information to the main displays while also providing the opportunity to highlight sponsors throughout events.
"It's rewarding to work with professional teams such as the ones at Miral and Etihad Arena," said Mathieu Verbraken at Daktronics Dubai. "The displays are on par with the world class status of this venue. We look forward to the many nice shows our displays will support."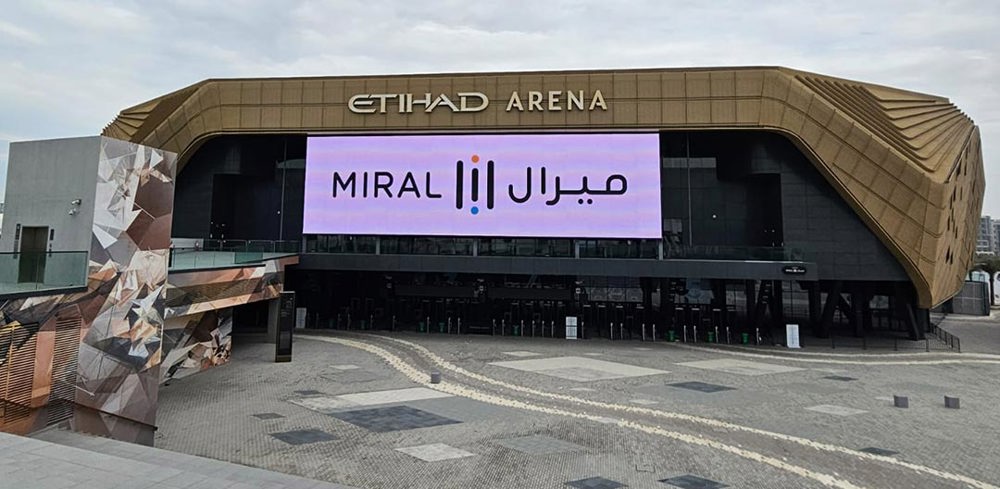 Outside the arena, a marquee display is created using freeform LED elements. These transparent elements are mounted to the building's exterior and form a display measuring 9 meters high by 32 meters wide. Pixel spacing is 10.4-millimeter high by 20.8-millimeters wide and when viewed from a distance combine to deliver a fully visible video image and other digital content. 
The versatility of this marquee allows it to promote upcoming events while also delivering sponsorship messages and other arena announcements.
About Miral Group
Miral Group is the leading creator of immersive destinations and experiences in Abu Dhabi, that contributes to the growth of the leisure and entertainment industry and Abu Dhabi's economic diversification. It conceives, creates, operates, and manages immersive destinations and experiences that attract visitors from across the world to create unforgettable memories, accelerating the realization of the Emirate's tourism vision and growth.
Responsible for the development of Yas Island and overseeing Saadiyat Island's Destination Management Strategy, Miral's portfolio of world-class assets incorporates entertainment, leisure, culture, sport, dining, retail, and hospitality experiences, aiming to deliver millions of memorable moments for residents and international guests alike. These include SeaWorld Yas Island, Abu Dhabi, Ferrari World Yas Island, Abu Dhabi, Warner Bros. World™ Abu Dhabi, CLYMB™ Abu Dhabi, Yas Waterworld Abu Dhabi, Yas Marina, and Yas Bay Waterfront, home to the UAE's largest indoor multi-purpose venue Etihad Arena, amongst others. Miral also has several projects being developed on Yas Island and across the emirate, including teamLab Phenomena Abu Dhabi, Natural History Museum Abu Dhabi, and a Harry Potter themed land within Warner Bros. World Abu Dhabi.
Miral Group encompasses three subsidiaries: Miral Destinations, which promotes unique destinations; Miral Experiences, which operates a diverse portfolio of world-class, award-winning immersive experiences; and Yas Asset Management, which operates and manages a portfolio of vibrant destinations including F&B, retail, marinas and hospitality properties across Yas Island.
For more information, visit www.miral.ae.
About Daktronics
Daktronics helps its customers to impact their audiences throughout the world with large-format LED video displays, message displays, scoreboards, digital billboards, audio systems and control systems in sport, business and transportation applications. Founded in 1968 as a USA-based manufacturing company, Daktronics has grown into the world leader in audiovisual systems and implementation with offices around the globe. Discover more at www.daktronics.com.