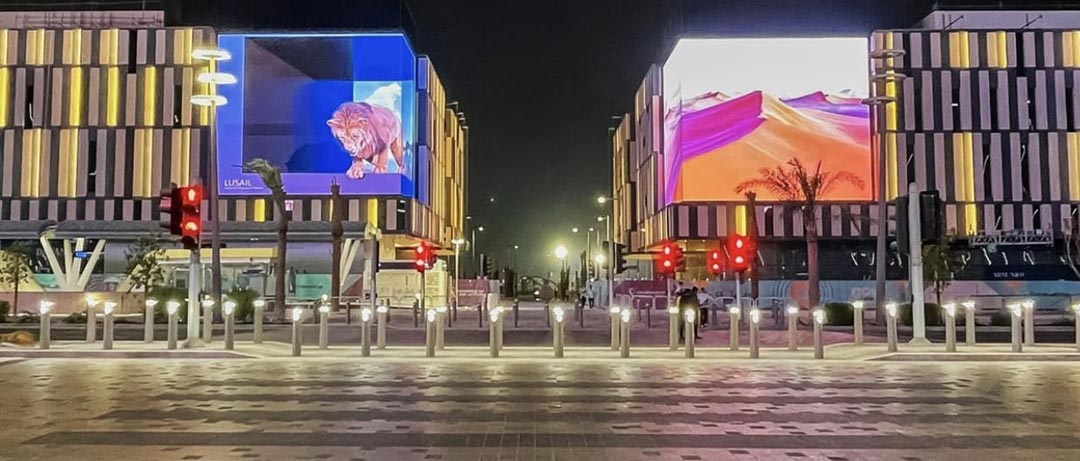 Daktronics Lights Up Lusail Commercial Boulevard with Eight Digital Displays in Qatar
Four traditional and four freeform LED displays come together for Qatari Diar in Doha
BROOKINGS, S.D. – Jan. 5, 2023 – Daktronics (NASDAQ-DAKT) of Brookings, South Dakota, has partnered with Lusail Boulevard and Qatari Diar to manufacture and install eight new LED displays along Lusail Commercial Boulevard in Doha, Qatar. The displays were installed along the main roadway leading to Lusail Stadium in the summer of 2023 and turned on at the beginning of September to bring light to advertisers and other public messaging.
"These new displays have been the talk of the town!" said Qatari Diar Representative and Chief Project Delivery Officer Fahad Abdullatif Al-Jahrami. "Bringing 3D, forced perspective into the city has been very attractive and brings more audiences to this area to enjoy the views, shops and more."
Ahead of worldwide events being held at the stadium, these displays were activated to engage the hundreds of thousands of people passing by as they head to and from matches, celebrating their victories in this area of the city.
Lusail Boulevard in Downtown Lusail brings to life a quintessential contemporary urbanism, seamlessly fused with Qatar's rich cultural fabric. A dynamic, diverse and unique shopping, commercial and residential destination, Lusail Boulevard is where Downtown Lusail's iconic experience is realized.
Lusail Boulevard is the heart of Lusail, pulsating throughout its 1.3-kilometer length. It comprises a range of mixed-use, upscale retail, offices and premium residential units, all intricately designed and built to world-class quality standards in every detail. Its public realm, size and buildings are modeled after the Avenue des Champs-Élysées; an international experience brought to life by prestige retail, leisure and cultural activities with a GFA of 250,000 square meters.
The four traditional LED displays each wrap around the 90-degree corners of the buildings. Two displays each measure 13.12 meters high with one measuring 22.08 meters wide and the other measuring 24 meters wide. The other two displays each measure 8.16 meters high with one measuring 27.2 meters wide and the other measuring 33.28 meters wide. These displays create a spectacular sight on the corners of the Lusail Real Estate building.
These four displays can each show one large image and can coordinate to show the same content or each can show individual messaging. They each feature 10-millimeter pixel spacing and incorporate industry-leading environmental protection to ensure they operate as expected in the outdoors of Doha while also delivering excellent image clarity and contrast to all messaging.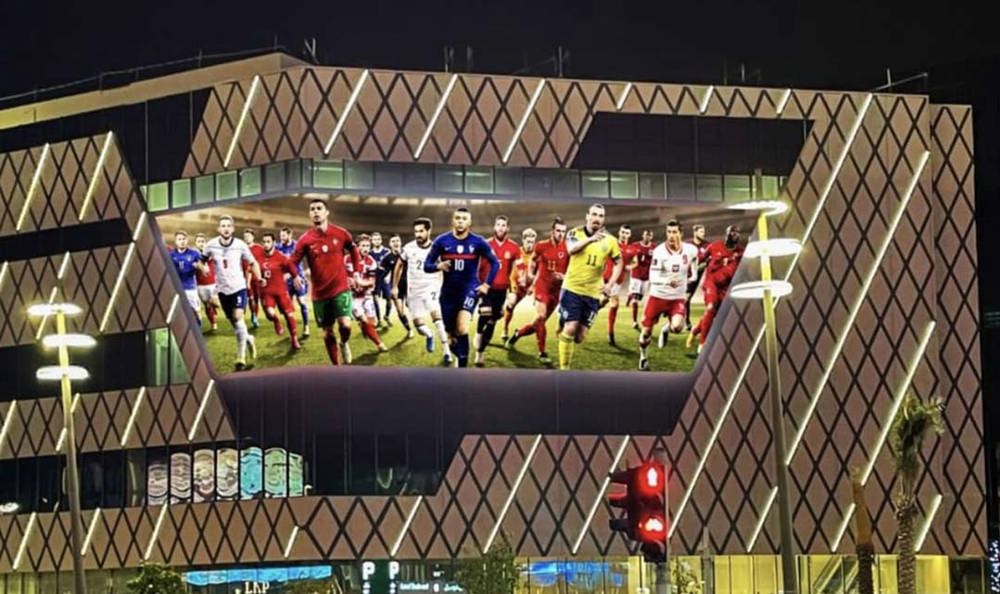 "The concept," according to design consultant P.D Louia Alaeddine, AVT, "was to fit multiple screens on different buildings to fill the boulevard with digital media screens and the challenge was to deliver the varying designs of each type of screen, solid or transparent, as the same varying shape, whether it is cubical, trapezoidal or mixed shapes. Maximizing the viewing area was the main concern within the available opening as we were limited to the dimensions of the screen cabinets and used custom-sized cabinets to match with the building corner angles.

"We also considered having similar dimensions around the screen for aluminum flashing and the connection to the building GRC, reducing clashes with the structural and existing slap and connection from the glass facade to the transparent screens, using the slimmest aluminum design to maximize the viewing from the building and custom sized strips to match the glass facade siding."
The displays were designed to enhance the beauty of the buildings and their architecture with dedicated space for the technology to bring light to the exterior. This includes showing live feeds of events in the nearby stadium and entertaining audiences while they are drawn in for each event.
Similarly, four freeform LED displays were installed along the exterior of the buildings to bring them to life with colors, animations and advertising messages. Each of these four displays features 25-millimeter pixel spacings along LED stick elements and covers a combined total of 1,754 square meters. These displays create full video capability when viewed from the outside of the building and are visually transparent from the backside forming a Venetian blind effect while allowing light to pass through the display to the inside of the buildings.
"The new 3D displays have added new features to Lusail Boulevard that are very attractive and enticing which adds to the excitement and vibrant atmosphere of the boulevard," added Daktronics Regional Manager Ahmad Dahmash. "The freeform transparent technology allowed us to meet requirements by having a great digital display to be synergized with the rest of the displays without blocking the daylight in the offices and allowing for visibility to the outside."
Together, these eight displays light up Lusail Commercial Boulevard in a way that captures attention and creates an enticing atmosphere for the location.
"The digital screens, which we have branded The Cube @ Lusail and The Grid @ Lusail, are an ideal platform for brands to deliver creative executions, including 3D forced perspective," explained Jaber Abdullah Al Ansari, Group CEO of ELAN Group, the exclusive representative for advertising across Lusail, through its subsidiary ELAN Media. "The screens dominate the futuristic city through their sheer size and prominent positioning and offer advertisers tremendous exposure while bringing Lusail to life in a blaze of light and color. We are receiving strong demand for advertising on them from major international and local brands."
Daktronics provides digital technology solutions that offer flexible scheduling for multiple advertisers as well as quick and easy changes in content. Additional services provided to the OOH industry add value and generate revenue for customers. For more information on digital billboard technology, visit www.daktronics.com/OOH.
About Lusail Real Estate Development
Lusail extends across an area of 38 square kilometers and includes four exclusive islands and 19 multi-purpose residential, mixed-use, entertainment and commercial districts. Featuring 22 hotels with international star ratings, Lusail's vibrant, multicultural hodgepodge promises a boon for hospitality, tourism and investments in Qatar.
The city will be home to more than 200,000 residents of its scenic surroundings, 170,000 professionals in its 19 districts, and 80,000 visitors to its entertainment, recreation and retail and hospitality facilities; a population of nearly 450,000 people. Each of Lusail's districts features an array of residential, commercial, hospitality, and retail destinations, integrating communal living in a self-contained model, complete with schools, mosques, medical facilities, as well as sport, entertainment and shopping centres.
Lush greenery and pocket parks across Lusail's neighborhoods, residential and commercial areas, as well as two major park networks, the Crescent Park and the Wadi Park, bring to life Lusail city's green, sustainable living ambitions, creating ample space for walkways, sports fields and bicycle lanes, as well as open access to marina promenades and water bodies.
About Daktronics
Daktronics helps its customers to impact their audiences throughout the world with large-format LED video displays, message displays, scoreboards, digital billboards, audio systems and control systems in sport, business and transportation applications. Founded in 1968 as a USA-based manufacturing company, Daktronics has grown into the world leader in audiovisual systems and implementation with offices around the globe. Discover more at www.daktronics.com.