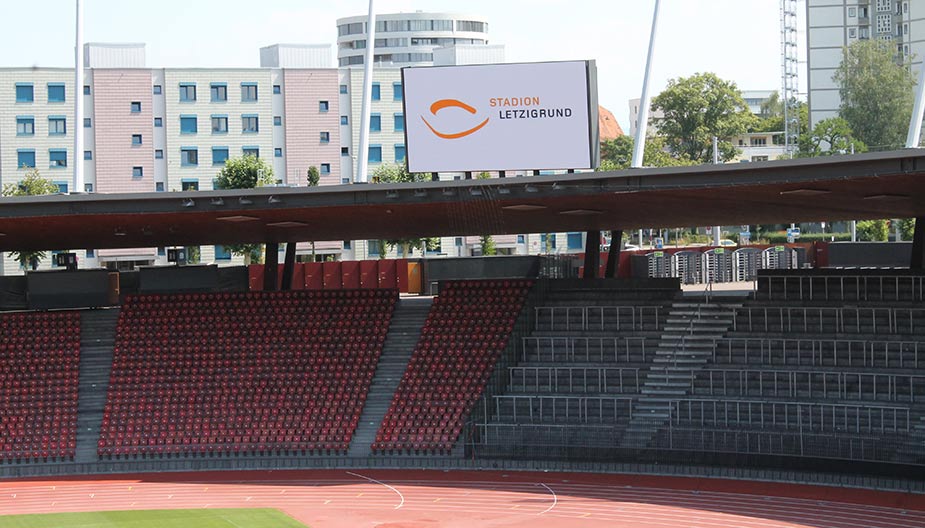 Daktronics Installs New LED Displays at Letzigrund Stadium
About Letzigrund Stadium
BROOKINGS, S.D. – July 30, 2018 – Daktronics (NASDAQ-DAKT) has been asked to design, engineer and install two new LED video displays for Letzigrund Stadium in Zürich, Switzerland. The outdoor stadium has new video features at each end of the field to entertain and inform live event attendees in 2018.

"After more than 10 years of use of the very reliable stadium displays, it was time for renewal and upgrade to the latest LED technology to improve the quality of the displays," said Andreas Bachmann, process manager of facility management at Letzigrund Stadium. "We are very proud about the result. The new displays will offer a real added value for our event partners and visitors. We thank Daktronics for a smooth realization of the project and are looking forward to further cooperation in service."

Each display measures 5.85 meters high by 10.61 meters wide and features 13HD pixel layouts to bring excellent image clarity and contrast to fans in every seat of the stadium. The displays incorporate industry-leading environmental protection to ensure optimal operation during any kind of weather.

"The new 13HD technology is the first one in the German spoken area and sets a landmark for the opportunities of that technology," said Rolf Bauer, Daktronics regional sales manager. "This is a fantastic project that we're excited to be involved in for the second time in a row. The public tender was awarded with a very tight schedule for delivery and install. Thanks to a great team from the stadium management and City of Zürich, along with our local partner AUVISO AG, we were able to achieve the given timeline and meet expectations for this project."

Each display is capable of variable content zoning allowing each to show one large image or to be divided into multiple sections to show any combination of live video, instant replay, statistics and game information, graphics and animations, and sponsorship messages.

Daktronics also included its powerful Show Control System with this installation. This industry-leading system provides a combination of display control software, world-class video processing, data integration and playback hardware that forms a user-friendly production solution. For more information on Show Control, visit www.daktronics.com/show.

Daktronics LED video and messaging display technology offers a long lifetime with consistent, industry-leading performance and low power consumption, providing value and excitement for years to come.

Letzigrun Stadium first opened in 1925 and underwent a complete rebuild in 2006 with grand re-opening in 2007. At that time Daktronics installed two PS-23 Displays with approximately 54 square meters each. Aside from hosting the Swiss Super league, Letzigrund stadium also hosts the world-class IAAF Diamond League and a large number of open-air concerts of well-known artists. In the Swiss Super League, two clubs are playing at Letzigrund: the FC Zürich and the Grasshopper Club Zürich.

​About Daktronics
Daktronics helps its customers to impact their audiences throughout the world with large-format LED video displays, message displays, scoreboards, digital billboards, audio systems and control systems in sport, business and transportation applications. Founded in 1968 as a USA-based manufacturing company, Daktronics has grown into the world leader in audiovisual systems and implementation with offices around the globe. Discover more at www.daktronics.com.
Safe Harbor Statement
Cautionary Notice: In addition to statements of historical fact, this news release contains forward-looking statements within the meaning of the Private Securities Litigation Reform Act of 1995 and are intended to enjoy the protection of that Act. These forward-looking statements reflect the Company's expectations or beliefs concerning future events. The Company cautions that these and similar statements involve risk and uncertainties which could cause actual results to differ materially from our expectation, including, but not limited to, changes in economic and market conditions, management of growth, timing and magnitude of future contracts, and other risks noted in the company's SEC filings, including its Annual Report on Form 10-K for its 2018 fiscal year. Forward-looking statements are made in the context of information available as of the date stated. The Company undertakes no obligation to update or revise such statements to reflect new circumstances or unanticipated events as they occur.