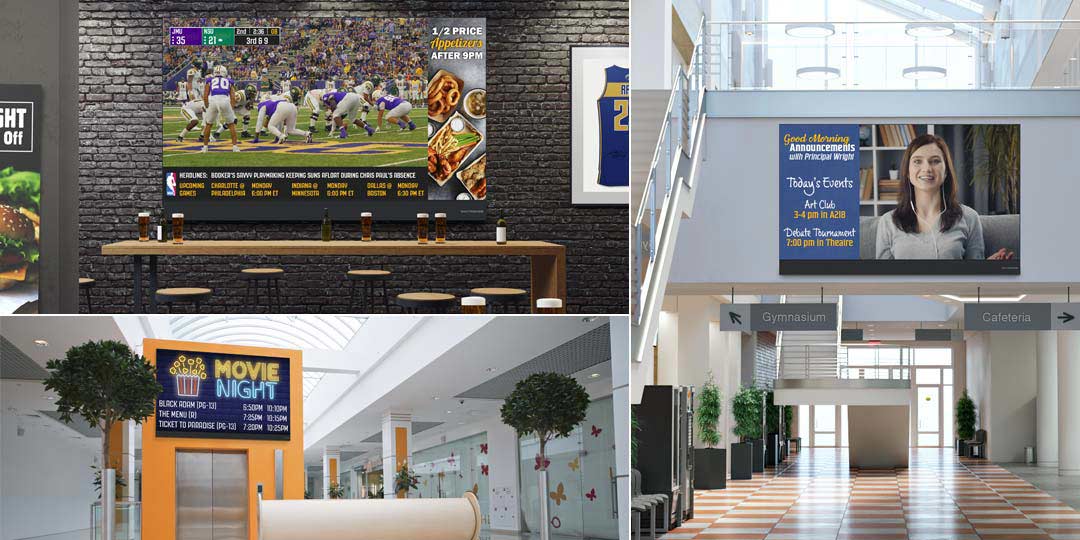 Daktronics Improves Capability of Indoor LED Solutions with Cloud-Based Software
The All-in-One Smart display is now available with Venus® Control Suite
BROOKINGS, S.D. – Dec. 13, 2022 – Daktronics (NASDAQ-DAKT) of Brookings, South Dakota, is providing additional flexibility to its indoor LED display technology. Now businesses, schools, offices and more can take advantage of the All-in-One Smart display with the simplicity of a cloud-based control system.
"The narrow pixel pitch (NPP) All-in-One Smart LED display was originally designed as a high-resolution option for business conference rooms and training centers," explains Taylor Nilson, Daktronics market manager. "We are excited to bring this product to multiple markets with the option of our powerful and proven Venus Control Suite software. Indoor LED displays are much easier to see from any angle and in any lighting – even direct sunlight – and it is a reliable, long-lasting solution."
Venus Control Suite is the software used for thousands of Daktronics LED and LCD displays nationwide. The software enables users to design content and create a schedule for multiple Daktronics displays from one device, such as a laptop, tablet or smartphone.
"Including Venus Control Suite as an optional software allows customers with existing displays the ability to expand their digital network with the new All-In-One Smart display, says Nilson. "Depending on the placement of the screen, content can be informational, educational, entertaining, or promotional, and Venus Control Suite allows the operator to change the content almost instantly."
Daktronics is installing the All-in-One Smart display in retail stores and restaurants, in healthcare organizations and financial institutions, throughout the interiors of school campuses, in large classrooms and auditoriums, and anywhere that requires high-resolution viewing with easily changeable messaging.
The display is available in 110, 138, 165 and 220-inch diagonal sizes with a standard 16:9 aspect ratio, 1920x1080 resolution. It has a built-in operating system and features multiple input options: plug-and-play HDMI, remote-controlled on-screen user settings, and Venus Control Suite software.
Learn more about the All-in-One Smart LED display at https://www.daktronics.com/en-us/products/video-displays/video-wall/all-in-one-smart-led-display.
​About Daktronics
Daktronics helps its customers to impact their audiences throughout the world with large-format LED video displays, message displays, scoreboards, digital billboards, audio systems and control systems in sport, business and transportation applications. Founded in 1968 as a USA-based manufacturing company, Daktronics has grown into the world leader in audiovisual systems and implementation with offices around the globe. Discover more at www.daktronics.com.
Safe Harbor Statement
Cautionary Notice: In addition to statements of historical fact, this news release contains forward-looking statements within the meaning of the Private Securities Litigation Reform Act of 1995 and are intended to enjoy the protection of that Act. These forward-looking statements reflect the Company's expectations or beliefs concerning future events. The Company cautions that these and similar statements involve risk and uncertainties which could cause actual results to differ materially from our expectation, including, but not limited to, changes in economic and market conditions, management of growth, timing and magnitude of future contracts, and other risks noted in the company's SEC filings, including its Annual Report on Form 10-K for its 2018 fiscal year. Forward-looking statements are made in the context of information available as of the date stated. The Company undertakes no obligation to update or revise such statements to reflect new circumstances or unanticipated events as they occur.