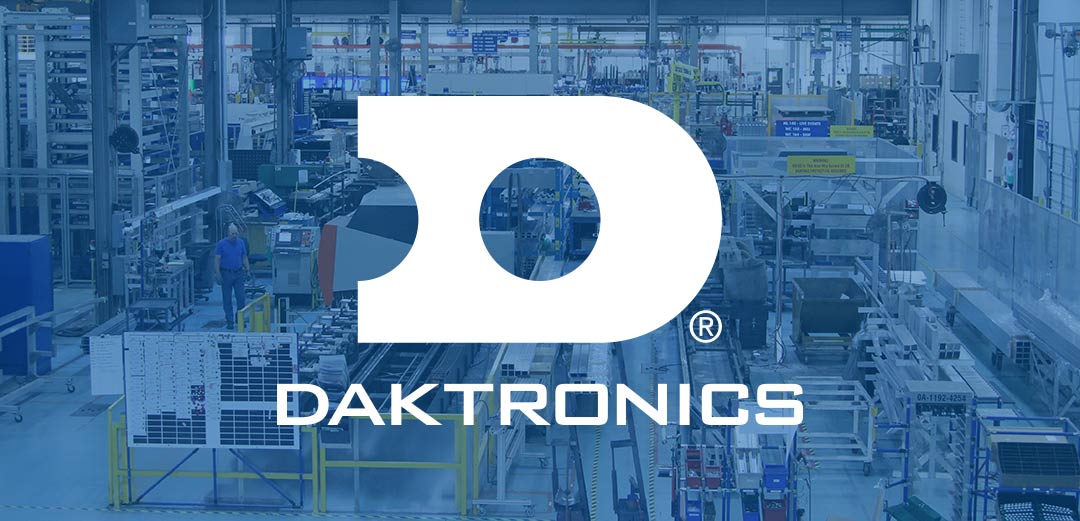 Daktronics Expands Factories to Support Demand for LED Displays
Doubling production capabilities for SMD product lines increases capacity to meet growing demand while also creating additional jobs
BROOKINGS, S.D. – March 14, 2022 – As demand in the audiovisual marketplace continues to rise, Daktronics (NASDAQ-DAKT) of Brookings, South Dakota, is currently expanding production capabilities in multiple factory locations to support increased demand, including the doubling of Surface Mount Device (SMD) LED product lines.
"We are excited to see such high demand for the solutions we provide to our customers," explained Daktronics President and CEO Reece Kurtenbach. "Meeting customer demand is a function of both our internal capabilities in manufacturing and the ability for the global parts supply chain to remain stable. We are taking steps now to address our manufacturing capacity by adding floor space, machines and labor. While the supply chain for display components remains dynamic and volatile, our teams continue to work very hard to collaborate with existing and new vendors to obtain the parts we need to meet customer expectations."
The company's current expansion project, which completes this summer, will double Daktronics production capabilities for SMD product lines and create job opportunities across all factory locations. The project will increase production space in the Brookings factory by 90,000 square feet.
"The planned improvements and expansions will cover multiple markets and LED product lines but will also create the need for workers at our factories," added Kurtenbach. "We're excited to see the positive impact our business has on both our customers and the communities in which we operate as we move forward."
In Sioux Falls, South Dakota, and Redwood Falls, Minnesota, Daktronics is creating and bolstering indoor and outdoor SMD product lines to meet the increasing demand for LED solutions using this technology.
The Brookings factory is expanding its sheet metal processes with the addition of four new machines to laser punch and cut, bend, and laser weld. These improvements double the current display housing output for NPP product lines.
Additionally, Daktronics factories in Ennistymon, Ireland, and Shanghai, China, will expand their production capabilities for SMD LED product lines as the company looks to serve customers in markets around the globe.
"We're looking forward to the future of audiovisual systems growing and our continued investment in providing the best possible solutions for our customers," added Kurtenbach. "As such, we're expecting our total capital expenditures to be approximately $25 million for fiscal 2022, including the manufacturing expenses for enhanced production and capacity, as well as investments in quality and reliability equipment and continued information infrastructure investments."
​About Daktronics
Daktronics helps its customers to impact their audiences throughout the world with large-format LED video displays, message displays, scoreboards, digital billboards, audio systems and control systems in sport, business and transportation applications. Founded in 1968 as a USA-based manufacturing company, Daktronics has grown into the world leader in audiovisual systems and implementation with offices around the globe. Discover more at www.daktronics.com.
Safe Harbor Statement
Cautionary Notice: In addition to statements of historical fact, this news release contains forward-looking statements within the meaning of the Private Securities Litigation Reform Act of 1995 and are intended to enjoy the protection of that Act. These forward-looking statements reflect the Company's expectations or beliefs concerning future events. The Company cautions that these and similar statements involve risk and uncertainties which could cause actual results to differ materially from our expectation, including, but not limited to, changes in economic and market conditions, management of growth, timing and magnitude of future contracts, and other risks noted in the company's SEC filings, including its Annual Report on Form 10-K for its 2018 fiscal year. Forward-looking statements are made in the context of information available as of the date stated. The Company undertakes no obligation to update or revise such statements to reflect new circumstances or unanticipated events as they occur.