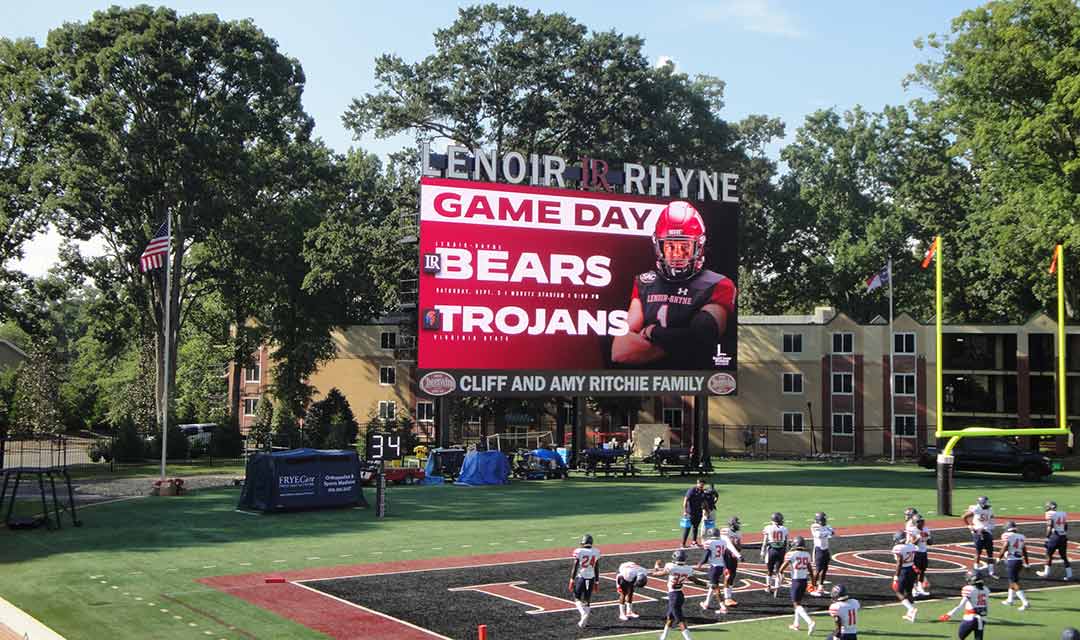 Daktronics Delivers New Video Experience for Lenoir-Rhyne University
LED video displays at Moretz Stadium and Shuford Gym are ready to entertain fans with Durham Field installation to follow
BROOKINGS, S.D. – Oct. 19, 2022 – Daktronics (NASDAQ-DAKT) of Brookings, South Dakota, has partnered with Lenoir-Rhyne University to design, manufacture and install eight new LED displays at Moretz Stadium, Shuford Gym and Durham Field in Hickory, North Carolina, for the 2022-23 school year. Installation has been completed at the stadium and in the gym, while the baseball field is on deck.
"At the forefront of all three renovations was a commitment to an enhanced game-day experience and Daktronics has helped us to deliver on that commitment," said Justin Hay, Lenoir-Rhyne's senior associate athletic director. "The addition of these video boards along with their functionality allows us to bring an entirely new experience to our game-day environment for our fans and student-athletes."
Moretz Stadium
A new video display has been installed at each end of the stadium to inform, engage and entertain audiences throughout each football game and event. In one end zone, the LED display measures approximately 27.5 feet high by 60 feet wide and the display at the opposite end zone is mounted to the building and measures roughly 12 feet high by 32.5 feet wide.
These displays feature industry-leading environmental protection ensuring each operates as expected in the outdoors of North Carolina. Both displays incorporate 13HD pixel layouts with wide angle visibility to bring excellent image clarity and contrast to fans in every seat.
"We're honored to be part of the amazing renovation projects at Moretz Stadium and Shuford Gym," said Corey Williams, Daktronics sales representative. "The new LED display at Durham Field will be a great addition as well. These video and scoring systems are just one piece of what will add up to be a great new game-day experience for Bears fans this season. We loved seeing everything in action during the first home games."
Shuford Gym
Stepping inside the gym, fans will see a new video display at each end as well as three new LED scorers tables along the sidelines. The end wall displays will each measure approximately 11.5 feet high by 19.5 feet wide and will feature 3.9-millimeter pixel spacing to deliver crisp, clear imagery. Similarly, each scorers table will measure roughly 2.5 feet high by nearly 10 feet wide and feature 5.9-millimeter pixel spacing to show supplemental information to the main displays.
Durham Field
Coming soon to the baseball field, a new display featuring a 10-millimeter pixel layout will be installed. Located in center field, this main video display will measure nearly 17 feet high by 24 feet wide to deliver a similar experience for baseball fans as the main display will for fans at the football stadium.
The video displays in these installations feature all of the capabilities fans have come to expect at live events. This includes variable content zoning allowing each display to show one large image or multiple zones of content including live video, instant replays, statistics and game information, graphics and animations, and sponsorship messages.
In addition to the equipment installation, Lenoir-Rhyne will also receive a content package that will be produced and delivered by Daktronics Creative Services.
Daktronics has grown with the sports industry from the company's beginnings in 1968. Today, the company has LED video display installations at hundreds of colleges and universities across the United States. For more information on what Daktronics can provide for the collegiate market, visit www.daktronics.com/college.
About Lenoir-Rhyne University
Founded in 1891, Lenoir-Rhyne University is a co-educational, private liberal arts institution with more than 50 undergraduate degree programs and nearly 30 graduate degree programs. LR enrolls more than 2,300 undergraduate and graduate students. LR's main campus is in Hickory, North Carolina, where both undergraduate and graduate degrees are offered. The university also offers graduate degree programs on its campuses in Asheville, North Carolina, and Columbia, South Carolina. The Lutheran Theological Southern Seminary is also in Columbia. LR is affiliated with the North Carolina Synod of the Evangelical Lutheran Church in America and welcomes students from all religious backgrounds. The website is www.lr.edu.
​About Daktronics
Daktronics helps its customers to impact their audiences throughout the world with large-format LED video displays, message displays, scoreboards, digital billboards, audio systems and control systems in sport, business and transportation applications. Founded in 1968 as a USA-based manufacturing company, Daktronics has grown into the world leader in audiovisual systems and implementation with offices around the globe. Discover more at www.daktronics.com.
Safe Harbor Statement
Cautionary Notice: In addition to statements of historical fact, this news release contains forward-looking statements within the meaning of the Private Securities Litigation Reform Act of 1995 and are intended to enjoy the protection of that Act. These forward-looking statements reflect the Company's expectations or beliefs concerning future events. The Company cautions that these and similar statements involve risk and uncertainties which could cause actual results to differ materially from our expectation, including, but not limited to, changes in economic and market conditions, management of growth, timing and magnitude of future contracts, and other risks noted in the company's SEC filings, including its Annual Report on Form 10-K for its 2018 fiscal year. Forward-looking statements are made in the context of information available as of the date stated. The Company undertakes no obligation to update or revise such statements to reflect new circumstances or unanticipated events as they occur.