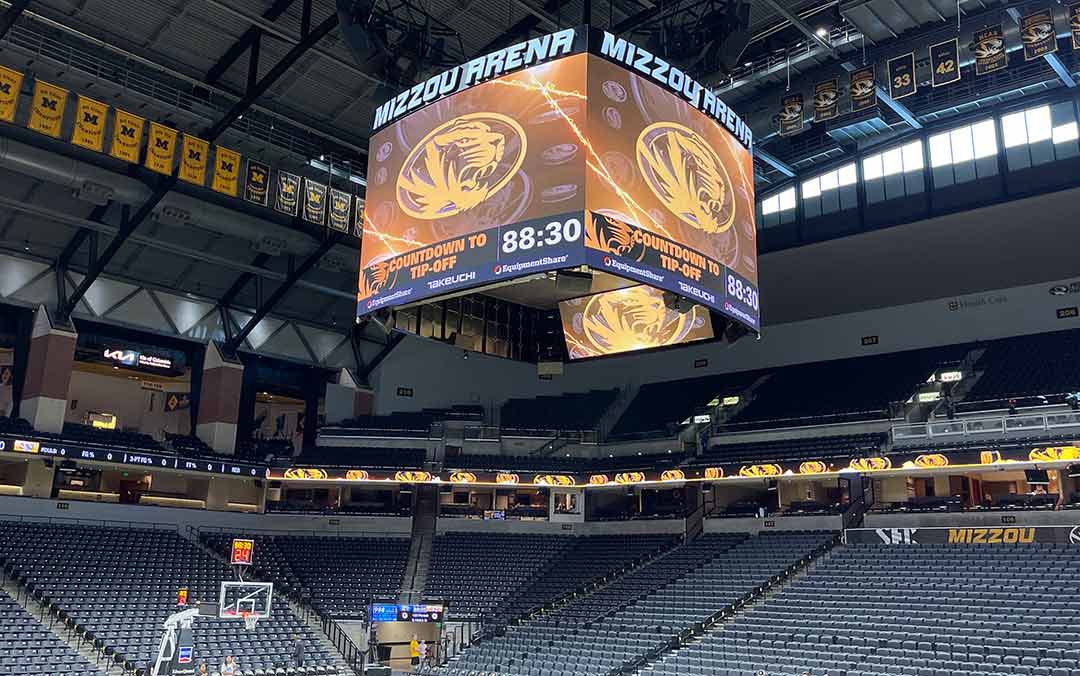 Daktronics Centerhung Captivates Audiences at Mizzou Arena
A six-display centerhung system hangs above the action to inform and entertain fans
BROOKINGS, S.D. – Nov. 10, 2023 – New to Mizzou Arena, a centerhung display system and auxiliary displays manufactured by Daktronics (NASDAQ-DAKT) of Brookings, South Dakota, are ready to inform and entertain fans. Nine total displays were delivered to the University of Missouri, located in Columbia, ahead of the fall sports season.
"It's important that we work with partners who will be with us for the long haul," said David Bartlett, director of systems engineering for Mizzou Athletics.  "A demonstrated commitment to excellence in sales, engineering, construction and support has qualified Daktronics to become a trusted systems partner for Mizzou Athletics. Working with Daktronics on this project has once again enabled Mizzou Athletics to achieve the results necessary to build and sustain a best-in-class fan experience."
Centerhung Display System Details
Four main video displays come together to deliver a seamless canvas in all directions from the center of the arena. Each display measures approximately 16.5 feet high by 24.5 feet wide. On the underside of the centerhung, two additional displays are angled to appeal to those people sitting closer to the action. These two displays each measure nearly 6 feet high by 16.5 feet wide.
The centerhung displays all feature 5.9-millimeter pixel spacing for crisp, clear imagery. Each display can show any combination of live video, instant replays, up-to-the-minute statistics, graphics, animations and sponsorship messages. They are capable of variable content zoning allowing each to show one large image or multiple zones of digital content.
"On behalf of everyone here at Daktronics, we are very excited to unveil this new technology refresh at Mizzou Arena," said Ryan Kuzman, Daktronics sales representative. "I truly believe this new centerhung and control system will bring a whole new level of fan experience to their events for many years to come."
Auxiliary Displays
Three auxiliary, or vomitory, displays were installed to supplement content on the main display and to provide a complete and immersive game-day experience. One display measures 2.5 feet high by 16.5 feet wide while the other two measure 2.5 feet high by 11.5 feet wide. All three feature 5.9-millimeter pixel layouts.
Mounted above the entrances and exits to the seating areas, these displays can show additional graphics and information while also offering the opportunity to highlight sponsors throughout events. 
In addition to the equipment installation, Mizzou also received a content package produced and delivered by Daktronics Creative Services.
Daktronics has grown with the sports industry from the company's beginnings in 1968. Today, the company has LED video display installations at hundreds of colleges and universities across the United States. For more information on what Daktronics can provide for the collegiate market, visit www.daktronics.com/college.
About Daktronics
Daktronics helps its customers to impact their audiences throughout the world with large-format LED video displays, message displays, scoreboards, digital billboards, audio systems and control systems in sport, business and transportation applications. Founded in 1968 as a USA-based manufacturing company, Daktronics has grown into the world leader in audiovisual systems and implementation with offices around the globe. Discover more at www.daktronics.com.