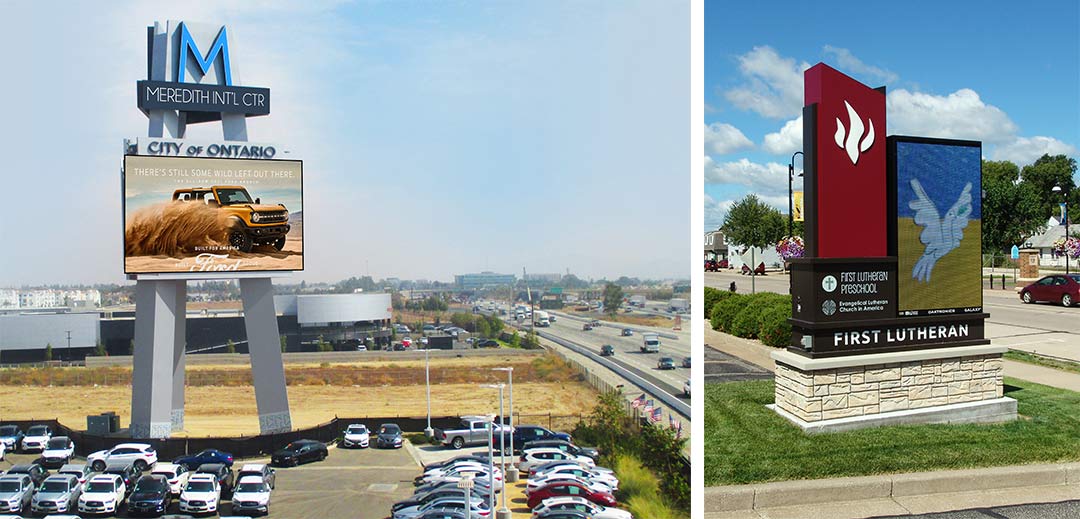 Daktronics Announces Winners of Annual Sign Design Contest
BROOKINGS, S.D. – Nov. 2, 2022 – Daktronics (NASDAQ-DAKT) of Brookings, South Dakota, recently held a Sign Design Contest during the company's annual Sales Expo. La Crosse Sign Group won the 49-square-feet and smaller competition with a sign for First Lutheran Church in Onalaska, Wisconsin. EMI Signs took honors in the 50-square-feet and larger category with the Meredith International Center in Ontario, California.
"As always, there was some excellent competition for our Sign Design Contest," says Jess Bern, Daktronics On Premise marketing strategist. "We congratulate Joel House from La Crosse Sign Group as well as Rod Wilson of EMI Signs for earning accolades from other sign professionals by winning these contests."
About the winning signs
The 50-square-feet or larger winner was a united effort. The sign owner, Craig Meredith, is an architect who wanted a large monument to showcase the International Centre. EMI Sign's vice president, Ariana Diverio, provided the design expertise. The three-sided structure features Galaxy LED signs on two sides and a vintage vinyl billboard on the third side. EMI Signs also worked closely with the City of Ontario and Daktronics to complete the project.
In the 49-square-feet or smaller category, La Crosse Sign Group worked with First Lutheran Church, which was updating its brand. The church wanted to better identify its organization and easily share information with the community. The La Crosse design took inspiration from the church building, using a vertical sign with the high-resolution LED sign.
About Sales Expo
Sales Expo is held by Daktronics every year to bring sign professionals together to network and learn from speakers and demonstrations. The Sign Design Contest continued to be a favorite feature of the event. 
Next year is the 40th annual Sales Expo, taking place September 20, 2023, in Brookings, South Dakota.
To see all the Sign Design entries and to learn more about Sales Expo, visit https://blog.daktronics.com/2022/10/14/thanks-for-making-sales-expo-such-a-success/.
​About Daktronics
Daktronics helps its customers to impact their audiences throughout the world with large-format LED video displays, message displays, scoreboards, digital billboards, audio systems and control systems in sport, business and transportation applications. Founded in 1968 as a USA-based manufacturing company, Daktronics has grown into the world leader in audiovisual systems and implementation with offices around the globe. Discover more at www.daktronics.com.