Daktronics and Elan Media Partner for LED Display Deployment in Qatar
38 digital OOH displays installed in the fall of 2022 in Doha
BROOKINGS, S.D. – Jan. 13, 2023 – Daktronics partnered with Qatar's Elan Media to design, manufacture and install 38 digital LED displays in Out of Home (OOH) locations in Doha in the fall of 2022. Located in some of the busiest areas in Doha, these displays were instrumental in supporting the dozens of advertisers and sponsors during the global event held in the city and were viewed by the event's millions of visitors.
"These screens deliver exceptionally sharp, yet smooth visuals with millions of colors bringing optimum vibrancy to the creativity of brands and their desired messaging," said Bill Fordyce, Chief Operating Officer, ELAN Media. "This has enabled us to once again demonstrate our leading capability in delivering extremely impactful media for advertisers in highly strategic locations."
"Another challenge was to meet the timeline and deliver the best Outdoor DOOH screens for events on the world stage," said Hadi Arzouni, MD, AVT. "I am very proud of all the parties that worked hard and put in the effort to achieve this work successfully."
"As a result of the time specified for us to install and deliver the screens, we set a good project plan in place that achieved complete success and met the overall goal," said Harish Kunju, AVT P.D. "Installing and commissioning outdoor screens in multiple locations required a lot of teamwork and logistics. Traffic management was also extremely important. In the end, the project was completed on time."
The OOH Displays
A total of 30 Boulevard Totem displays each feature 3.9-millimeter pixel spacing and measure 1.75 meters high by 1.25 meters wide.
Eight more displays each feature 10-millimeter pixel spacing, including the following:
Two Gateway Totem displays each measuring 8.96 meters high by 5.12 meters wide.
The View display in Al Manaseer measuring 7.04 meters high by 14.08 meters wide.
The Wing display by the Equestrian club measuring 4.8 meters high by 19.84 meters wide.
Bawabat Al Waab's two displays in Al Bustan measuring 4.8 meters high by 9.92 meters wide.
The Crown display in Al Waab Street measuring 8.64 meters high by 5.76 meters wide.
Al Masa display opposite Villaggio mall, also measuring 8.64 meters high by 5.67 meters wide.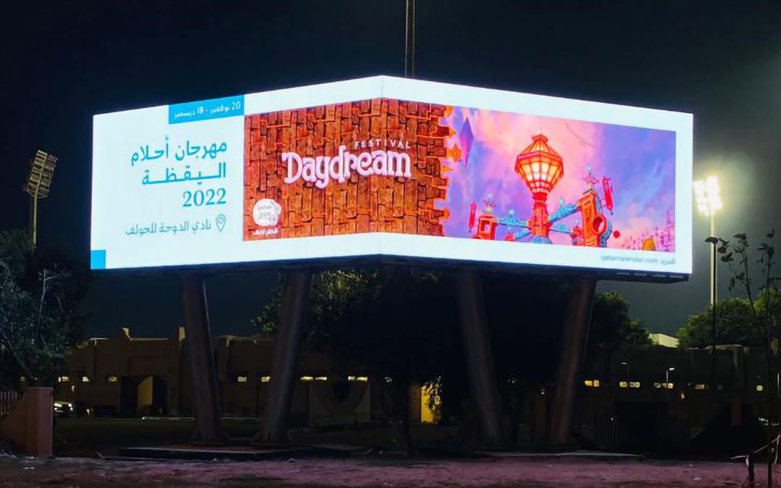 "Building community and bringing people together with consistent messaging and advertising is what we're delivering with these LED displays recently installed in Doha," said Ahmad Dahmash, Daktronics regional manager. "Elan Media has been a fantastic partner in providing these displays and we're excited to continue our partnership as we bring beauty and elegance to OOH messaging in Qatar."
This project with Elan Media comes on the heels of a recent project for Place Vendome Mall, also located in Doha.
These digital displays allow for content to be scheduled or messaging to be changed at a moment's notice to promote timely information and announcements for residents and visitors in Doha.
About Elan Group
ELAN Group is a dynamic and innovative company delivering world-class experiences in media, entertainment, events and city beautification. Established in 2004 with the ambition to bring international advertising concepts to Qatar, ELAN Group expanded over the years to diversify its offerings, and today the Group is a fully integrated company that operates through four divisions:
ELAN Media: the leading advertising company in Qatar operating the largest network of OOH and DOOH assets in the country.
ELAN Urban: a pioneering company that provides city beautification solutions ranging from street furniture and lighting to road signage and smart city solutions.
ELAN Events: an integrated MICE player operating across the full value chain of the industry: venue management, venue services, organization and management of exhibitions, conferences, and live events.
ELAN Entertainment: a major entertainment player, incorporating Gulf Film, the largest distributor of independent movies in the Middle East, and Novo Cinemas, the region's favorite cinema brand.
About Daktronics
Daktronics helps its customers to impact their audiences throughout the world with large-format LED video displays, message displays, scoreboards, digital billboards, audio systems and control systems in sport, business and transportation applications. Founded in 1968 as a USA-based manufacturing company, Daktronics has grown into the world leader in audiovisual systems and implementation with offices around the globe. Discover more at www.daktronics.com.