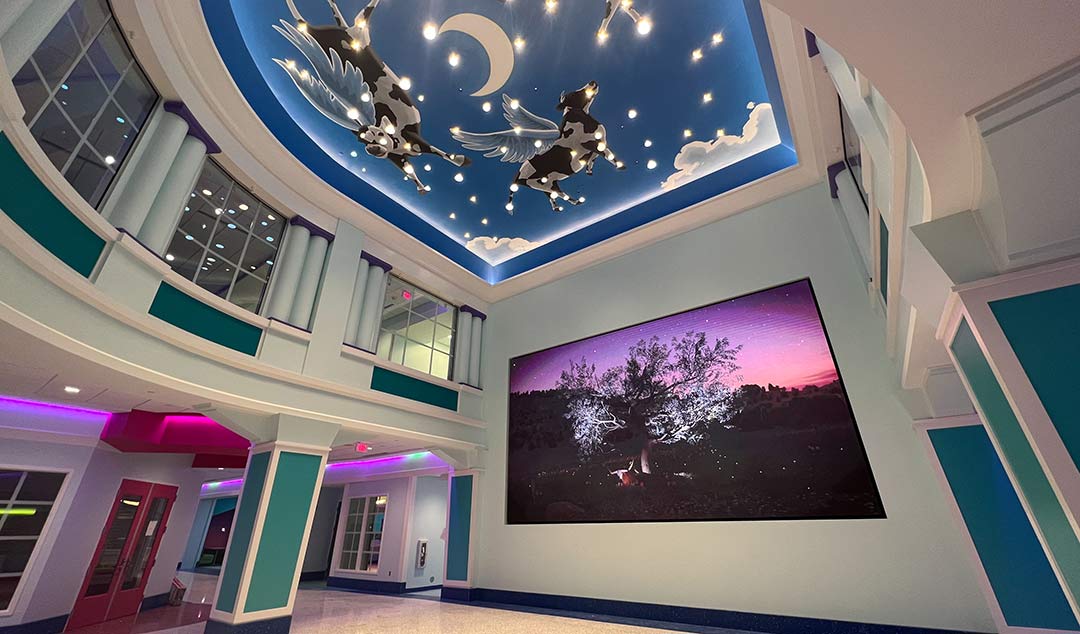 Cook Children's Hospital Adds Digital Element with Daktronics LED Video Wall
1.9-millimeter display brings ability to change messaging to meet the facility's needs
BROOKINGS, S.D. – Dec. 8, 2022 – Partnering with Dimensional Innovations (DI), an experience design, technology and fabrication firm, Daktronics (NASDAQ-DAKT) of Brookings, South Dakota, has manufactured and installed a new LED video wall in Cook Children's Hospital's new Prosper, Texas, location. Opening in December 2022, the video wall will add an immersive digital element that will light up the facility while engaging patients and their families.
The primary function of the display is to provide an awe-inspiring wow factor while delivering a calming natural scene reflective of the Texas landscape and to slowly change scenery throughout the day. It will also be used for special events to show presentations, movies, and other information and messaging as needed.
"Providing positive distractions and soothing elements for children and their families, this stunning display from Daktronics will serve as a focal point for the newly-opened Cook Children's Hospital in Prosper, Texas," said Alex Divine, Healthcare Account Director, Dimensional Innovations. "Offering an immersive escape before an appointment can make an uncertain situation much more manageable for pediatric patients, families and hospital staff."
The LED video wall measures approximately 13.5 feet high by 24 feet wide and features a tight 1.9-millimeter pixel spacing to deliver full 4K, high-resolution imagery with excellent clarity and contrast. The versatility of this display allows for three additional source inputs to allow for any other combination of dynamic video content, facility announcements and branding, and other messages to be scheduled or adjusted at a moment's notice.
"We're grateful to be a part of bringing joy to this important space," said Steve Bayer, Daktronics special projects director. "Working with Dimensional Innovations has been a great experience and we value our strong partnership with their team of professionals as we work together to bring desirable and memorable experiences to audiences using digital technology."
Daktronics offers a line of narrow pixel pitch LED displays ranging from 2.5 millimeters down to 0.7-millimeter pixel spacings. This product line brings expansive opportunities to those spaces commonly associated with LCD technology to create luxurious and immersive environments, share artistic digital content or show detailed, high-quality video.
About Dimensional Innovations
Dimensional Innovations, an experience design, technology, and fabrication firm with a national presence, partners with entertainment giants, professional and collegiate sports organizations, Fortune 500 companies and brands, and world-renowned hospitals to develop engaging experiences within a physical space. A team of brand strategists, animators, fabricators, interior designers, graphic designers, architects, interactive and environmental designers, and digital engineers collaborate together in 110,000-square-feet of design and fabrication space to create some of the most talked-about experiences across the country. www.dimin.com
​About Daktronics
Daktronics helps its customers to impact their audiences throughout the world with large-format LED video displays, message displays, scoreboards, digital billboards, audio systems and control systems in sport, business and transportation applications. Founded in 1968 as a USA-based manufacturing company, Daktronics has grown into the world leader in audiovisual systems and implementation with offices around the globe. Discover more at www.daktronics.com.
Safe Harbor Statement
Cautionary Notice: In addition to statements of historical fact, this news release contains forward-looking statements within the meaning of the Private Securities Litigation Reform Act of 1995 and are intended to enjoy the protection of that Act. These forward-looking statements reflect the Company's expectations or beliefs concerning future events. The Company cautions that these and similar statements involve risk and uncertainties which could cause actual results to differ materially from our expectation, including, but not limited to, changes in economic and market conditions, management of growth, timing and magnitude of future contracts, and other risks noted in the company's SEC filings, including its Annual Report on Form 10-K for its 2018 fiscal year. Forward-looking statements are made in the context of information available as of the date stated. The Company undertakes no obligation to update or revise such statements to reflect new circumstances or unanticipated events as they occur.