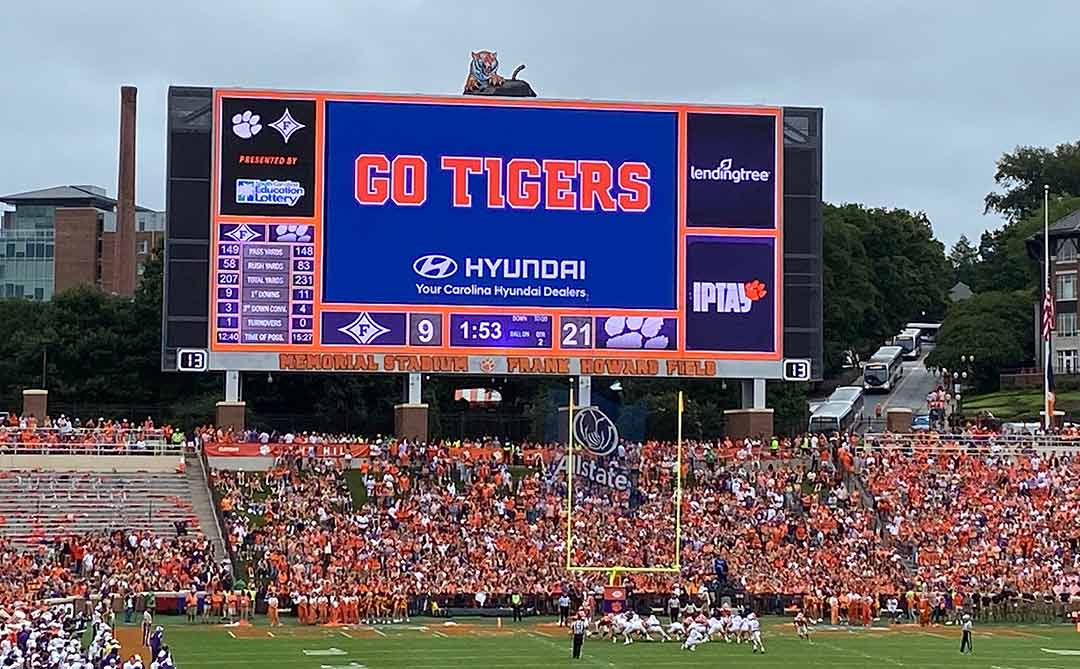 Clemson University Football Moves Into Top 10 Largest Video Displays with Daktronics Installation
Soccer and baseball facilities also receive LED display upgrades
BROOKINGS, S.D. – Nov. 17, 2022 – Daktronics (NASDAQ-DAKT) of Brookings, South Dakota, is continuing a long-term partnership with Clemson University to design, manufacture and install a new 7,200+-square-foot LED video display for the end zone at Frank Howard Field at Clemson Memorial Stadium in South Carolina. The display was unveiled for the Tigers' first home game of the 2022 season.
Commonly known as Death Valley, the stadium's new display is top 10 in size for collegiate football. In addition to the football display, Historic Riggs Field for soccer and Doug Kingsmore Stadium for baseball are also receiving new LED displays this fall.
"Clemson is synonymous with a best-in-class fan experience, and the new video displays are part of that effort to positively impact the game experience for all 80,000+ fans who fill Death Valley every Saturday. The replacement of displays at our Soccer and Baseball facilities similarly add to the fan experience by upgrading to a high quality of technology across all of our venues," said Senior Associate Athletic Director of Capital Projects Eric Sabin.
Beginning with Memorial Stadium, the new end zone video display measures approximately 56.5 feet high by 127 feet wide and features a 10-millimeter pixel spacing to deliver high-resolution imagery to Tigers fans throughout the stadium. Two auxiliary displays and four ribbon displays were also installed throughout the stadium ahead of the first game kicking off in September.
At Historic Riggs Field, the display at the end of the field will measure 18 feet high by 32.5 feet wide. At Doug Kingsmore Stadium, the display in left field will measure 26.5 feet high by 54 feet wide. Both of these displays will feature 10-millimeter pixel layouts for excellent image clarity and contrast with wide angle visibility.
These outdoor displays feature industry-leading environmental protection to ensure it operates as expected in all forms of South Carolina weather. Each display is capable of variable content zoning allowing it to show one large image or to show multiple zones of content. These zones can show any combination of live video, instant replays, up-to-the-minute statistics and game information, graphics and animations, and sponsorship messages.
"Clemson University is a great, long-term partner that we're excited to work with for these LED display projects," said Daktronics Vice President of Live Events Jay Parker. "The new technology will bring improved views for fans and deliver an amazing experience at live events hosted by the university. We're excited to power their game-day efforts and look forward to seeing the positive impacts of these projects on campus for years to come."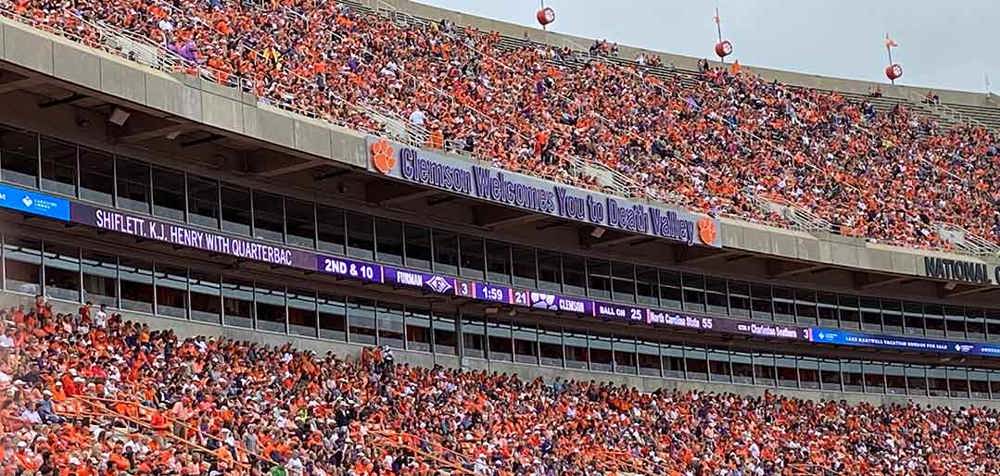 Daktronics will also be including a complete Show Control solution at each venue. This industry-leading control system provides a combination of display control software, world-class video processing, data integration and playback hardware that forms a powerful yet user-friendly production solution. For more information on Show Control, visit www.daktronics.com/show.
In addition to the equipment installation, the Tigers will receive a content package to be produced and delivered by Daktronics Creative Services.
Daktronics has grown with the sports industry from the company's beginnings in 1968. Today, the company has LED video display installations at hundreds of colleges and universities across the United States. For more information on what Daktronics can provide for the collegiate market, visit www.daktronics.com/college.
About Daktronics
Daktronics helps its customers to impact their audiences throughout the world with large-format LED video displays, message displays, scoreboards, digital billboards, audio systems and control systems in sport, business and transportation applications. Founded in 1968 as a USA-based manufacturing company, Daktronics has grown into the world leader in audiovisual systems and implementation with offices around the globe. Discover more at www.daktronics.com.