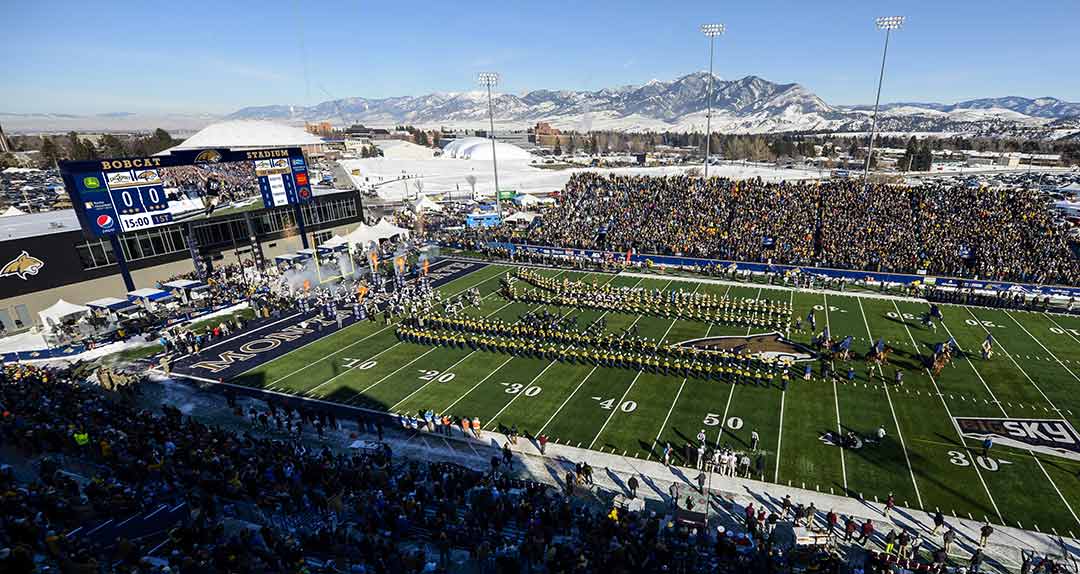 Audiovisual Upgrade Headed to Montana State University from Daktronics
Bobcat Stadium set to rock with custom audio system integrated into new end zone LED video display
BROOKINGS, S.D. – July 19, 2023 – Bobcat Stadium in Bozeman, Montana, is poised for a new energizing game-day experience as Daktronics (NASDAQ-DAKT) of Brookings, South Dakota, has partnered with Montana State University to deliver an equipment upgrade of an LED video display and custom audio system. Football and other events will benefit from the new end zone display in the summer of 2024.
"We are excited to enhance the game-day experience at Bobcat Stadium from a sound and viewing perspective," said MSU Director of Athletics Leon Costello. "This project will increase an already electric atmosphere at MSU on game days. We had hoped to have this installed earlier but understand market constraints concerning labor and materials and are excited to get this installed next summer." 
Video Display Details
The new end zone LED video display will measure 30 feet high by 100 feet wide and will feature 10-millimeter pixel spacing to bring excellent image clarity and contrast to fans throughout Bobcat Stadium. The display will also feature Daktronics industry-leading environmental protection ensuring it operates as expected in the Montana outdoors. 
The 2023 season will mark Montana State's 50th playing in its current structure, which opened as Reno H. Sales Stadium in 1973. Renovations, including score and sound updates, came in 1998 and 2011. The 2024 scoreboard and audio system updates will give Bobcat Stadium the largest scoreboard in the Big Sky Conference.
"Adding to the game-day experience already entertaining fans at Bobcat Stadium, this new installation and video display will take the fan engagement to the next level," said Brady Jacobsen, Daktronics regional manager. "We're proud to be a part of this great project and look forward to it making a positive impact on game day."
The display is capable of variable content zoning allowing it to show one large image or multiple zones of content that audiences crave throughout events. This includes live video, instant replays, game statistics and information, graphics and animations, and sponsorship messages. 
Audio System Details
The new custom audio system will be installed and integrated with the video display system at Bobcat Stadium. This system will feature clear, intelligible speech for complete understanding of every call made on the field. It will also include a booming audio experience for fans to feel the music while in their seats at the stadium. The integration with the video systems completes the full audiovisual experience for Montana State events.
Additional Equipment
Along with the LED video display, Montana State will also be installing a fixed-digit scoreboard, locker room clocks, delay of game clocks, two back-lit advertising panels and a Daktronics integrated control solution. All of these additional components keep the Bobcats and their fans up to date with everything happening on game day.
Daktronics has grown with the sports industry from the company's beginnings in 1968. Today, the company has LED video display installations at hundreds of colleges and universities across the United States. For more information on what Daktronics can provide for the collegiate market, visit www.daktronics.com/college.
About Montana State University
Montana State University, Montana's original land-grant institution, was founded in 1893 as the state's first public institution of higher education. MSU is also the state's largest university with nearly 17,000 students and annual research expenditures exceeding $200 million. MSU was the first university in Montana to be designated an R1 Carnegie Research Classification. In 2022-23, Bobcat Athletics won three Big Sky team championships and captured the league's Men's All-Sports Trophy, while Bobcat student-athletes compiled a program-best cumulative grade point average of 3.37.
​About Daktronics
Daktronics helps its customers to impact their audiences throughout the world with large-format LED video displays, message displays, scoreboards, digital billboards, audio systems and control systems in sport, business and transportation applications. Founded in 1968 as a USA-based manufacturing company, Daktronics has grown into the world leader in audiovisual systems and implementation with offices around the globe. Discover more at www.daktronics.com.
Safe Harbor Statement
Cautionary Notice: In addition to statements of historical fact, this news release contains forward-looking statements within the meaning of the Private Securities Litigation Reform Act of 1995 and are intended to enjoy the protection of that Act. These forward-looking statements reflect the Company's expectations or beliefs concerning future events. The Company cautions that these and similar statements involve risk and uncertainties which could cause actual results to differ materially from our expectation, including, but not limited to, changes in economic and market conditions, management of growth, timing and magnitude of future contracts, and other risks noted in the company's SEC filings, including its Annual Report on Form 10-K for its 2018 fiscal year. Forward-looking statements are made in the context of information available as of the date stated. The Company undertakes no obligation to update or revise such statements to reflect new circumstances or unanticipated events as they occur.