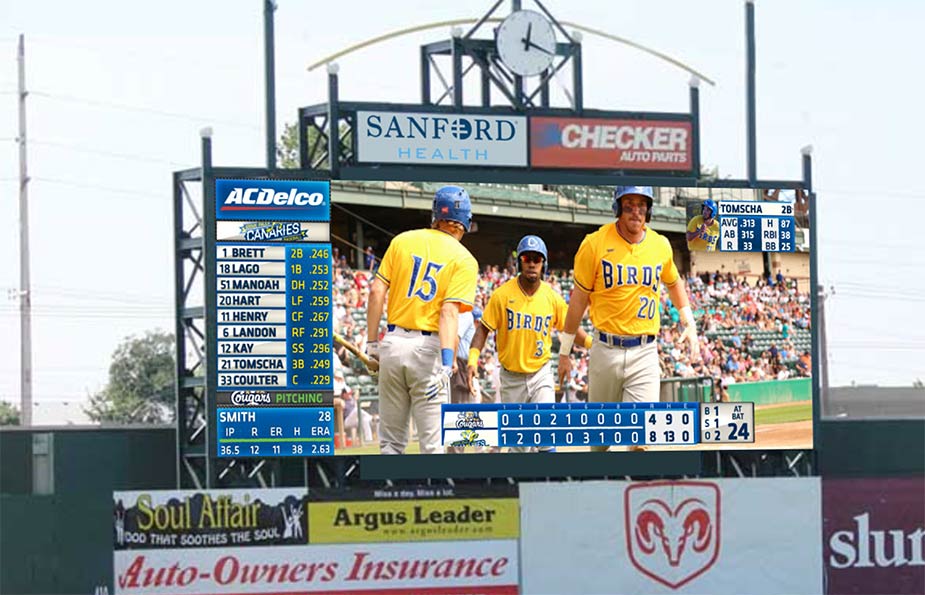 Improved View Coming to Sioux Falls Canaries Games with New Daktronics Video Display
The Birdcage will have enhanced experience for baseball, city events
BROOKINGS, S.D. – May 13, 2021 – When fans visit The Birdcage for Canaries games and other community events in Sioux Falls, South Dakota, they will have a new visual experience delivered from the outfield thanks to a video display that was designed and manufactured by Daktronics (NASDAQ-DAKT) of Brookings, South Dakota. Construction and installation are currently underway and the display will be operational for the 2021 summer season.
"We wanted to show right away that we are bringing a whole new ballgame to Sioux Falls for the community to come together and enjoy," Canaries co-owner Brian Slipka said. "We are proud to partner with Daktronics, one of the premier companies and brands of South Dakota, whose scoreboards are enjoyed by millions of fans of major pro and college sports teams all over the world."
"This board will allow us to WOW fans with a media experience in ways the Canaries haven't been able to do in the team's nearly 30-year history," said Slipka. "From game action, to replay, to fan interaction, to a roaming 'show' highlighting the amusing talent that will perform between innings, to displaying the creative and kooky videos that are becoming a staple of our new brand, the board will make the show that supplements our 56 home games even better."
The new centerfield video display will measure 20 feet wide by 49 feet wide and deliver crisp, clear imagery to fans in every seat. The display features industry-leading environmental protection to ensure it operates as expected in the outdoor elements of Sioux Falls.
To provide all the live video, replays, statistics and information that fans desire, the display is capable of variable content zoning. This allows the display to show one large image or multiple zones of content simultaneously, including graphics, animations and sponsorship messages.
"We're thrilled to be partnering with the Sioux Falls Canaries on this exciting upgrade to The Birdcage," said Matt Warnke, Daktronics sales representative. "The video display will aid in enhancing the fan experience at every game. We look forward to the season starting and the excitement in the stands during the home opener."
Daktronics will also be including its powerful Show Control solution with this installation at The Birdcage. This industry-leading system provides a combination of display control software, world-class video processing, data integration and playback hardware that forms a user-friendly production solution. For more information on Show Control, visit www.daktronics.com/show.
About Sioux Falls Canaries
The Sioux Falls Canaries baseball team provides the premier sports fan experience in South Dakota as a member of the North Division of the American Association of Professional Baseball, an official Partner League of Major League Baseball. More information is available at www.sfcanaries.com, and game tickets are available by calling the team's box office, 605-336-6060.
About Daktronics
Daktronics helps its customers to impact their audiences throughout the world with large-format LED video displays, message displays, scoreboards, digital billboards, audio systems and control systems in sport, business and transportation applications. Founded in 1968 as a USA-based manufacturing company, Daktronics has grown into the world leader in audiovisual systems and implementation with offices around the globe. Discover more at www.daktronics.com.