Vogelgesang Retiring After 14 Years of Service
Daktronics congratulates Dave Vogelgesang on his retirement and thanks him for 14 years of dedicated service.
6/15/2020
Categories: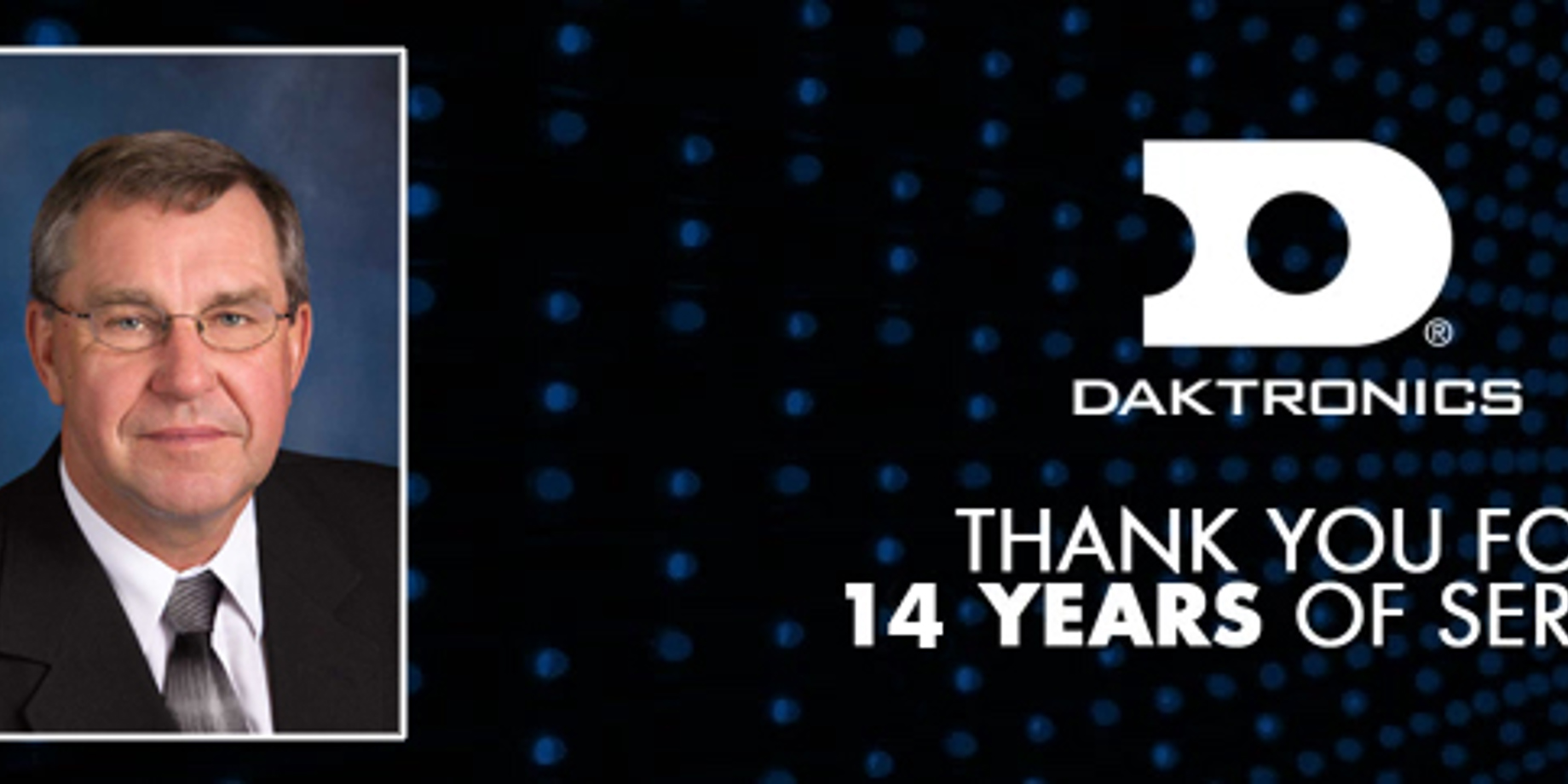 Daktronics congratulates Dave Vogelgesang on his retirement and thanks him for 14 years of dedicated service.
Dave Vogelgesang has been an avid sports fan for as long as he can remember and being part of the sales team at Daktronics has allowed him to stay connected with his passion.
After graduating from Southern State College in Springfield, South Dakota, Dave went on to get his master's degree at South Dakota State University. In that time, Dave was an assistant track and cross-country coach for the Jackrabbits.
"It was fun to work with athletes my own age," he said. "In 1973 we had a tremendous team led by Gary Bentley and we won the national championship in cross-country."
Dave then moved to Iowa where he continued his career in education and served as the athletic director and track and cross-country coach for 31 years at Tipton High School in Tipton, Iowa. He was inducted into the Iowa High School Track Coaches Hall of Fame in 2014.
"I retired from Tipton in 2005 and soon had a job offer from Frank Kurtenbach (retired Daktronics VP) to become one of the 'retired athletic directors' salespeople," he said. "Originally, I tried to turn down the offer, but Frank wouldn't hear of it. He thought I would make a perfect fit in the Daktronics family, and I'm thankful for his persistence."
In his 14 years at Daktronics Dave has been in sales and loves getting to work with schools to make their visual display dreams a reality.
"Traveling to the different schools and helping athletic directors was a great part about my job," he explained. "Being a retired AD allowed me to connect with my customers and proved the best customer service possible."
Dave's co-worker Bret Lyon says it's easy to see why so many customers ask for Dave when looking at a new display.
"You can tell by the customer's smile that Dave is very well liked and respected," said Bret. "Seeing that interaction and realizing the years it has taken him to get to this point with customers inspires everyone in the department and gives us the goal to one day be like Dave."
In his department, Dave is known for his integrity, work ethic, and customer service skills, but co-worker Ginny Herreid says it's his friendly attitude and passion for helping others that defines him the most.
"Dave is always there with a helping hand," she said. "His passion and dedication to customers is what made him a great salesperson."
As Dave enters his retirement, he can't help but think of all the good times he's had working at Daktronics. Now, his goal is to create new memories with his children and grandchildren. Aside from sports and spending time with his family, Dave plans to continue his gardening hobby and looks forward to the relaxation of retirement.
"Work at Daktronics has been one of the great joys of my life and I know I'm going to miss my customers, co-workers, and the Daktronics family," he said. "Daktronics allowed me to combine my love for sports with my passion for helping others and I will never forget what I've learned, who I've met, and the gracious customers I've served."
Dave, thank you for all your contributions during your time at Daktronics. We appreciate your passion for customers and commitment to excellence and wish you the best in your future endeavors.
This article was written by
Garrett Satterly in Employee Communications. 
---