Hansen Retiring After 21 Years of Service
Daktronics congratulates Don Hansen on his retirement and thanks him for 21 years of dedicated service.
6/15/2020
Categories: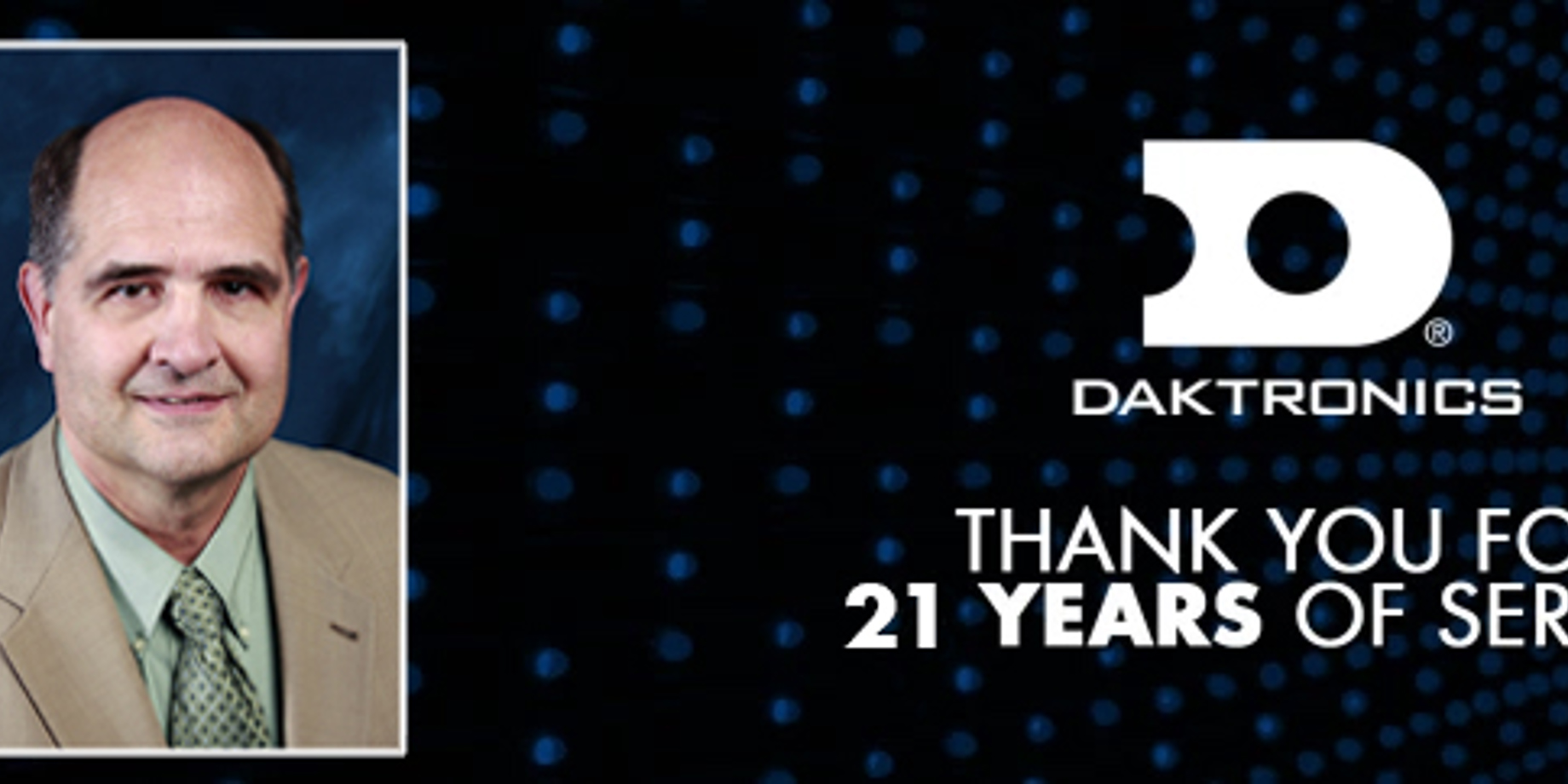 Daktronics congratulates Don Hansen on his retirement and thanks him for 21 years of dedicated service.
When Don started at Daktronics 21 years ago, he never thought his work ethic, dedication, and mission to help others would shine like they do today. When his customers heard of his retirement, they wasted no time to reach out and let him know how special he was.
"We are very appreciative of the great customer service you provided us," said customer Tia Esser. "You helped us make so many decisions in a collapsed amount of time and your guidance was beyond helpful. It sounds like your job was a perfect fit for your life and what a blessing you are to Daktronics."
With a Bachelor of Science degree in business administration, Don used his knowledge and skills for success at Daktronics.
"During my time at Daktronics I worked many different roles," he said. "I started as third shift manager,  then moved to second  shift machine shop supervisor and in 2013 I moved to HSPR where I covered South Dakota, northwest Wyoming, and southeast Minnesota."
Don currently works in HSPR Sales.
In his time at Daktronics, Don said it's the Daktronics staff and his customers that make Daktronics great.
"Everyone worked together as a team and we helped each other out," he explained. "We worked to make sure the customers had a positive experience with new projects because you don't get a second chance at a first impression."
Don's co-worker Jerry Sikkink has experienced Don's customer service skills firsthand. He says its Don's hard work and dedication to customers that have made him a great salesman.​​​​​​​
"There isn't anything that Don will not do if it's to help the customer or his colleagues," Jerry said. "He knows our product thoroughly and will use that knowledge to show how our product features will benefit our customers."
One of Don's favorite memories from working at Daktronics is the time he got to spend with his wife at conventions.
"I took trips to San Antonio, New Orleans, and Las Vegas for multiple different conventions," he said. "Being able to take those trips with my wife and create those memories was one of the biggest highlights of my career."
As Don prepares for retirement, he hopes to make more memories with his wife, three children and nine grandchildren. Although he's not sure what they're going to do, he said he's making his family the number one priority to make up on some lost time.
"Working at Daktronics has been the best decision I have ever made," he said. "Being able to work with and build relationships with my customers over the years is something I will never forget. I'm very happy with my decision to join the Daktronics team 21 years ago and if I had to, I'd do it all over again."
Don, thank you for all your contributions during your time at Daktronics. We appreciate your passion for customers and commitment to excellence and wish you the best in your future endeavors.
This article was written by
Garrett Satterly in Employee Communications. 
---