The Power of Brightness + Contrast
Impressed by high-brightness diodes as a way for your display to perform above the rest? When it comes to outdoor LED video, contrast and brightness are key to fighting ambient light and creating sharp, high-resolution image quality. Without contrast, the depth, color range and accuracy of even the most beautifully designed content can be lost. […]
Jennifer Liebschwager on 9/26/2017
Categories: Pro Sports and Colleges, Sign Company News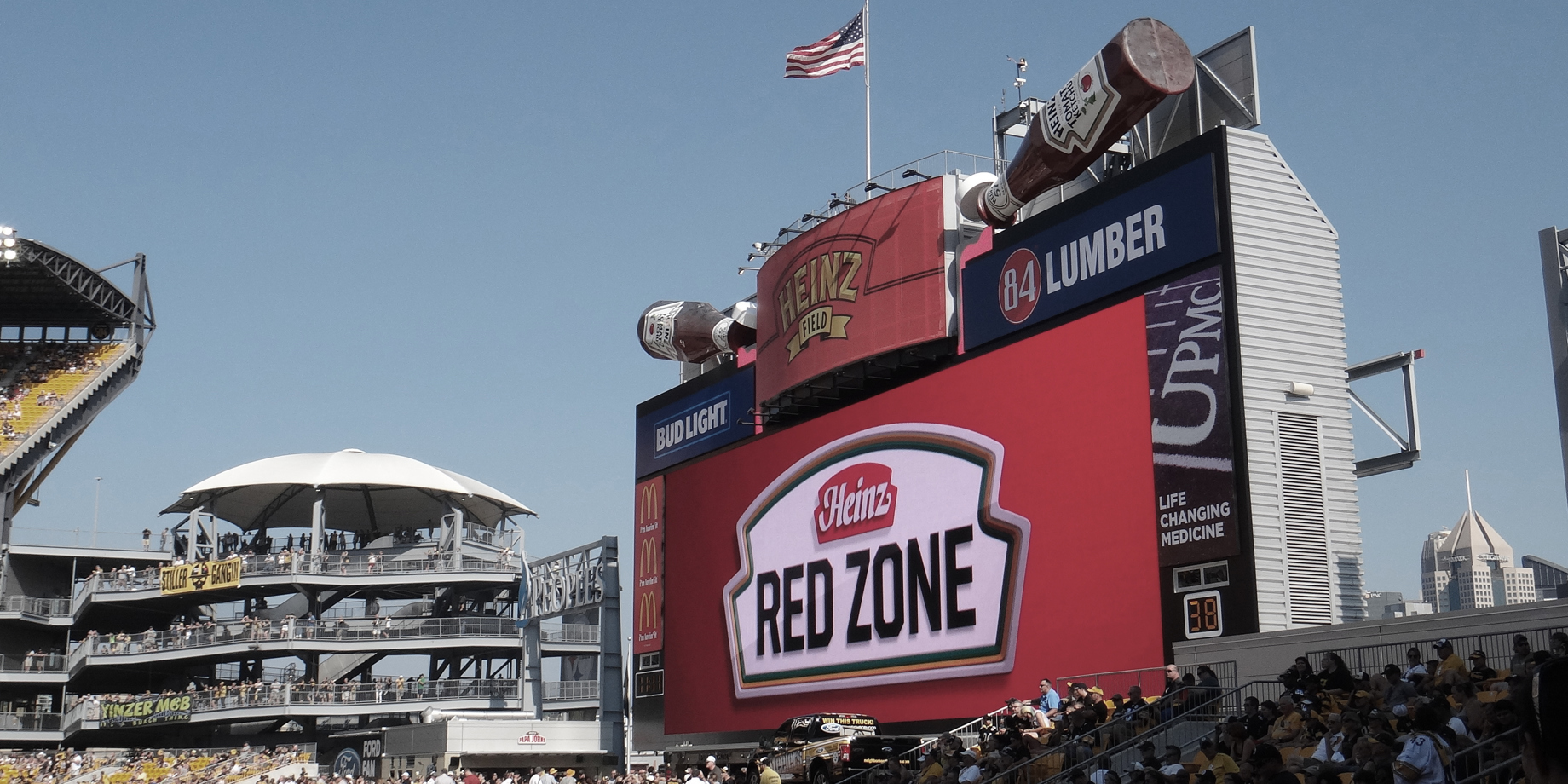 Impressed by high-brightness diodes as a way for your display to perform above the rest? When it comes to outdoor LED video, contrast and brightness are key to fighting ambient light and creating sharp, high-resolution image quality. Without contrast, the depth, color range and accuracy of even the most beautifully designed content can be lost. Add direct sunlight and ambient lighting to a poorly-contrasted display and the creative content can end up entirely washed out.
WHAT IS CONTRAST AND WHY DOES IT MATTER?
Contrast is the difference between highlights and shadows in any particular image and it's a vital ingredient to high-quality outdoor LED video. Manufacturers bring to the market an overabundance of differing designs and technologies, and as the images below show, seeing the differences in contrast is truly believing. Though the two displays shown below list the same contrast ratio on the product specification sheet, the actual contrast performance couldn't be more different.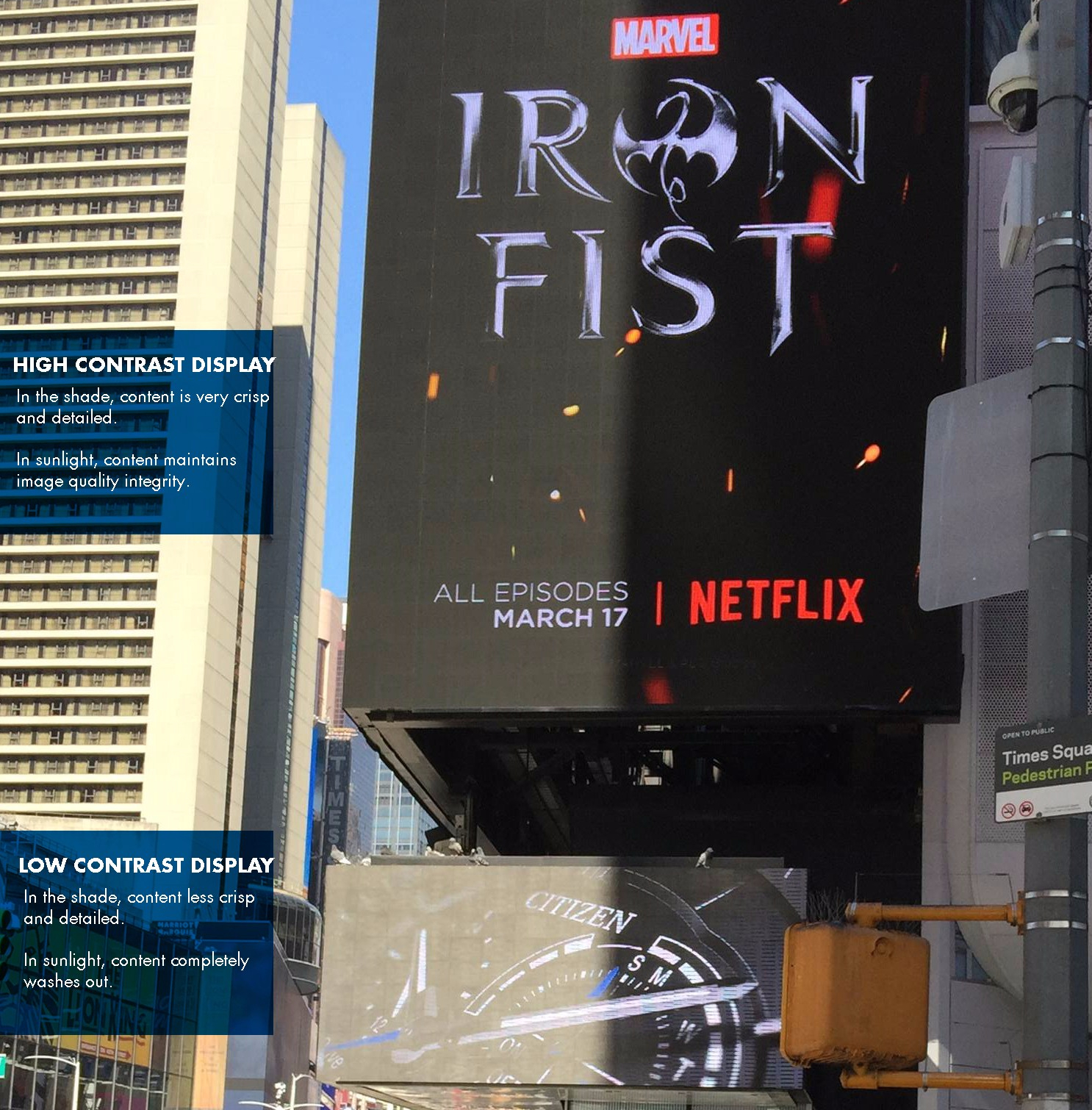 THREATS TO CONTRAST
Reflection – In large-scale, outdoor LED video displays, reflection is detrimental to contrast. To minimize reflection, LED video manufacturers must increase black surface area on the LED modules while also using louvers to shade their LEDs from direct sunlight.
Daktronics has designed light-trapping etchings on the face of the module, which diffuse the light that reaches the display face and help to eliminate mirror-like reflectivity that depletes contrast. These etchings also help mask module-to-module seams, thereby insuring the entire display appears as one large uniform canvas to best re-create content accurately. We offer a standard louver for straight-angle viewing applications and a City-View louver for city-scape, below display viewing applications. These options ensure the proper LED brightness is directly projected to the intended audience, and the LEDs are still protected from the sun, thus image quality integrity is preserved.
UV Degradation – UV rays have harmful, aging effects on LED display performance and sustained contrast. UV degradation can cause uniformity issues with black space on the module and dull performance of degraded LEDs, causing challenges with seeing content clearly. Display louvers can counteract this by shading LEDs from direct sunlight. Furthermore, a UV-resistant, deep matte black coating on the display louvers and module housing can make sure the contrast your display shows on day one stays uniform for the lifetime of the display.
In Daktronics displays, these two solutions work in unison and are essential to counteract the effects of ambient and direct sunlight, so the entire display face is a true deep black and provides a uniform, seamless appearance to the entire display.
FINAL THOUGHTS
No matter the size of your display, if it is washed out and lacking in contrast, the result is viewers drawn elsewhere for a visual experience. A combined focused on brightness and contrast is the key to providing superior performance in all conditions including against bright direct sunlight and high ambient conditions, over time.
Maximizing customers' investment in LED technology is central to our design choices. Innovative contrast enhancements that optimize LED performance is but one area we focus on to make sure our customers' displays show the utmost in quality and performance for their lifetime. Learn more about our innovative outdoor video display features here.
Subscribe to our blog
Get the latest articles on sports trends, new Daktronics projects and insider looks at our manufacturing and reliability lab. Sign up here.
---