Talking About Facility Upgrades at USD with Cameron Wilson
We caught up with Cameron Wilson from the University of South Dakota to talk about their recent facility upgrades and the Daktronics video displays that are part of those projects.
Daktronics Control Panel on 7/31/2020
Categories: Pro Sports and Colleges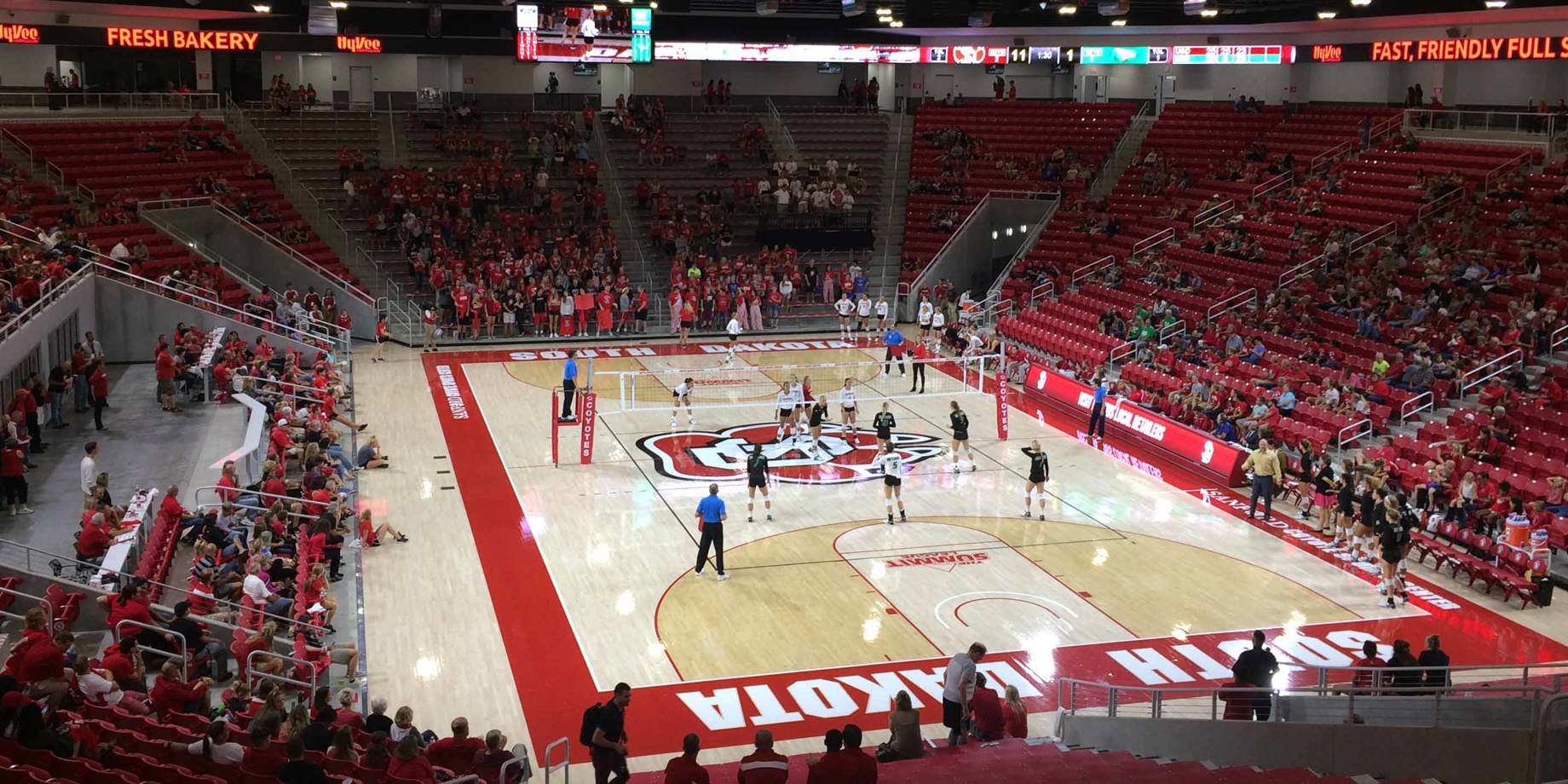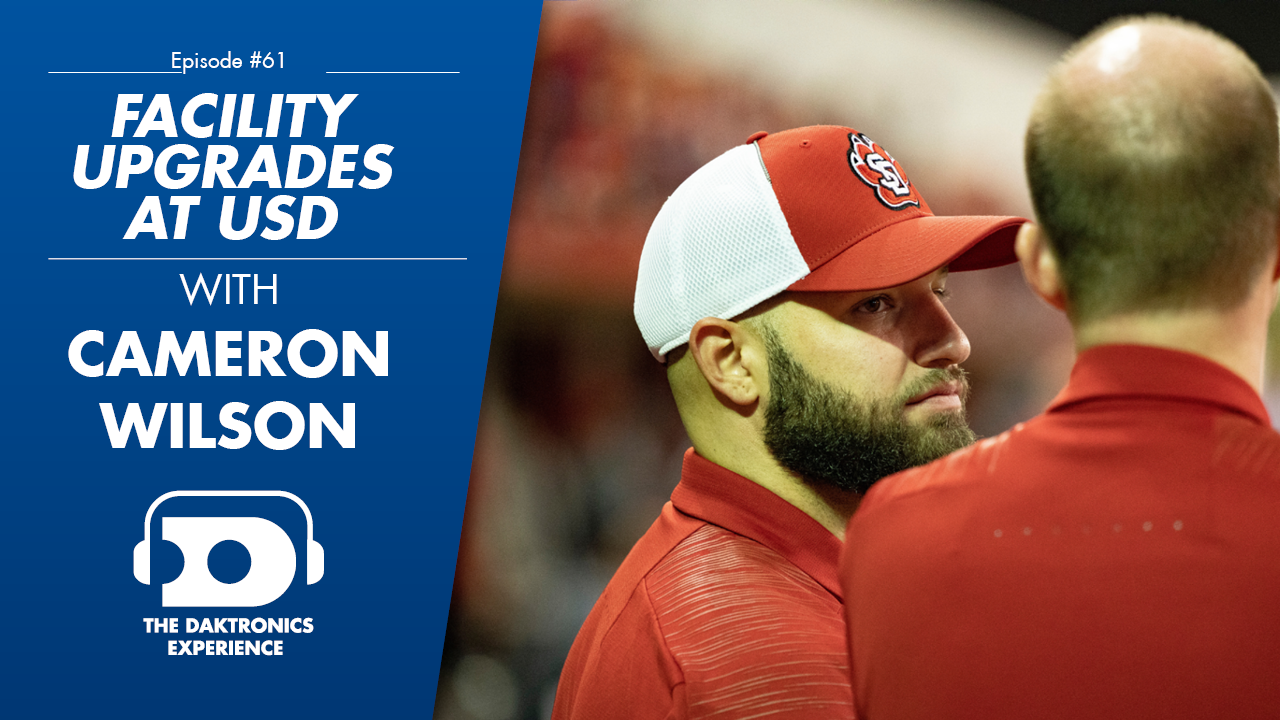 Matt and Justin recently sat down with Cameron Wilson, Director of Events for the University of South Dakota, for a conversation on The Daktronics Experience podcast. Cameron discusses his role at USD, the university's video display system, facility upgrades and more.
Justin: What does a typical game day look like for you?
If it's a football game day, for example, we have a 2 PM kick-off. So, we're usually rolling in a 5 or 6 AM to start setting up. Parking is our priority, so getting signs and cones set out, flagging off certain areas, doing touchup paint on the grass lots, getting the parking attendants their assignments, etc.
Once we get parking set up, the attendants go in. Then we usually roll into getting things inside going, whether that's waiting on the officials, getting the visiting team situated in their locker rooms, etc. Just making sure everyone is on the same page. Our inside game-day staff show up shortly after that.
At that point we're getting our ushers and ticket takers situated, letting them know about certain promotions going on like Senior Day or Veteran's Day. My staff is again making sure everyone is on the same page. A lot of putting out little fires here and there while answering any questions.
Usually, we are running from one place to another on a football Saturday morning. Get my steps in and make sure my phone's on loud. Football is obviously way more hectic than any of our other sports.
Matt: What's the most interesting part of your role at USD?
Cameron: No two days are ever the same. I like having something new every day, a new challenge and the problem-solving aspect of it. Growing up in Nebraska out on a farm and being able to get in there and get your hands dirty was kind of what drew me towards events/facilities in particular.
Justin: Can you explain a little bit about your recent renovations and additions?
Cameron: One of the things that really drew me to South Dakota was that they have been building new facilities since transitioning to D1. Recently, they built a new facility for basketball and volleyball called the Sanford Coyotes Sports Center. It seats just over 6,000 people and was a much-needed facility. They were previously doing almost every sport out of the DakotaDome where they play football.
The DakotaDome was built in the '70s and is currently undergoing a $26 million renovation. This first phase includes new football locker rooms, player lounges, doubling our seating capacity, new concessions, restrooms and the works on one side of the facility. Before the Sanford Coyote Sports Center, they played volleyball, football, basketball, everything inside of this dome. I can't even imagine trying to shoot a basketball with depth perception like the dome. It was very much needed.
We have a 4- or 5-year old facility for basketball and volleyball, and that has helped with recruiting and getting student-athletes here on campus in Vermillion, South Dakota. When they also built the Sanford Coyote Sports Center, they built a new soccer and track complex as part of that process so we have a state-of-the-art outdoor track as well as a great soccer facility with turf.
Justin: We know some of these renovations have included Daktronics video displays. Have you had a chance to see how they have been incorporated on game-day?
Cameron: The one that sticks out to me the most is Sanford Coyote Sports Center. We got great video boards in there. We have full 360-degree ribbon boards and two video boards on both ends of the court. The ribbon boards are the ones that stand out to me. For whatever reason, it always catches my eye.
During basketball pregame lineups when they announce every individual player, the way our production team and our marketing team has been able to list the players' name and number on the introductions, combined with the light shows they do, ties it all together to create a great game-day atmosphere. They do a phenomenal job and those boards have only contributed to their success.
We've been fortunate to make some playoff runs this past year for volleyball and I know our fans are very reliant on those boards. Whether it's for scores, what time it is, fouls, how many points a player has, how many digs or aces, kills, etc. It only enhances that game atmosphere. Then there's the Dome with that huge video board on the North end. And if it isn't running, Daktronics has been phenomenal in helping us address those.
Matt: Do you get a lot of feedback on how the overall experience has changed since adding these video displays?
Cameron: Just from being at other venues and universities, and kind of comparing video board products they had used, we know we are very blessed at USD to have such a great product, a great video board for the game-day atmosphere.
To hear more about productions at the University of South Dakota, check out the full conversation with Cameron by clicking here.
---