Norfolk Tides LED Display System Evolves to Second Largest in MiLB
The Norfolk Tides joined the Daktronics Experience Podcast to share the evolution of their game-day experience with LED displays.
Justin Ochsner on 11/11/2022
Categories: Pro Sports and Colleges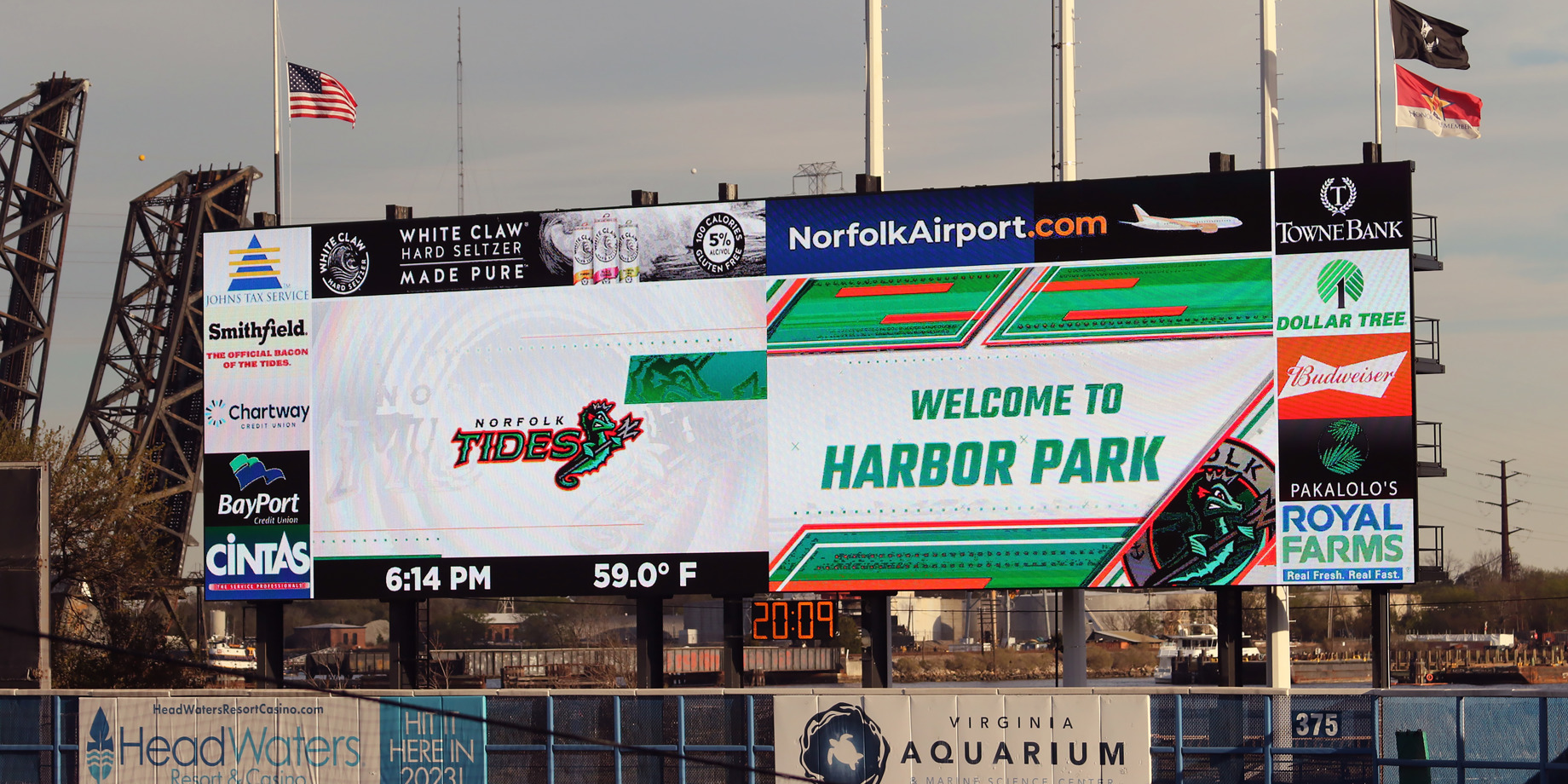 Recently on the Daktronics Experience Podcast, Justin and Matt spoke with Mike Watkins and Mike Zeman of the Norfolk Tides to hear about their video display upgrade in 2022. The display is now the second largest in Minor League Baseball! Mike Watkins is the team's assistant general manager of sales, marketing and fan experience, and Mike Zeman is the assistant general manager of operations.
Let's jump into the conversation to hear about how the game-day presentation has evolved over the years for the Norfolk Tides.
Mike Zeman
The Tides had a display that was installed in 1998 or after 98. We had an all-star game here in 98. So, I think it was 99, it was installed. It was only eight or nine years old and they were replacing an existing structure.
Justin Ochsner
It's always interesting just to kind of hear how things progressed. And then you said in 2006 you got the Daktronics display and then you used that for more than 15 years. How was it kind of working with that display over the years and with that Daktronics support?
Mike Zeman
It was good. It helped that halfway through that, or three quarters of the way through that, we did upgrade our computer system. We added some auxiliary boards both on the first and third baseline, and then two outfield message boards were added. So that kind of helped with keeping the technology fresh on the inside boards. The boards were great.
We had some issues at the first or second year because we're on the water. We were getting a lot of sportiness and so Daktronics came back out and sealed all of the panels on the back side. Which you guys do now to all panels. So that has been corrected. But your company realized there was an issue, stepped up, sent a crew out and sealed all the back of those panels, which stopped the issue.
Then moving forward, it was just if something broke, if I couldn't figure out, I got on the phone. I've been very lucky. I've never had to call anybody between myself and talking to someone smarter than me on the phone. We figured out issues and got them fixed.
It was kind of a curse because our board shouldn't have lasted that long. But it did, so we had to wait a little bit longer than we wanted to get new ones. But that kept our ownership happy because we saved money for so many years.
Matt Anderson
When you have people on site with a customer that are very handy, very technical savvy, they can definitely stretch the life of some of these displays. And then I'm thinking back then to you, Mike Watkins, from that from the selling side – you're helping sell the advertising for the team in-stadium. What was it like in 2006 versus today?
Mike Watkins
Yeah, obviously having the digital landscape to be able to sell to an advertiser expands the level of inventory you have and the ability to change their message at a moment's notice. So ,with our older displays, I call them the older ones, the ones we got in 2006, like six Trivision signs around them and some stationary signs and those are quite costly to install and then it's very difficult to change them.
So, in 2006 we obviously had a lot more capabilities with the boards that were good. And then, I guess about halfway through that, we kind of instituted a couple of new pieces of inventory using the video board where we put a sponsor logo on the batter headshot and the ability to sell with those displays to sell in-game events.
Things that happen like a stolen base is sponsored by a local car dealer or they call it "stealing is sponsored by a local exterminating company." We're able to play animations or what have you on those older displays, that was big for us at the time. And then moving into what we did this past season in upgrading, it's a completely digital landscape and gives us the ultimate flexibility and freedom. And that's certainly something that has impacted our corporate sponsorship sales this past season and moving forward.
Justin Ochsner
Now we've got the new installation this past season, like you said, and now it's the second-largest video board in Minor League Baseball. So, you've got a lot of real estate to work with. Did that kind of replace some of those other signs you were talking about or what's it like with that new digital space?
Mike Watkins
All of the stationary and the driving signs are gone and everything is on the second-largest board in our right center field area. And we like to tell people we have the largest combined video of our display in minor league baseball because we have one in left field as well. And on both of those, we replaced all the trivisions and stationary signs with a complete dashboard and are able to offer different opportunities to sponsors where they represent a family of brands.
They can put up a different logo for each brand in every inning and, obviously, in the back end in content studio and through display studio, we can set up those to just display automatically as our operators click the buttons through each inning. It makes it a lot easier. It's very seamless. And all of our sponsorship feedback from this 2022 season that we just concluded was extremely positive, and we're looking forward to kind of expanding upon that in 2023 and beyond.
A huge THANK YOU to Mike Watkins and Mike Zeman for taking the time to talk with us and share their story of video display evolution at the Norfolk Tides! For the rest of the conversation, please listen to the full podcast by clicking here.
---