Indoor & Outdoor Digital Displays Entertain Guests
New attractions provides opportunities for exciting ways to engage guests with advertising and entertainment.
5/24/2021
Categories: Business & Community, Out of Home Advertising, Sign Company News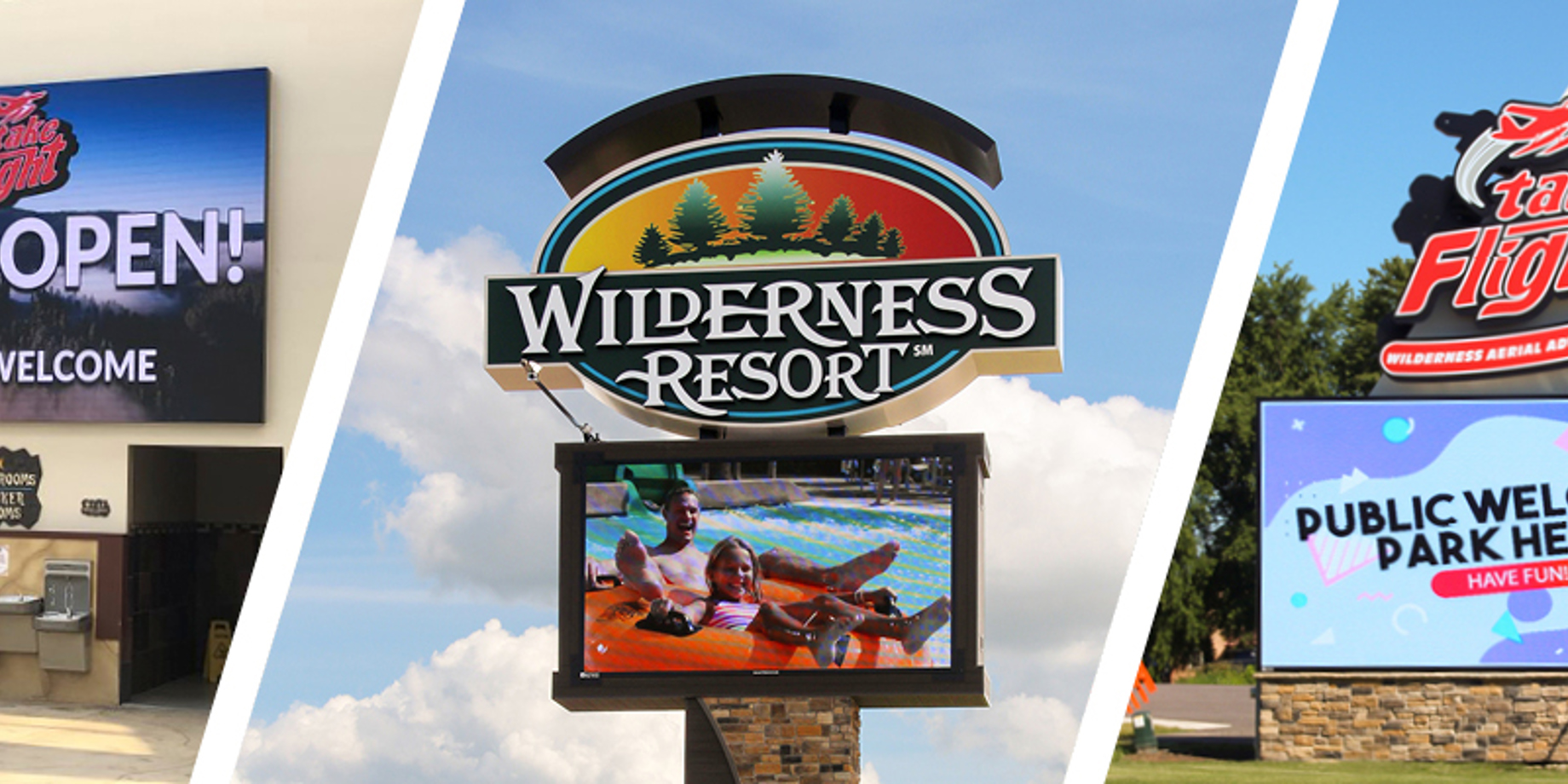 Wilderness Resort in Wisconsin Dells is America's largest waterpark resort. Recently, they added a new attraction called Take Flight – an interactive experience that takes guests on a wild ride. When they added the attraction, they wanted to take the entire resort to the next level. They did it with digital signs from Daktronics.
"We got the new project with Take Flight going on and we wanted to start advertising it," explains Chris Ebben, Attractions Director for Wilderness Resort. "We wanted it to be a marquee sign, so partnering with Daktronics outside was key to promote Take Flight, which was part of our initial construction project. Then we worked our way inside to the Water Dome, where we wanted to put a jumbotron I'll call it, with Daktronics, to show what we wanted to advertise internally, and use that as a marketing device."
He consulted James Fuschel, Sign Consultant for La Cross Sign Group and Alan Harper, Executive Account Manager for AVI Systems. Together, they installed both indoor and outdoor digital signs to promote the resort as well as cross-promote attractions and entertain guests.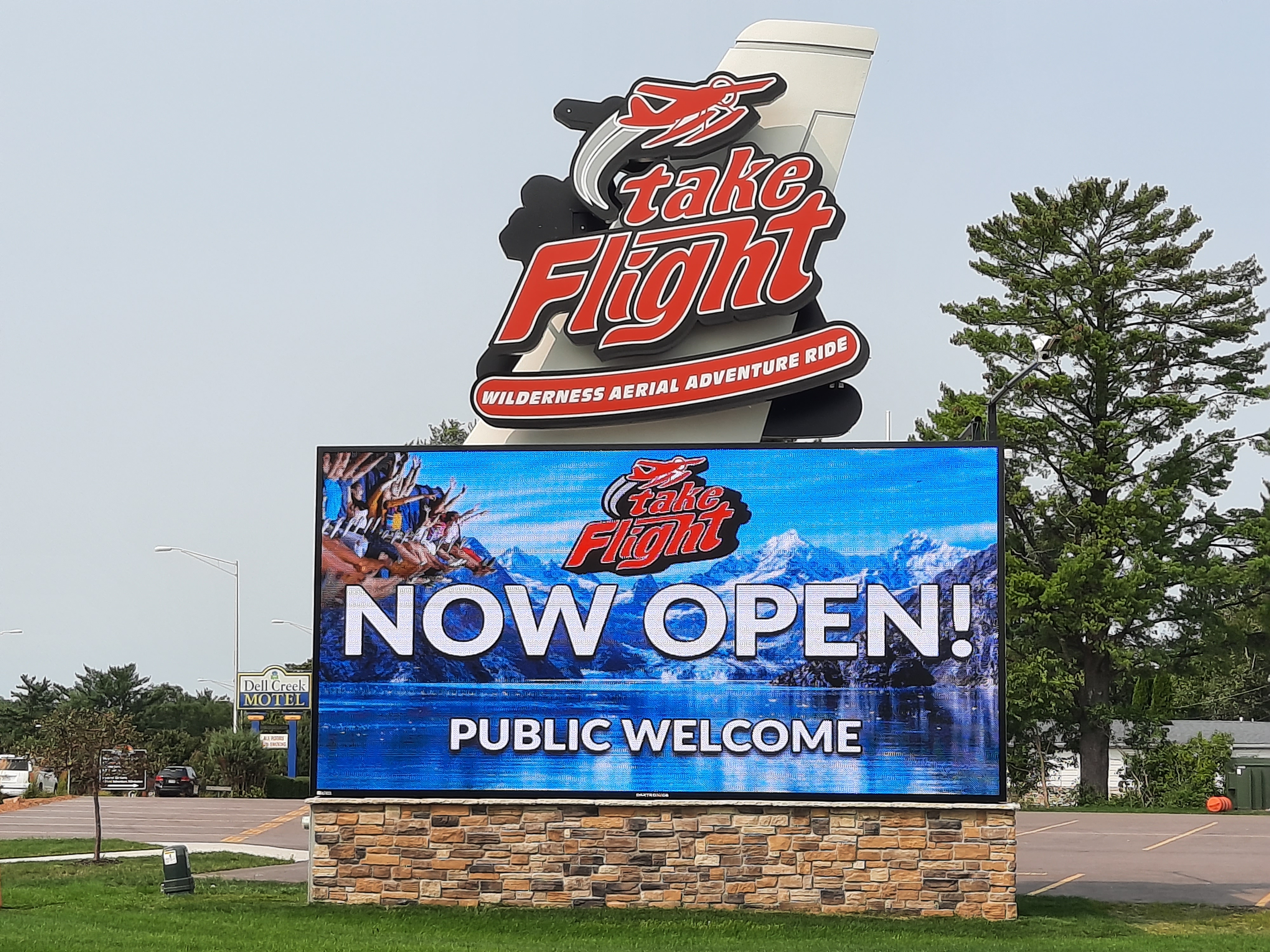 Outdoor signage brings them in
Fuschel has worked with Wilderness Resort for more than 15 years, and he also has a long-established relationship with Daktronics. He says they opted to go with 10mm pixel pitch to optimize graphics to advertise Take Flight to people passing by at close range.
"They wanted to put a big display up where they had a static, so it needed to be the exact same size, 12 x 24 and only four feet off the ground," says Fuschel. "It really gets your attention. The other one was around 54' to the top of the sign, which is the main Wilderness branded logo sign. That message center is 10 foot tall by 17 foot wide. That was a pretty good size 10mm for outdoor."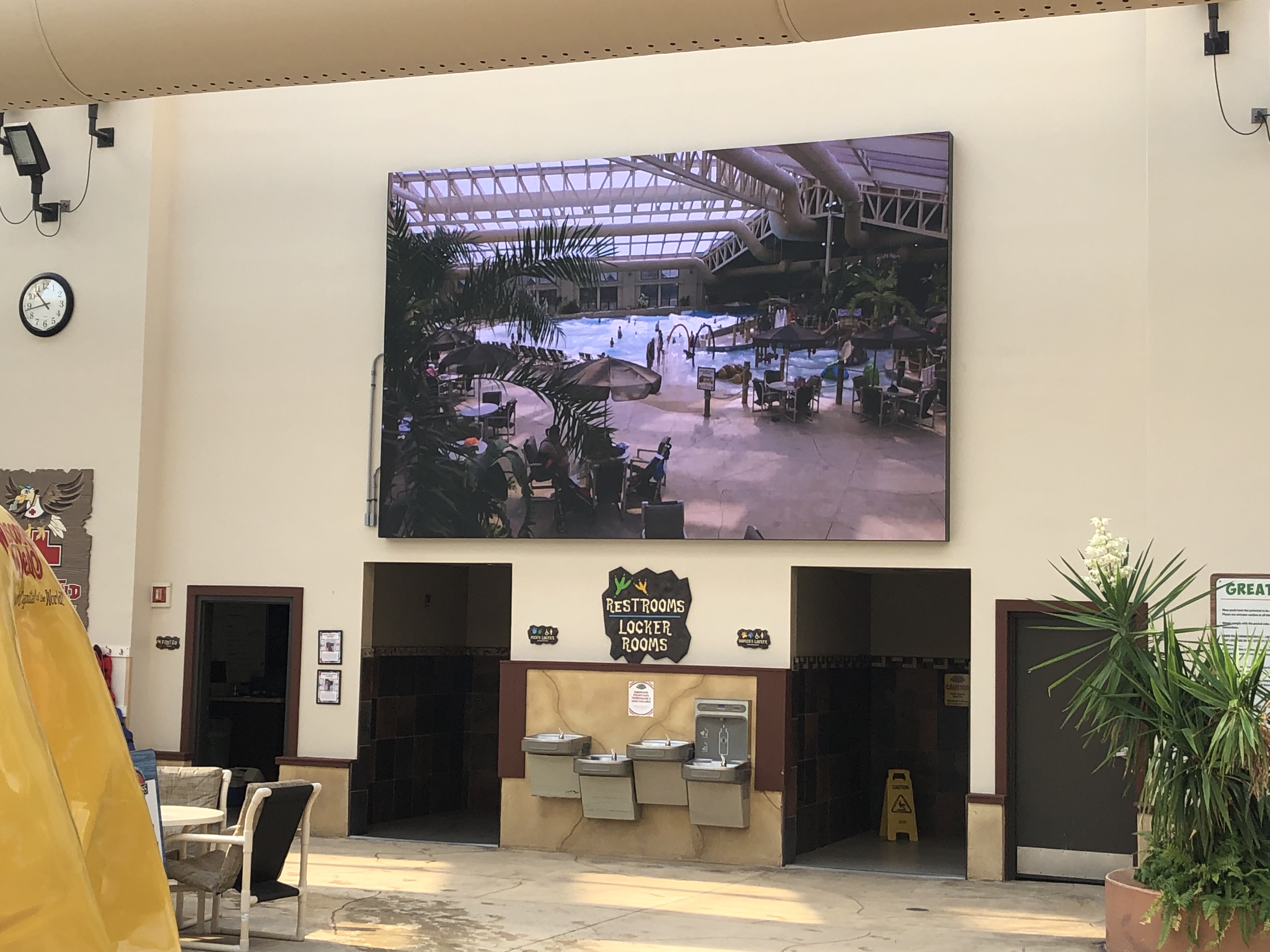 Indoor signs keep them engaged
"The intent of the project was, the Take Flight experience is awesome in itself, but how do you keep people engaged, and make them want to come back – not just for the ride itself, but for the experience as soon as you walk through the door," says Harper. "There's interactive displays that have content pop up from that digital signage solution, there's sound and ambiance, all making it feel like a different area. You walk out of Wilderness Resort, and it feels like an airport."
The giant 3.9mm display in the Wave Dome was also a big success for Wilderness Resort. They use it for both advertising and entertainment. AVI programmed it to be as automated as possible.
"We took a control system and plugged it into the high voltage relay of their wave pool generator so as soon as that pump kicks on, it switches over to that camera feed," explains Harper. "Nobody really needs to interact with it."
Ebbens says kids and parents love seeing themselves on the display. "When the waves kick on, they're on the big screen. How many kids don't want to be on the big screen? Even though they're swimming, they're on the jumbotron, just like at a Packer game."
The impact of the display is impressive, Ebbens says. "It's big, it's vibrant, it's wow. The wow factor has been there and it's always going to be there."
Unexpected challenges – and solutions
Even though the wave pool is indoors, it's filled with sunlight and humidity, so the team needed to figure out the best application for such a high-impact sign.
"All these things we normally deal with outside, now we have to deal with them inside on a narrow pixel pitch product," says Fuschel. "We worked with Daktronics engineers to say, here's our issues, what is the best product for this.? And they came up with the best product that worked with all the issues we struggled with. That was just on the hardware end. Now we have a really dynamic display, and AVI makes it sing.
Fuschel adds, "With a partnership of everybody working together to make it work with all the environmental stuff we're throwing at it."
Overall, this was a giant undertaking, and Ebbens says trust was a big part of its success. "Trust is huge with Daktronics, AVI Systems and with La Crosse Signs. We trust La Crosse to meet or exceed our expectations. When it comes to AVI, I gave them chicken scratch to start with, and they met and exceeded our expectations. It helps to have this open communication and trust with each other."
Learn more about the Wilderness Resort project. Listen to the entire podcast on the Daktronics Experience!
---