How Communities are Communicating During COVID-19
With communities in limbo of being open or closed, chances are people are seeking guidance on how to behave at your facility. Are you open? What hours? Do I need to wear a mask? Can I pay with cash? Do I need to take my temperature before I come? Life during a pandemic can certainly be a game of 20 questions.
10/22/2020
Categories: Business & Community, High School Sports, Sign Company News
Whether you're a business, healthcare facility or an organization, digital signage can simplify communication. Below are 3 examples of how that's been accomplished.
Businesses
How consumers shop has certainly changed since the beginning of 2020. If you're like most business owners, you make an effort to communicate these messages, sharing on social media or updating your online profile. But the most important communication method is at your door.
"The ability for a brand to communicate to their customer right at their storefront when customers really do want to know — and need to know — that's becoming an essential need," explains Jess Bern, the On-Premise Marketing Strategist for Daktronics.
"You see that now, but it's papers plastered to their window – 3, 4 or 5 sheets at that. Those messages cluttering the window could be much more visible by putting it on a digital sign along the roadway. Customers will see that, and then they know what to expect when they come in," said Bern.
For businesses unable to operate, many used their digital signs to create goodwill. Such was the case for one movie theatre that opened in 2019. They chose to offer nearby businesses, who were also struggling, the use of their display to promote specials.
"Businesses are trying to find any way possible to support their community which is great to see. You know it does your heart good to hear about things like that," Bern said. "Now, as businesses begin to normalize, the neighboring businesses are going to remember the movie theater did this great thing for me. I'm going to give them business back."
Read the full story of this movie theater here.
Healthcare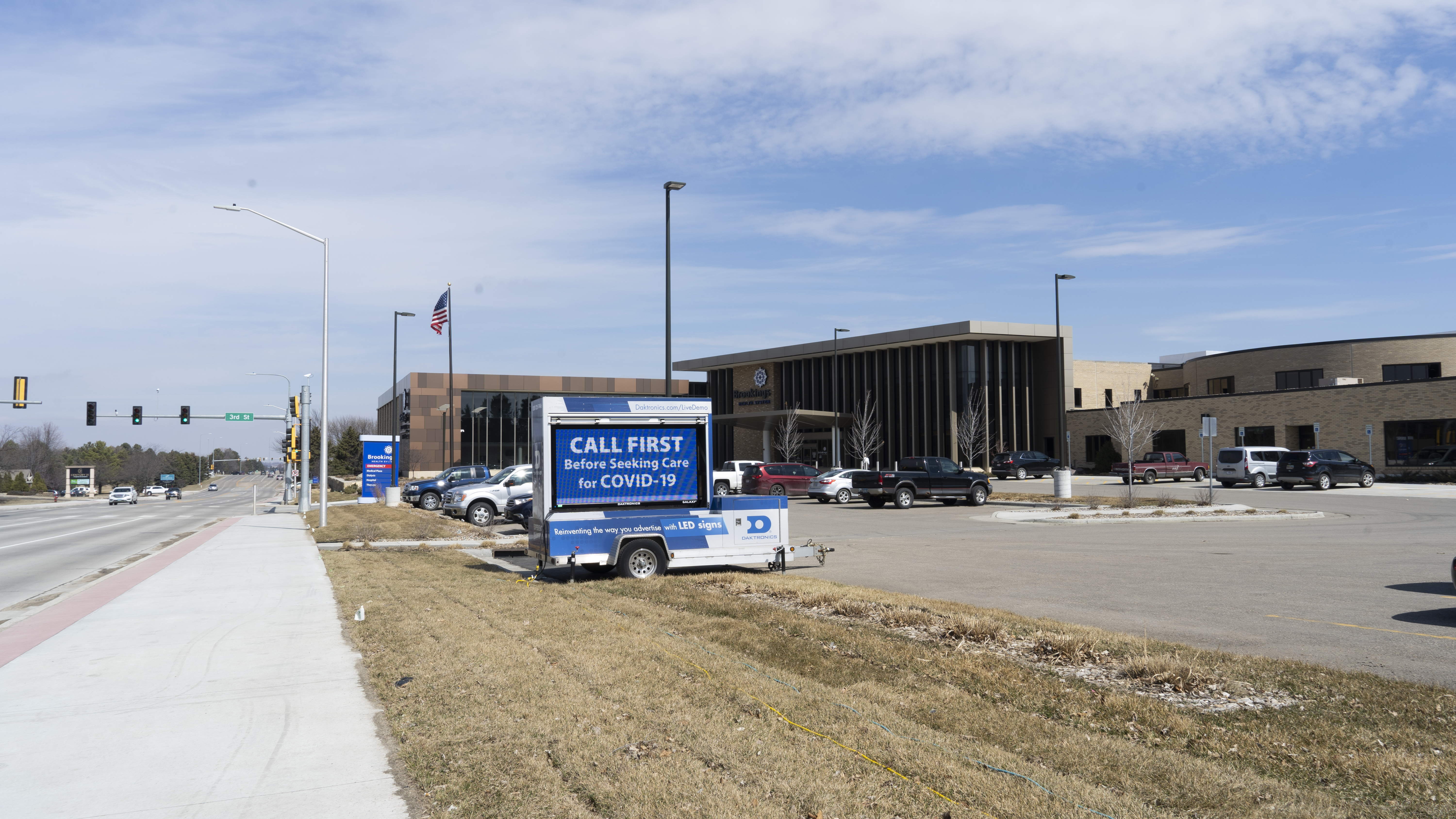 Communicating how to behave is especially critical for healthcare facilities who need to share how they can receive a COVID-19 test. One healthcare system saw a huge difference in people's actions after bringing a digital display on site, significantly reducing the number of people who walked in the facility with symptoms.
"Prior to having the sign out front, we had ads in the paper, on social media, and on radio, but people still came in with COVID symptoms," shared Julia Yoder, Director Marketing & PR at Brookings Health System. "With the sign out front, right there, with the message to call, it significantly reduced the number of people who walked in off the street."
Read the full story for Brookings Health System here.
Organizations
In addition to healthcare, schools and churches across the country are reopening and each has their own set of rules and reminders, as well as the latest "codes" they are operating under.
"Schools are under tremendous pressure to keep kids in school," shared Bern. "Digital signage outside the building has really aided to remind parents of the latest protocol and reduces the need for an adult going inside. Churches have similar needs, as there are many questions as to what activities are still occurring in person."
Additionally, many high schools brought in digital signs to help with milestone events, most importantly, graduation.
As you look to a digital sign to increase your communication through the pandemic, know that Daktronics is here to help make it easy. We offer a library of COVID content for you to add in your rotation.
"Since we made that free content library available, we've seen a huge response in terms of usage – 17,500 content downloads from that free content site," Bern said. "This usage was many times greater than any other content that we have provided to our customers in the past. It points to the essential need to communicate right now."
---