Home Sweet Home Tab III: Scheduled Playlists and Running/Stored Presentations
Welcome to our third overall and second-to-last post about the Venus 1500 V4 Home Tab! We previously went over the Online/Offline Status Indicator, as well as Alerts and the Progress Bar. This time around, we will cover Running Presentations, Stored Presentations, and Scheduled Playlists. As you already know if you read the first two posts in this […]
Daktronics Commercial Software Training on 7/26/2017
Categories: Venus 1500 Training
Welcome to our third overall and second-to-last post about the Venus 1500 V4 Home Tab! We previously went over the Online/Offline Status Indicator, as well as Alerts and the Progress Bar. This time around, we will cover Running Presentations, Stored Presentations, and Scheduled Playlists.
As you already know if you read the first two posts in this series, the Home Tab contains several different sections. Our focus this time is Running and Stored Presentations. You can find the Running Presentations and Stored Presentations sections on the right side of the Home Tab.
Running Presentations
Running Presentations shows the presentations  currently playing on your display. This section is quite useful because it confirms which presentations are currently running after you Publish to Display.
If your display is out of viewing distance from your computer, you don't have to walk or drive to see what's running every time you Publish anything.
If you are in Scheduled Playlist Mode, then when a Running Presentation reaches its final end date/time, it will disappear from under Running Presentations and be removed entirely from your Home Tab.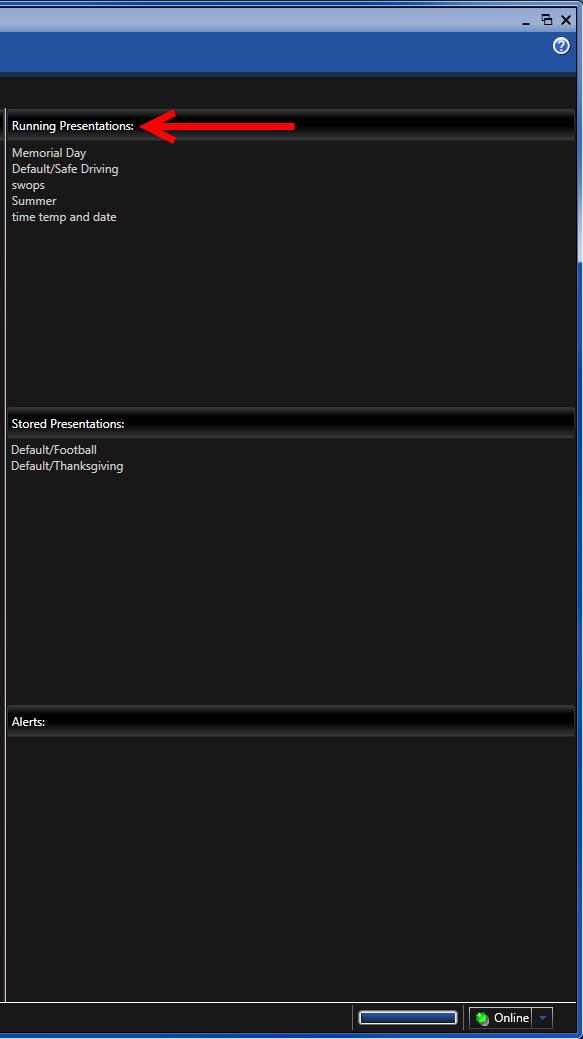 Stored Presentations
Stored Presentations shows scheduled presentations not currently playing on your display. Presentations that are scheduled to start playing right away may appear in Stored Presentations very briefly after you publish, but will move up to Running Presentations promptly thereafter.
You will notice Stored Presentations primarily if you are in Scheduled Playlist Mode with playlists scheduled to play at various dates and times.
The presentations in the playlists scheduled for later dates and times will appear under Stored Presentations until they are scheduled to play. At that time, they will move up to Running Presentations.
Once they are finished playing, they will either disappear from your Home Tab altogether or move back down to Stored Presentations if they are scheduled to play again via the Recurrence Feature.
Trainer Tip:  If you are interested in learning more about the differences between Continuous Playlist Mode and Scheduled Playlist mode, be sure to check out our previous blog posts on that subject!
Schedule
The center column, right smack dab in the middle of the Home Tab, below the Select a Display drop down, is your Schedule. The Schedule shows details for the schedule currently running on the display.
Whether you are in Continuous Mode or Scheduled Mode, you will see your Playlist(s) under Schedule. The list includes the start and end dates and times for each playlist.
Hover your mouse over a playlist to see a pop up showing which presentations are contained within each playlist.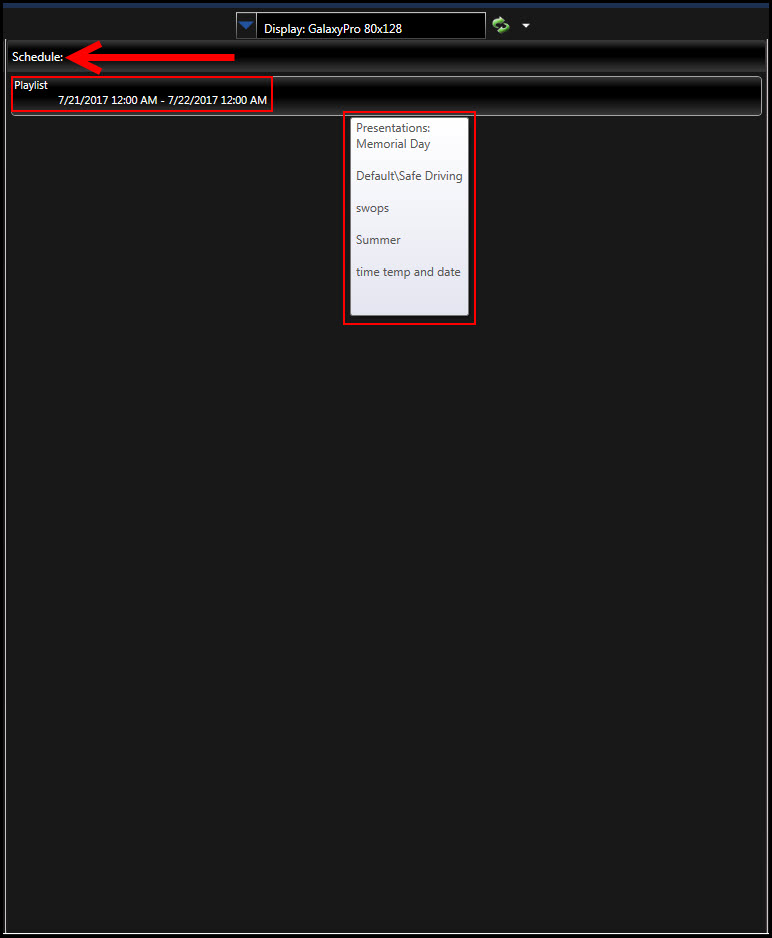 What a huge time saver! You can see which playlists are scheduled, when they are scheduled to play, and what presentations are contained within each.
Having all this information populate into the Home Tab right away is nice. You don't have to go looking through your presentations or schedules in the Schedule Tab to find out what's on your display!
Retrieving Running/Stored Schedules/Presentations
Here's another great feature in the Home Tab. You can retrieve running presentations and stored presentations, along with Schedules from your display, back into your Venus 1500 V4 software.
You might be wondering why you would ever need to do that. Basically, if your computer ever dies, and you can't access the hard drive, you can still get back all of your scheduled content from the display memory.  You don't have to recreate it!
If that's ever happened to you, then you better read our previous blog, Venus 1500 Version 4 Database: Retrieving, Part 1 for step-by-step instructions on how to retrieve that content back! It is yours, after all!
Right-click on your Stored and/or Running Presentations for the option to Retrieve the individual file or Retrieve All the files from your display back into your Venus 1500 V4 software.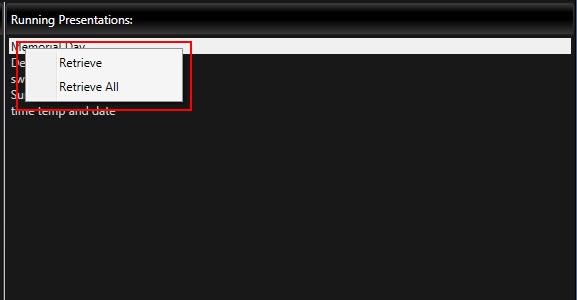 You can even right click in the Schedule column to Retrieve entire Playlists from your display to put them back into your Venus 1500 V4 software.

You may find this helpful if your hard drive crashes, and you are unable to access it to transfer files to a new computer. By doing this, you will at least be able to Retrieve what is Running/Stored/Scheduled on your display, instead of having to start all over from scratch again with content creation!
If you found this blog helpful and would like to be notified when we post another, go ahead and click on that orange "Receive Email Updates" button on the right side of the page.
Thanks for reading!
---