From Gate to Game
Daktronics displays will be visible throughout US Bank Stadium at the Big Game on Sunday, but did you know they'll also be guiding people to the game? From the airport, along the rail lines, to street signs throughout downtown Minneapolis, Daktronics is with you from Gate to Game!
2/2/2018
Categories:
It's almost here, the BIG GAME. The players have practiced, the pigskin is ready for game time and fans are on their way to US Bank Stadium. A massive influx of traffic is expected in Minneapolis via air, transit and roadway for the game. What you may not realize is Daktronics displays are an integral part of the fan's journey from gate to game.
Daktronics displays play more of a role in the fan experience than a person might imagine. No matter the method of transport to downtown Minneapolis – air, train or car – our displays guide the way.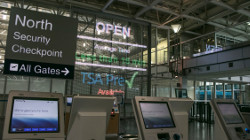 First, if fans fly in to Minneapolis-St. Paul airport, they see a large Daktronics mesh display near TSA check-in communicating security wait times. Take note of this highly visible sign on departure as well for the most current stats to simplify your travel home.
Daktronics Airport Market Manager, Casey Williamson, shared where fans can expect to see Daktronics equipment along the way. "Daktronics has signage in place to guide travelers through security checkpoints at the airport, along the major roadways into the city and throughout the impressive U.S. Bank Stadium.  Daktronics is proud to play an important role in both the passenger journey and overall fan experience on game day!"
Next up, fans need a ride to the game! If Hiawatha Light Rail is the choice, Daktronics platform displays keep you up to date on train arrival and departure times. Choose to drive? Downtowns are often tricky for newcomers to navigate, but Daktronics arterial dynamic message displays are placed throughout the urban area to help guide traffic flow and locate parking. The less confusion with increased traffic for Sunday, the better!
Jason Morrison, Daktronics Intelligent Transportation Systems Market Manager, had this to say about travels for the upcoming game. "Everybody wants to have an enjoyable experience on game day. Daktronics remains committed to safe travels for fans everywhere. Our dynamic message signs are in place in downtown Minneapolis to help travelers navigate to their destination efficiently. Once they reach the stadium, they have remarkable views of the game wherever their seat is in the house. We look forward to the game and wish everyone a great time in our neighboring state."
Finally, once fans reach the U.S. Bank Stadium, they are sure to notice the thousands of dazzling LEDs throughout the facility. From fascia displays with artistic touches to massive screens for close ups on plays, fans can expect to be entertained and informed, regardless of their seat in the house.
We hope you enjoy the game on Sunday, and travel safely!
---