Downloading the Daktronics Media Kit
Download and enable the Media Kit in Venus 1500!
Daktronics Commercial Software Training on 3/13/2019
Categories: Venus 1500 Training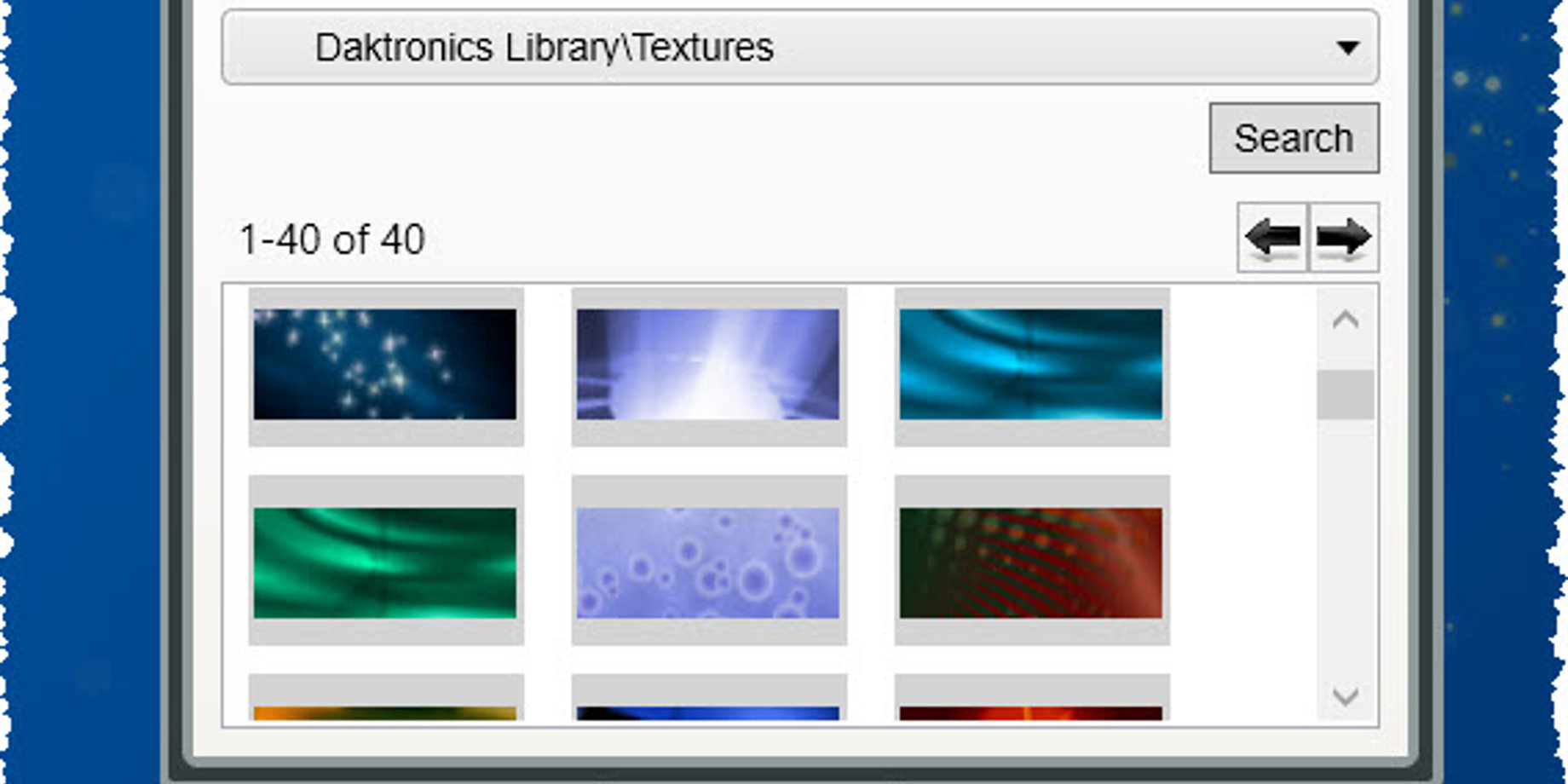 Greetings! As you may know, Daktronics provides a FREE media kit along with the Venus 1500 V4 software. If you are using Venus 1500, or maybe you have recently installed Venus 1500 on a new computer, and followed our recent article How do I put my Venus 1500 software on a new computer?, that's great! Today we will verify that you downloaded the media kit as well.
When do I download the Media Kit?
You should download the Media Kit right away during your initial installation of the Venus 1500 V4 software. In fact, after you have configured your display(s), you will be prompted and asked if you want to download the Media Kit.

If you chose "No," don't worry! We will discuss shortly how you can prompt this process.
If you ever move the Venus 1500 V4 software to a different computer, even if you transfer the database, you will still have to download the Media Kit on that computer.
After you have created and configured your display(s), Venus 1500 V4 will prompt you and ask you if want to download the Media Kit now. First, choose and click Yes.
You will see a Daktronics Media Kit window open. Put check marks next to your display listed in the upper left quadrant and next to Get Latest Content Only. This ensures you don't end up with duplicates, just in case you downloaded the Media Kit already and forgot. Finally, click the Download button and watch the hundreds of files from the free Media Kit download.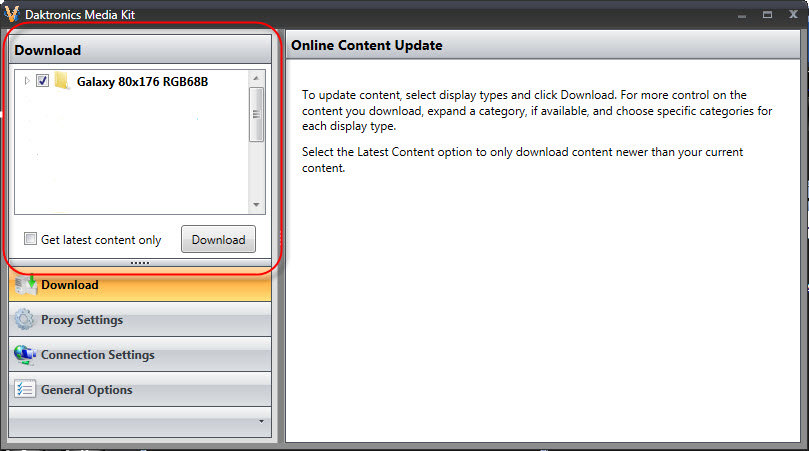 You can minimize this window and work on other things as this process may take a few minutes.
Trainer Tip: You will want to make sure you have the Media Library plug-in enabled in content studio, so you can see the media kit.
Go to the Content tab in the Venus 1500 hub.
Click the Create button to open Content Studio.
Once you are in Content Studio, click on the Application menu (Orange V) in the upper left corner.
Choose Content Studio Options
Now click on Plug-ins and make sure that you have a check mark next to Media Library
By doing this, you will be able to see the Media Kit on the left side of Content Studio.
Missed downloading the Media Kit during the installation process?
Click on the Start Menu on your computer and choose All Programs.
Find and click on the Daktronics folder.
Click on the Venus 1500 V4 folder to expand it.
Click on Venus 1500 Media Kit – this will open the Daktronics Media Kit window.
If you are using Windows 10, all you need to do is locate this: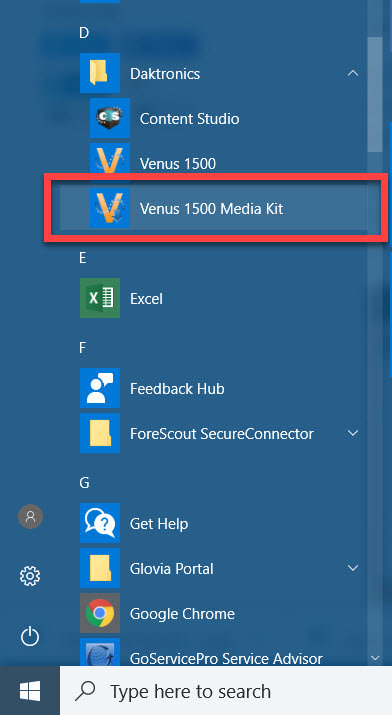 You can also just search your computer for 'Venus 1500' to locate this. This will open the "Daktronics Media Kit" download window we just discussed.
Is the FTP site blocked?
The Media Kit is downloaded from an FTP site. So, you will need to access FTP sites to complete the download. Sometimes IT Departments have firewalls or other security measures in place that will block FTP sites.
If this is the case for you, then all you have to do is send an email request to our Creative Services team here at Daktronics, and they will email the Media Kit to you. Please click on the below Knowledge Base article for instructions.
Receive error "An error has occurred while trying to connect to the ftp site: dakfiles.daktronics.com on port 21." when trying to download the Venus 1500 v4 Media kit., DD1996903
16-pixel high or smaller displays
If your display size is 16 high or smaller, it is not a supported size for Media Kit or content packages. Unfortunately, we are unable to support small display sizes with Media Kit and package content. This is because the small pixel count affects quality images, textures and logos.
We recommend text-only messages built in Content Studio to best optimize your display technology. Typically, we offer the full Media Kit for displays that are 32-pixel high or more. However, we may be able to provide limited media kits for 24-pixel high displays.
Trainer Tip:  For those of you with smaller displays, we recommend utilizing the Character Map in Content Studio to add some extra flare to your messages!  We have posted several blogs in the past showing you the capabilities of the Character Map and how to create eye-catching content on your displays!
---