Demo Convinces Church to Upgrade Manual Copy Board
A product demo is a powerful way to close a sale. An onsite demonstration helps in a lot of different ways. Today, let's look at one way a demo influenced the customer to place the order. When Friendship Baptist Church in Sykesville, Maryland, decided to upgrade its manually changeable copy board, Thom McKee volunteered to […]
4/6/2016
Categories: Sign Company News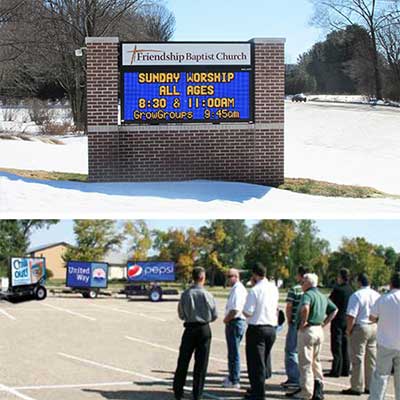 A product demo is a powerful way to close a sale. An onsite demonstration helps in a lot of different ways. Today, let's look at one way a demo influenced the customer to place the order.
When Friendship Baptist Church in Sykesville, Maryland, decided to upgrade its manually changeable copy board, Thom McKee volunteered to help. McKee isn't just a church member—he's also a real estate developer with LED sign experience. He recommended a full-color display as the best investment for the church.
"The onsite demo was absolutely critical to the sale. It helped the church have confidence in my recommendation. We got everybody in a van and drove up and down the road, looking at the sign. We demonstrated the software, too. All its options really impressed the church staff," says McKee.
Don't hesitate to schedule a demo through your Daktronics representative. A demonstration will help your customer be comfortable with the solution you're offering.
Do you have a demo success story or tips about conducting a successful one? We'd love to hear from you!
Share the Friendship Baptist Church success story.
---